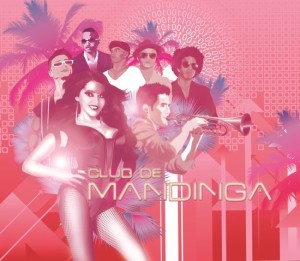 They are ready to spread their joy worldwide with this new album called Club De Mandinga which contains twelve songs plus four bonus tracks consisting of the remix of their smash hits including Zaleilah's bachata version and some singles already released in Romania. An international summer tour is on the way.
The band that represented Romania this year at the Eurovision Song Contest offers us a summer of fun with a combination of different styles that they have selected for their fifth studio album where all the songs are full of energy and happiness.
They presented the album on Saturday night at an extraordinary carnival party known as Mamaia Club Parade held on the Romanian riviera where the audience could listen and dance to the new songs performed live by the seven members of Mandinga in a fashionable club of the city.
Mandinga will celebrate the official launch of the album next Thursday, July the 12th, at Le Gaga club in the capital city of Romania, Bucharest. Their record label has announced that a great surprise is in store for both the band members and their fans.
The track list of Club De Mandinga is as follows:
1. Colours
2. Tu Me Das
3. Love
4. Party All Night Long
5. Sufletul Zambea
6. Te Quiero
7. Europarty
8. Zeleilah (Radio Edit)
9. Gimme Some More
10. Dame Dame
11. Papi Chulo
12. Dame Calor
13. Zaleilah (Quentin Remix)
14. Kikiribu Mandinga (Remix)
15. Love Is For Free (Salsa Remix)
16. Zaleilah (Bachata Remix)
They will be promoting their newest album in an international summer tour visiting some Romanian and European cities. Below you can see the dates and places announced so far:
July 12th – Bucharest, Club Le Gaga, Romania
July 15th – Gura Humorului, Romania
July 21st – Rome, Italy
July 22nd – Rome, Italy
July 28th – Oradea, Romania
August 25th – Craiova, Romania
August 26th – Albena, Bulgaria
August 31st – Creta, Greece
September 1st – Creta, Greece
Stay tuned for all new tour dates.
Below you can watch our 3D video of Mandinga performing Zaleilah at the 2012 Eurovision Song Contest. As always, we strongly recommend watching this video in 3D to enjoy it to its fullest, but if you do not have a pair of suitable glasses this can easily be turned off in the player below to watch in regular 2D. Play and enjoy!