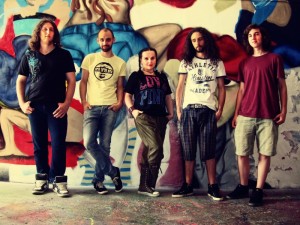 Electric Fence were the runners up at this year's Romanian Selecţia Naţională with the song, Emilia. The band will release their first album in September entitled Music From The Wardrobe. They have also recently had a successful concert performance at the B'estFEST festival in Bucharest 
Electric Fence have an ethnic/rock sound to their music.  They just missed out on representing Romania at the 2013 Eurovision Song Contest finishing in second place at the Selecţia Naţională with the energetic sound of Emilia.  The band also took part in the 2012 local selection and finished in fifth place with Sun-ta.
The band was formed in 2009 by Elena Vasile and David Ciente.  They released several songs and became popular on the Radio Guerrilla station.  They have performed at several major festivals such as Mosquito Festival, TiMaff, AlternaTIFF, Rock for People (CZ), B'estFEST and Penninsula.
The debut album will be released in September and we can expect a fresh and energetic sound from the six piece band. You can read more about Electric Fence at their official website (in Romanian). 
A performance of Emilia by Electric Fence at the 2013 Romanian Selecţia Naţională can be viewed below.
You may also like to read –