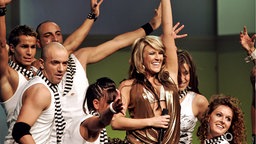 Tonight the German final Unser Song für Malmö was held in Hannover. 12 acts competed for the honour of representing Germany at the 2013 Eurovision Song Contest in Malmö. At the end Cascada were the lucky ones who won the very exciting three-part voting of internet, jury and televoting.
Germany chose their representative for the 2013 Eurovision Song Contest in Malmö tonight. The spectators and fans in the TUI arena in Hannover watched an interesting and entertaining show with 12 acts competing on stage.
The songs: (you can read more about the participants in our Get to know-article)
1) Finn Martin – Change
Finn Martin kicks off tonight's line up. Change is a midtempo and catchy pop song that could easily be a radio hit. Finn gives a very confident and shining performance playing the guitar. He wears beige pants combined with a denim shirt. He is accompanied on stage by 4 drummers and one keyboard player. 
2) Mobilée – Little sister
Next up is Mobilée, a young band from Duisburg. Little sister is a happy folk-inspired pop song. Mobilée chose an extraordinary backdrop – the stage is decorated like an old-fashioned living room with a sofa, a floor lamp and a long case clock. Caroline, the leadsinger, is dressed in a short black dress and a black leather jacket. Her male band colleagues who play different instruments are dressed more casual wearing jeans. Vocally the verses appear a lot stronger than the chorus where Caroline's voice sounds a bit weak.
3) Blitzkids mvt. – Heart on the line
Heart on the line is the first of two electro pop songs tonight. The band stands for extraordinary stage presentation and outfits. They show it again with their leadsinger Nomi being styled in Lady Gaga-way with oversized black pants and a metallic looking silver top. In the background we see one keyboarder, one drummer and one guy at the turntables. Next to Nomi there are two background singer who do some kind of static dancing.
4) Betty Dittrich – LaLaLa
Before Unser Song für Malmö Betty was a complete newcomer. During the last weeks she has become one of the hot favourites to win. Her song LaLaLa is an uptempo 60s inspired retro popsong, very much Schlager inspired. Betty is dressed in an orange-coloured dress with wedges in the same colour. On stage she has two male dancers and three female background singers playing keybord, drums and guitar. Overall Betty gives a very cute and charming performance.
5) Ben Ivory – The righteous ones
After a short interview with Jon Ola Sand who sits in the audience it is time for Ben Ivory and tonight's second electro pop song. As the stage is completely dark it appears that he is solo on stage. After the first chorus we see that Ben is accompanied by five male musicians. Ben wears black pants, a white shirt and a cream-coloured vest. Vocally he shows some insecurity.
6) Saint Lu – Craving
Next on stage is Saint Lu, the soul diva among the participants. She delivers a flawless performance and her voice reminds a bit of Adele. Craving is a soul inspired song that starts slowly, but turns into a midtempo song in the chorus. Saint Lu wears skinny black pants with a tight black top. On stage she is accompanied by three musicians playing the guitar, the keyboard and the drums. So far the best vocal performance.
7) LaBrassBanda – Nackert
After Saint Lu we get to see something completely different. LaBrassBanda from Bavaria take over the stage playing their whole song live with trumpet, trombone, tuba, drums and guitar. The guys are barefeet on stage wearing typical Bavarian leather trousers and different coloured t-shirts. Nackert is an uptempo song in Bavarian dialect which is also for native German speakers difficult to understand.
8) Nica & Joe – Elevated
The line up of Unser Song für Malmö is very varied, so the next song is a classical ballad. Elevated starts out very quiet, but builds into a very powerful song. Nica is dressed in a very elegant long black dress while Joe wears black pants, a black shirt and a black jacket. On stage they are supported by four backing singers. At the end we see tonight's first pyrotechnics.
9) Mia Diekow – Lieblingslied
Lieblingslied is modern pop song sung in German about a relationship. Mia gives a very lively performance on stage. She has two female dancers/singers directly next to her and three musicians in the background. Mia herself is dressed in an apricot coloured dress with black overknees.
10) Söhne Mannheims – One love
Söhne Mannheims are another big favourite to win the ticket to Malmö as they have been very successful for several years. One love is a very slow song with rapped verses and some reggae elements. The chorus can be described as an RnB ballad. All six members of the band are dressed in dark blue suits with red ties. While five of them perform in the foreground, one member stands in the background behind the turntables. Vocally a very solid and secure performance. Could this be Germany's entry for Malmö?
11) Die Priester feat. Mojca Erdmann – Meerstern, sei gegrüßt
The priests let out the first rehearsal because of Ash Wednesday and the beginning of the Christian fasting period. Tonight they are on stage together with sopranist Mojca Erdmann. The melody of the song is originally from the 11th/12th century. Mojca is dressed very classical in an elegant and tight cream-coloured dress while the priests wear their black robe. On stage they have several candleholders while the background is multicoloured and reminds of thoses multicoloured windows we know from churches.
12) Cascada – Glorious
Finally Cascada comes on stage – the band who is probably the most known of tonight's artists outside Germany. Glorious starts slowly, but turns quickly into an uptempo dance song. The camera focus is on singer Natalie Horler who wears a silver-white mini dress with a short white trail. Two female background singers support her on stage. Natalie sings well, although at the end her voices becomes a bit scratchy.
The show:
The show started on 20:15 CET and was presented by Anke Engelke. Anke was one of three hosts of the 2011 Eurovision Song Contest in Düsseldorf and announcer of the German votes in Baku. As a special opening act Loreen performed Euphoria and was directly followed by Lena who sang Satellite supported by loads of fans in the audience. Anke welcomed the audience in her well-known charming and entertaining way. She introduced the jury members and held a small conversation with them.
After the performances of all 12 participants Loreen came back to perform as interval act singing her 2011 Melodifestivalen entry My heart is refusing me which was announced by Anke as her latest song.
Before the televoting results were announced Lena took the stage for the second time to perform her new song Neon.
The voting:
The voting consisted of three parts. On February 7th an internet voting started promoted by nine radio stations which also presented all entries in their radio programme. The voting closed tonight at 20:00. The second part of the votes was delivered by an expert jury that consisted of Roman Lob, Anna Loos, Tim Bendzko, Mary Roos and Peter Urban. And finally the TV viewers were able to vote via phone and sms.
The results:
Combined radio/internetvoting:

1p. Blitzkids mvt.
2p. Die Priester & Mojca Erdmann
3p. Finn Martin
4p. Nica & Joe
5p. Mobilée
6p. Ben Ivory
7p. Söhne Mannheims
8p. Betty Dittrich
10p. Cascada
12p. LaBrassBanda
Juryvoting:

1p. LaBrassBanda
2p. Mia Diekow
3p. Mobilée
4p. Nica & Joe
5p. Söhne Mannheims
6p. Finn Martin
7p. Ben Ivory
8p. Cascada
10p. Saint Lu
12p. Blitzkids mvt.
Televoting:

1p. Mia Diekow
2p. Blitzkids mvt.
3p. Finn Martin
4p. Betty Dittrich
5p. Söhne Mannheims
6p. Saint Lu
7p. Die Priester & Mojca Erdmann
8p. Nica & Joe
10p. LaBrassBanda
12p. Cascada
Final result:
1. Cascada
2. LaBrassBanda
3. Söhne Mannheims
So Cascada will represent Germany in Malmö with their song Glorious.
Germany at the Eurovision Song Contest:
Germany was one of the seven countries that participated at the very first edition of the Eurovision Song Contest 1956 in Lugano. Together with the UK it is the country with the most Eurovision participations. Only in 1996 there was no German entry because Leon's Blauer Planet was one of seven eliminated entries by the international jury. Germany has won the Eurovision Song Contest twice – in 1982 with Nicole and Ein bisschen Frieden and in 2010 with Lena and Satellite. Beside finishing four times on second position (1980, 1981, 1985 and 1987) and on third position (1970, 1971, 1994 and 1999) Germany also had six dark moments when they came last (1964, 1965, 1974, 1995, 2005 an 2008). Last year Germany was reprented by Roman Lob who finished on a respectable 8th place with Standing still.
You may also like to read: