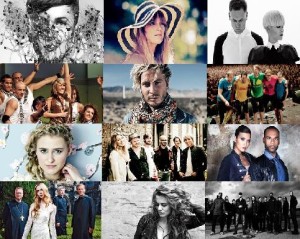 After having chosen their representative through casting shows three years in a row Germany will have a conventional national final again. On Valentine's day – February 14th – 12 acts will compete for the ticket to Malmö in the TUI arena in Hannover. Today EuroVisionary presents you the participating artists.
Only three days left until the German final Unser Song für Malmö will be held in Hannover. A total of 12 acts will compete for the honour of representing Germany at the Eurovision Song Contest in Sweden. As the running order is yet to be announced EuroVisionary presents the artists in alphabetical order.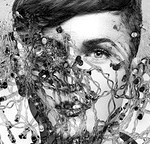 Ben Ivory – The righteous ones
Ben Ivory is a young musician from Berlin. He started his musical career in a children's choir. At the age of 14 he founded his first band. For several years he was front man of the rock band Splinter X. In 2009 he finally started his solo career. Ben Ivory's music is very close to 80s electro pop, but still modern. His song The righteous ones ought to be a hymn for all outsiders and people who think differently. Beside music Ben's big passion is fashion. He already had some performances at the Berlin Fashion Week.
Betty Dittrich was born near Malmö in 1984. Her father originally comes from Germany. Already as a child Betty started learning different music instruments. At age 16 she started a professional musical education as a singer and guitar player. Until 2008 she was a member of the band Shebang and was successful in Sweden and even in Japan. After moving to Berlin Betty started singing in German. She loves the 60s and 70s which can also be heard in her music style. On March 1st Betty will release her first CD in German Gute Jungs, böse Mädchen (Good boys, bad girls). Her entry for Unser Song für Malmö LaLaLa is an ironical story about her own experiences with boys.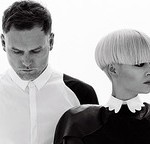 Blitzkids mvt. – Heart on the line
Blitzkids mvt. was announced as the German answer to Lady Gaga. If you have a look at them you might agree. The duo consists of the female singer Nomi from Berlin and the producer Petone from Hamburg. Their music can be described as a mixture of club and pop music combined with extraordinary outfits and a unique stage performance. In the past their songs Blinded and Water reached the top 5 of the German club charts. In spring 2013 Blitzkids mvt. will release their first album Silhouettes.
Cascada is one of the two most known acts in this line-up. That is why they can easily be regarded as one of the favourites to get the ticket to Malmö. Cascada is a trio consisting of the female lead singer Natalie Horler, DJ Manian and Yanou. The band was founded under the name Cascade in Bonn 10 years ago. Due to copyright reason they had to change their name into Cascada. Their breakthrough came in 2006 when they entered the US top 10 with the cover version of Maggie Reilly's Everytime we touch. The song remained in the top 100 for 31 weeks and could also score chart positions in the UK, Ireland and Sweden. In 2009 Cascada had their so far biggest hit with Evacuate the dancefloor which entered the UK charts at the top position and became also a hit in several other European countries, New Zealand, Canada, Australia and the USA.
Finn Martin was raised in Berlin. At age 14 he started to write his own songs. When he was 17 his band got their first record contract. After leaving school Finn Martin started studying music and worked as a songwriter for other artists. In 2006 he founded the band Asher Lane. One of their highlights was performing at the Brandenburger Tor before the semi-final of the World Football Championships in 2006. Beside music Finn's passion is to travel around the world. The impressions he gains are used for the songs he writes.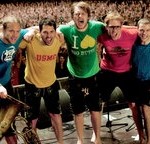 LaBrassBanda – Nackert (Naked)
LaBrassBanda consists of five musicians from Bavaria. Their instruments (tuba, bass, trombone, trumpet and drum) let them appear as a typical brass band, but LaBrassBanda's style also contains techno, reggae, funk and ska. The band was founded in 2007 and they mainly sing in Bavarian dialect which is even for Germans not always easy to understand. Since 2007 they have released three CDs. When the final of the European Football Championships 2008 was held in Vienna the band got attention by going there from their home region Chiemgau by mopeds and a tractor with trailer. Since this event they are regularly guests on festivals. Until today LaBrassBanda have played on more than 300 concerts in Munich, Hamburg, the Toscany and in even in Moscow.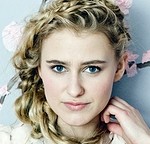 Mia Diekow – Lieblingslied (Favourite song)
Mia Diekow is a 25 year old singer from Hamburg. She was raised in a very musical family. He father is an educated classical violin played who runs his own sound studio. As a pupil Mia started to write her own lyrics. She says she can express herself in her native language. That is why she sings in German. Her songs mainly deal with relationships, love and friendship and can be described as German indie pop. Her debut album Die Logik liegt am Boden und wir sind frei was released in July 2012.
The band Mobilée comes from Duisburg and consists of six musicians. Their style is a mixture of traditional folk and light modern pop, a music that animates to dance. On stage Mobilée use instruments like mandoline, ukulele, banjo, keyboard and drums for their typical sound. Since 2010 they have been on tour as supporting acts of Das Gezeichnete Ich, Tim Bendzko and the Swedish duo Roxette. In November 2012 Mobilée started their first own tour. In August 2012 they caused a sensation in the German TV show ZDF Fernsehgarten when they performed their song Lay down here wearing self-made coloured masks as a solidarity with the Russian punkband Pussy Riot. In addition to that they boycotted the playback when lead singer Caroline Wolter stopped moving her lips synchronously to the music.
Nica & Joe reached the final at the 2011 edition of the German X Factor. Their musical style can be described as pop meets classic. While Nica's idols are several well-known pop and jazz singers Joe is fascinated by tenors like Pavarotti, Carreras and Domingo. Nica whose full name is Veronika Belyavskaya was born in Poland, but later lived in Baku and in Moscow. She currently studies music in Maastricht. Joe (Joseph Guyton) was born in Michigan and lives in Cologne now. He studied at the Juilliard School of Music in New York. Nica & Joe got to know each other at a concert in Munich in 2011. After X-Factor they recorded two CDs – Nica & Joe and Magic Moments. The last one features special cover versions, f.ex. of Rihanna's Unfaithful and Loreen's Euphoria.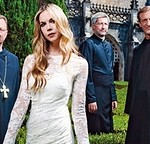 Die Priester & Mojca Erdmann – Meerstern, sei gegrüßt
Die Priester is an ensemble that consists of three priests (Vianney Meister, Rhabanus Petri and Andreas Schätzle). All three of them play instruments and sing in church choirs. Since 2011 they have been making Christian popmusic. Their first CD Spiritus Dei contains songs in German and Latin language and was sold more than 100.000 times. Their second album Rex Gloriae was just released. Together with the soprano singer Mojca Erdmann they want to get the ticket to Malmö with a renewed composition of the historic chant Ave Maris Stella. Mojca Erdmann was born in Hamburg in 1975 and is an educated opera singer (soprano) and has already performed at the Salzburger Festspiele, the Beethovenfest in Bonn and at the Metropolitan Opera in New York.
Saint Lu was born in a little Austrian village in 1984 and collected her first musical experiences in school bands. After her Matura she went as an au-pair to Texas, followed by a stay of several months in New York where she wrote her first songs influenced by the local music scene. Her trademark is her powerful and smoky voice. Back in Austria she attended an actor's school and participated at the casting show Starmania where she finished 10th. In 2007 Saint Lu moved to Berlin and released her debut album two years later. Her single Don't Miss Your Own Life scored a charts position. As a support act Saint Lu was on tour with Max Mutzke (Germany 2004).
Söhne Mannheims belongs to the most successful German bands. The group was founded more than 15 years ago and consisted at first of a few friends. Soon it became a big collective of musicians. In 2000 the debut album Zion was released including the first hit single Geh davon aus. At that time the band consisted of 17 members. From year to year the line-up slightly changed, but the success remained. Currently Söhne Mannheims consists of twelve musicians which means that not all band members are allowed to be on stage in Hannover. Probably the most famous band member is Xavier Naidoo who is also very successful as a solo artist. In Hannover he will not join the band as he plans to focus more on his solo projects. During their career a total of six CDs were released and Söhne Mannheims received several awards like Echo, Comet or Goldene Stimmgabel.
You can listen to the songs here.
Do you already have a favourite? Then vote for it here! The internet voting is opened until Thursday and the votes determine 1/3 of the final result.