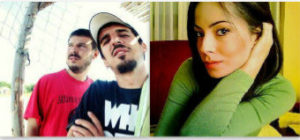 Who See were recently announced to be the Montenegro participants at the 2013 Eurovision Song Contest.  They will now be joined on stage by popular girl singer, Nina Žižić.  Nina has experience of taking part in the 2005 and 2006 Serbia-Montenegro national finals.
Who See will bring their hip-hop style to the Eurovision stage in May.  Popular Montenegrin singer, Nina Žižić, will perform on stage with them.  Nina has had several big hits in Montenegro and the Balkan countries including Zabranjujem, Strogo povjerljivo, Odlazi and Strogo povjerljivo.
Nina took part in the 2005 Serbia-Montenegro national final with the group Negre and the song K'o Nijedna Druga.  Nina was back as a solo artist in the 2006 Serbia-Montenegro final performing Potraži me.  She has also had success at several festivals including Suncane Skale in Montenegro.
Now we will wait and see what results of the combination of Who See and Nina will bring us in Sweden in May.
You can see Nina perform one of her hits Zabranjujem below. 
You may also like to read –