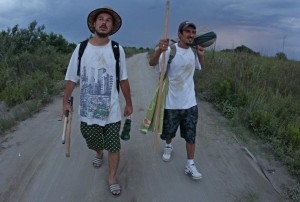 The Montenegrin hip-hop duo called Who See, also known as Who See Klapa, will represent their nation at the 2013 Eurovision Song Contest as the public broadcaster RTCG announced yesterday evening. The members of the band are Dedduh (Dejan Dedović) and Noyz (Mario Đorđević).
Montenegro took part at the Eurovision Song Contest independently for the first time in 2007 and since then never managed to qualify to the final. After two years of absence, they came back last year with Rambo Amadeus and his Euro Neuro, who came 15th at the first semi-final in Baku, thus missing out from the final.
This time, the hip-hop duo Who See has been internally selected to represent Montenegro at the 2013 Eurovision Song Contest. The group was created in the early 2000s and they are well-known thanks to their peculiar videos and they have made history by being the first band from Montenegro ever to be nominated for a MTV Europe Music Award.
They have collaborated on the Serbian hip-hop compilation Ulice vol.1 and also on the album of the Serbian hip-hop group 43Zla entitled Sve Same Barabe. They released their debut album, Sviranje Kupcu, in 2007 which has the collaboration of artists such as Bad Copy, Škabo, Hornsman Coyote or Rhino who wrote some of the songs from the album and is also the executive producer.
Who See have performed as guests at many concerts from other bands and festivals and they are also the founding members of a bigger hip-hop band known as Bokeška Brigada.
Their Eurovision entry is yet to be revealed, but they have recently released their second album entitled Krš I Dra and the first single Reggaeton Montenegro topped the charts in the Adriatic region. You can watch the videoclip of this song below.