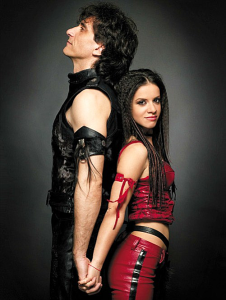 Elitsa & Stoyan have had to change their entry for the 2013 Eurovision Song Contest.  The song that won the Bulgarian national selection, Kismet, has been withdrawn due to a copyright issue.  It is replaced with the runner up song, Samo Shampioni, and this will now be the song to represent Bulgaria in Malmö.
Elitsa Todorova & Stoyan Yankulov were internally selected to represent Bulgaria at the 2013 Eurovision Song Contest.  A mini national selection of three songs took place on 3 March.  There was a tie for first place after expert jury and televoting and it was decided Kismet would be the winning song.  However, due to an ongoing copyright issue with the songwriters and BNT, it has been decided to replace Kismet with the other "joint winner", Samo Shampioni.
This will be the second time that Elitsa & Stoyan have represented Bulgaria at the Eurovision Song Contest.  In 2007 they made it all the way to fifth place with Voda.  So far, this is Bulgaria's highest position at Eurovision.
Samo Shampioni is composed by Elitsa Todorova and Kristian Talev.  You can see a performance of the song below.
You may also like to read –