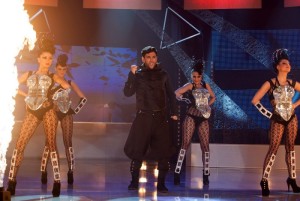 Cezar will fly the flag for Romania with the song It's My Life at the 2013 Eurovision  Song Contest after winning the Selecţia Naţională Final held in Bucharest.  The winning song was selected after a combination 50% each of televoting and expert jury.
After two semi-final shows Romania reached the final of the 2013 Selecţia Naţională. 12 songs competed to try and represent their country at the Eurovision in Sweden.

The songs –

1. Casa Presei – Un Refren
Six piece band take to the stage.  There are three male guitarists including the lead vocalist, male keyboards and drummer.  There is also a female saxophonist.  A mid tempo soul type song.  A little forgettable.
2. Narcis Iustin Ianău – Seven
Narcis has high falsetto vocals. He is joined by two girl and one boy dancers.  Hints of opera over a club beat.  Reminds me of the 80s UK group the Communards.
3. Freestay – Criminal Mind
Another band now, this time a six piece male band including two guitarists, two keyboard players and a drummer.  Lead vocalist is wearing an unusual black and white jacket.  A quite catchy rock/pop song.
4. Elena Cârstea Muttart – Spinning
Elena is wearing a long red dress.  She is joined by a male pianist.  A gentle ballad but I found my mind wandering whilst listening to this. Vocals are a little unusual.
5. Luminița Anghel – Unique
Luminița is back with an elegant and polished show.  She is wearing a long black dress and joined by five male dancers wearing black evening suits.  Dramatic and James Bond style show soundtrack.
6. Ovidiu Anton – Run Away With Me
Female violinist opens the performance.  On stage also are two male drummers and two guitarists inlcuding the vocalist.  An Irish style rock song with vocals in an American country and western style. 
7. Cezar – It's My Life
Cezar is wearing a black suit and white shirt.  Another operatic and musical stage show act.  Four dancers (two female and two male) with female backing vocalist are on stage.  There is a dance beat.  This act and sound is quite effective.  The audience love this.
8. Cristian Prăjescu – The Best Thing In Life Is To Love
A Disney style movie ballad.  Gentle vocals and nice melody.  Cristian is wearing all black and joined by a male pianist and a male vocalist.  Ther are strings effects.  The best ballad so far and good vocals. 
9. Electric Fence – Emilia
Looks like fun on stage.  Ethnic type and uptemp song.  We have two male guitarists, male keyboard player and female trumpet player with female lead vocals.  Upbeat and energetic performance.
10. Al Mike & Renee Santana – What Is Love
An uptempo dance song.  We have a male dancer and four male singers. Good vocals by Renee.  Energetic and positive performance to this club rhythm song.  Could be a summer hit around the clubs of Europe. 
11. Tudor Turcu – Hello
Five piece male band.  Three guitarists, drummer and lead vocalist.  The vocalist paints a portrait of a girl whilst he singing. That part is quite impressive.  The music is pop/rock.  Nice painting not sure about the song.
12. Andrei Leonte – Paralysed 
Electro pop/rock song.  Andrei is wearing all black.  There are some shop dummies on stage with two girl dancers and a male/female backing vocals.  Quite energetic show on stage. 
The show –
The show began at 20:00 CET at the TVR studios.  The show was presented by the 'ABBA' team, Paula Seling, Ovi, Andreea Bănică and Marius Rizea.  
The interval act including a mini concert by the 2010 Romanian representatives, Paula Seling & Ovi. The other female host, Andreea, performed one of her own songs.  We were also treated to a performance by the Belarussian act at the 2013 Eurovision Song Contest, Alyona Lanskaya.  She performed the song she will now perform in Malmö, Solayoh.
The voting –
Voting was decided by a 50/50 split of expert jury and televoting.
The song that won the Selecţia Naţională Final and will represent Romania at the 2013 Eurovision Song Contest is It's My Life by Cezar.
You can a performance of the winning song below. 
Romania at the Eurovision Song Contest:
Romania has participated in the Eurovision Song Contest fourteen times after its debut in 1994 with Dan Bittman. Since the introduction of the semi-finals it is one of the countries that have never missed a final. In 2005 it got its first top 3 place with Luminița Anghel and Sistem and the following year, it was one of the hot favourites to take the gold with Mihai Trăistariu who ended on 4th place. After three years being out of the top 10 in the final, Romania made some few changes for its national selection by skipping the semi-finals and sent the duo composed byPaula Seling and Ovi who managed to get the third place in the final. In 2012Mandinga represented the country with their smash hit Zaleilah finishing in the 12th position with a total of 71 points. 
You may also like to read –