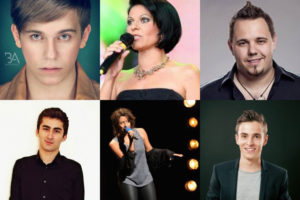 After a surprising outcome in the first qualifying show, the second semi-final of the Romanian national selection was celebrated tonight. Like yesterday, the show featured sixteen acts and only six of them would advance to the final scheduled to be held on the 9th of March.
Romanian national selection is in full swing and this evening took place the second semi-final of the Selecția Națională 2013 where the remaining six finalists were chosen. Just as last night in the first semi-final, sixteen songs were battling it out for the six remaining spots in the big national final.
The songs:
1. Ovidiu Anton – Run Away With Me (Music and lyrics: Ovidiu Anton)
The first act on stage this evening is a rock ballad performed by the former member of the band Pasager from the 2010 national selection. His performance was amazingly powerful, full of heart and musically brilliant. His voice sounds raspy and strained at times but that gritty voice fits perfectly the style of the song. He was dressed all in black and he was playing guitar. He was accompanied by five musicians: two guitarists, a female violinist whose electric violin was lit with small LCD blue lights around its edge, a drummer and one more musician playing the drum. All of them were dressed in black. In the LED screens we could see red stars while the stage was lit in blue. He might have a chance to qualify.
2. Leticia – We Are One (Music and lyrics: Radu Alexandrescu, Sandu Ștefan Radu, Mădălina Dumitru)
Despite having as title this year's Eurovision slogan this dance pop song is not strong enough for Malmö. She has a fantastic voice and she reached all the notes but sometimes it sounds like she is screaming instead of singing. The melody makes you feel happy and the whole performance was good, but it was not memorable. She was wearing a light pink dress that, to continue the theme art of this year's Eurovision Song Contest, the top was a blue butterfly. She was accompanied by four male dancers wearing sparkly trousers and black leather vests without shirts. To her left on the stage there was a female backing singer dressed in pink. They had a very energetic choreography that together with the fire made the staging very spectacular.
3. Mosquito – Feel The Same (Music: Gabriel Băruță; Lyrics: Edi Enache)
The lead singer has a solid vocal but the song is just bland and forgettable. The verse is good but the chorus is so weak that after the second refrain you are ready for it to be over. He was playing guitar and wearing a white shirt, black leather jacket and jeans. He was accompanied by two guitarists on either side of him and a drummer located in the back of the stage. None of them changed their position during the whole performance. The stage lighting was yellow and green. There was nothing too special here.
4. Alin Vaduva – Storyline (Music and lyrics: Kevin Borg, Simon Gribe, Aidan O'Conner)
This is a very beautiful pop-ballad but unfortunately lacks power of any kind since it does not even have a catchy chorus. It has a good intro that goes into a slightly faster chorus. He has a great voice and he is a personable young man so that song suits his style to a tee. He wore a black T-shirt and a black jacket, jeans and a dark gray cap. Behind him there were two dancers (one man and one woman) dressed in white with a contemporary choreography was not very consistent with this kind of song. To the left of the stage there were three backing singers, two men and a woman, dressed in black and white.
5. Al Mike feat. Renee Santana – What Is Love (Music: Mihai Alexandru; Lyrics: Mihai Alexandru, Alexandra Niculae)
We continue with the niece of the worldwide known musician Carlos Santana who performs a very catchy dance song. Her voice is wonderful and her look is fresh. Their performance was very energetic. She wore a black leather dress with white feathers on the sleeves and drawn angel wings on the back. Al Mike was on the right of the stage playing the keyboard and on the opposite side there were two male backing singers dressed in black shirts and jeans. On stage there was also a male dancer dressed in black who interacted with her at times.
6. Diana Matei – Ma Ma He (Music and lyrics: Matei Diana, Alexandru Gabriel)
This song has a very large mixture of genres that, even Diana has a pleasantly and inviting voice, she doesn't seem to handle it well. Anyway, there is so much to commend about the song, above all, her versatile vocals. She seems so comfortable on stage and her performance was quite dynamic. She wore a white dress and with her ​​on stage was a violinist and two couples of dancers dressed all in black and red whose choreography was well suited to the different changes of pace and style of the song.
7. 9 Gardens – All For Naught (Music: Cary Shields, Dan Secheli; Lyrics: Cary Shields)
This is another song with an interesting mix of styles that despite displaying an interesting sound and unquestionable talent, something is missing. What is surprising though is how modern and how old this song sounds at the same time. It is inspired in modern rock style, while still drawing influences from the classic rock. The lead singer is very charismatic and he has a good voice. He wore a white and blue plaid shirt and jeans. The other members of the band were two guitarists and a drummer who were all behind the lead singer and wearing casual clothes.
8. The Zuralia Orchestra – Sukar Transylvania (Music and lyrics: Aurel Mirea)
This is an ethnic Romanian song performed by a gypsy band in Romanian and English language. It is hard to describe music one is not accustomed to, sung in a language one does not speak but the song is bland and very repetitive but it sounds delightful at the same time. The three singers are all magnificently rich of voice and the other three members of the group who were playing woodwind instruments (clarinet, trumpet and tuba) are excellent musicians. They were dressed in traditional clothes very colorful but predominantly white and red and they used very well all the space of the stage.
9. ABCD – Final De Război (Music: Gabriel Maga, Cristina Haios; Lyrics: Cristina Haios)
This is an amazing ballad sung in Romanian. The lyrics of the song are inspired by real life and the story is simple and classic: he was wrong, she forgave him and together they can overcome anything. The lead singer's voice is enchanting and passionate. She was sitting on her bar stool in the center stage during the entire performance and she wore a blue vest over a black dress. The band members, two guitarists and a drummer, were on the sides and back of the stage dressed in gray shirt and black trousers. On the left side of the stage were two female backing singers who were also dressed in gray and black with a blue heart on their chest.
10. Elena Cârstea Muttart – Spinning (Music: Elena Cârstea Muttart, Cristian Faur; Lyrics: Elena Cârstea Muttart)
Elena is back to the Romanian national selection with a gorgeous piano ballad. Her voice is powerful and emotional with a vocal range which is perfect for that song which has multiple key changes and tricky phrasings but she sings flawlessly. She wore a shiny silver gown and she was joined by a pianist behind her. The stage was lit in dark blue and the staging was simple but adequate for a song like this.
11. Narcis Iustin Ianau – Seven (Music: Dumitraș Horațiu Dan, Narcis Iustin Ianău; Lyrics: Narcis Iustin Ianău)
He has a very particular and extraordinary high-pitched voice that, indeed, may be considered within the range of countertenor. The song sounds quite modern but with his voice he adds a baroque opera touch. He seems to have no limit in the falsetto. He was alone in the center stage and he wore a gray jacket, white shirt, blue bow tie and black trousers. The stage was lit in dark blue and red.
12. Claudiu Mirea – I Feel So High (Music and lyrics: Daniel Alexandrescu, Claudiu Mirea)
This is a nice song, that's all, and that is why it is likely to be overlooked. He has an indisputably beautiful voice but not overripe. His intonation is nearly perfect and he always sings directly on the note. In fact, the song features big high notes that he can hit with ease. Claudiu was at the center stage playing guitar and wearing a white shirt and black trousers. To his right there were two female backing singers dressed in black and white dresses and a guitar player. Across the stage there was a keyboardist and a drummer, all male and dressed in casual clothes.
13. Andrei Leonte – Paralyzed (Music: Mike Eriksson, Johnny Andersson, Michael James Down; Lyrics: Jonas Thander, Mike Eriksson)
After having winning the first edition of the Romanian version of the talent show the X Factor he is clearly one of the finalists as he has an army of fans behind him. So, it is guaranteed to generate warm emotions in young fans however it should not disappoint adults either. He is a genuinely talented singer and he is really charismatic. He has a sweet teen male voice and this pop song suits him. He began his performance sat in a chair blindfolded and a female young dancer was holding the microphone and dancing around him. Before the first chorus, she removes his blindfold and unties his arms and then the chair and also the dancer disappeared and he started moving around the stage. The dancer returned for the end of the second verse and starts a false fight with Andrei. He wore a gray jacket, a gray shirt and black trousers and there were also two backing singers, a man and a woman, dressed in dark clothing. 
14. Cristian Prăjescu – The Best Thing In Life Is To Love (Music and lyrics: Sergiu Rudichi)
It is an overly romantic ballad nicely polished that even though it starts a bit slow it ends surprisingly dramatic. It has a warm intro with some very emotional vocal work that sounds beautiful. He was at the center of the stage dressed all in black with a maroon bow tie. To his left there was a male backing singer and behind him was a man playing piano. He has a very good voice for a sixteen year old teenager that promises a great career for him. The music sounds excellent and also the backing vocals.
15. Jul – Wake Me Up (Music: Victor Bouroșu, Lyrics: Paul Iacob)
We approach the end with a nice dance song. She has a good stage presence and she is loved by the camera. She began her performance pretending she was sleeping with her head over a pillow and hugging a cuddly toy which she held in her hand throughout almost the whole performance. She wore a bright silver dress and she was accompanied by two female backing singers, a keyboardist, a guitarist and a drummer, all dressed in black. She dances gracefully and she has a great style but her voice was not so good.
16. Phaser – Pour Toi Et Pour Moi (Music: Florin Pop-Magda, Tinu Vidaicu, Lucian Oprișan, Birta Arnold, Dumitru Carina, Racz Radu, Păun Corian; Lyrics: Dumitru Carina)
It is a dance-pop song with elements of techno and lyrics in French. The chorus is very repetitive and even a bit annoying. Her voice is strong and soulful but it is nothing outstanding. She wore a colorful striped dress and with her there were two guitar players, a drummer and a keyboard player who also played the trumpet. They were dressed in black jackets and trousers of different colors.
The show:
The dynamic of the show was the same as the night before. It started at 20:00 CET (21:00 local time) and it lasted for almost three hours.
The hosts were the former Romanian entrants Paula Seling and Ovi, the singer Andreea Bănică and the popular actor and comedian Marius Rizea. They continue in their efforts to resemble Swedes ABBA and today their outfit was also very seventies. They were dressed in bright costumes in blue and green colors with flared trousers.
Jurors are the same as last night and they were gathered in a room so that once again it seems that they do not see the performances live but through a screen.
Once the hosts explained the rules of televoting, the performances began. Before each song we could see the artists presenting themselves in a short video and asking to the audience to vote for them.
In the green room there were Oana Vlădescu and Toader Păun who were interviewing the artists after their performances.
The interval act was tonight also in charge of the hosts who performed a version ABBA's song Fernando. We could also watch some images from the rehearsals and preparations behind the scenes from yesterday's show and from the auditions as well.
The results:
The vote was split 50/50 between the jury and the viewers. The televoting was opened for thirty minutes right after the last song was performed and occasionally we could see the live vote count with Cristian Prăjescu, Narcis Iustin Ianău and The Zuralia Orchestra in the lead.
The result given was a combination of both jury and televoting so we do not know who of them were chosen by the votes of the jury or by the audience.
Tonight qualifiers were
Narcis Iustin Ianău, Elena Cârstea Muttart, Ovidiu Anton, Cristian Prăjescu, Al Mike feat. Renee Santana and Andrei Leonte.
The line-up for the final of the Selecția Națională 2013 is now complete and they join the first six finalists who were decided yesterday evening: Casa Presei, FreeStay, Luminița Anghel, Cezar, Electric Fence and Tudor Turcu.
Romania at the Eurovision Song Contest:
Romania has participated in the Eurovision Song Contest fourteen times after its debut in 1994 with Dan Bittman. Since the introduction of the semi-finals it is one of the countries that have never missed a final. In 2005 it got its first top 3 place with Luminița Anghel and Sistem and the following year, it was one of the hot favourites to take the gold with Mihai Trăistariu who ended on 4th place. After three years being out of the top 10 in the final, Romania made some few changes for its national selection by skipping the semi-finals and sent the duo composed by Paula Seling and Ovi who managed to get the third place in the final. In 2012 Mandinga represented the country with their smash hit Zaleilah finishing in the 12th position with a total of 71 points.
You might also want to read: