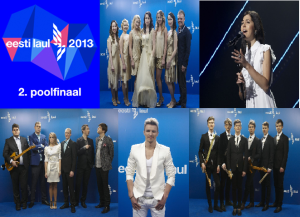 Estonia chose its last five finalists tonight, thus completing the line up for next weekend's grand final of Eesti Laul 2013. Viewers were spoilt for choice with a range of musical styles to choose from tonight but just what would the jury go for and more importantly, what would the public vote for?
The first heat of Eesti Laul last week saw some downright strange staging and some even stranger choices of outfit (remember Winny Puhh anyone)? Off stage there seemed to be a distinct lack of wardrobe guidance too, with host Anu Välba wearing an ensemble that was anything but easy on the eye. Would she manage to top it this week? This week's semi almost suffered the same fate as last week's, with the potential disqualification of the Põhja-Tallinn entry Meil On Aega Veel following claims of plagiarism. Following an investigation by broadcaster ERR, the group were permitted to keep their spot in the semi though, avoiding the same fate that affected Tauri's would have ran in the first semi.
The songs:  (You can read more about the participants in our Get To Know article)
Song 1: Üle Vee – Liisi Koikson & Söörömöö (L & M: Immi)
Liisi backed by the five piece Söörömöö – try saying that one after one too many! – take to the stage dressed in matching drapes in beige, simple yet elegant. Their entrance was met with much applause and whistling. Dreamy, with jazz flavours including trumpets, Üle Vee floats along like a carefree summer breeze. A few spotlights and simple yellow strip lights against a black background gave this number a simple staging. There was little choreography to speak of, apart from a little swaying to and fro and a few hand and arm gestures. Liisi's vocals are crystal clear and are shown off to great effect in this simple piano heavy ballad. The melody might just have be a little to fragile to make any impact on the mainstream audience.
Song 2:  Et Uus Saaks Alguse – Birgit Õigemeel  (L & M: Mihkel Mattisen / Silvia Soro)
Birgit Õigemeel is next up, and hers is one of the more anticipated performances. The darkened stage is only lit by a single white pool of light with her standing in it. She emanates confidence as she stands there in a simple white sleeveless dress. Et Uus Saaks Alguse is an extremely radio friendly ballad, ticking off a lot of the boxes for Eurovision fans, with big arms aloft chorus and even bigger arrangement. Her voice holds up well, providing rich vocals that are among the best on show tonight. Another pretty static performance, but sweeping camera shots made this come across much better. Aerial shots of the tage show a blue spaghetti like pattern projected onto the stage floor. Towards the end of the song the stage comes alive from behind, as Birgit walks down the catwalk, closer to the audience.
Song 3:  Balance Of Water & Stone – Tenfold Rabbit (L & M: Andres Kõpper / Meelik Samel / Martin Petermann)
Tenfold Rabbit are back for another shot, with a text that is as equally bizarre as their name. Rugs were scattered across the stage and worked with hazy lighting to create a mellow effect. The sextet go for the relaxed wardrobe approach, wearing slightly dated looking clothes – mainly shirts with braces. Theirs is a crossover sound somewhere between folk-rock and adult MOR, Balance of Water And Stone features built, before soca rhythms paired with the accordion are introduced, before mutating into a half baked rock number toward the end. An eclectic mix to say the least with an after effect as welcome as a hangover induced by Vana Tallinn. It was an intense performance but can't see it leaping out from TV screens around Estonia.
Song 4:  Uhhuu – Liis Lemsalu (L & M: Rene Puura / Liis Lemsalu)
Liis Lemsalu takes to the stage with what could well be an hommage to the Jackson Five. This is a genuine slice of Motown, with sassyness and soul growls a plenty, where Liis wears nothing but a smile and a thigh high aquamarine dress. She struts her stuff on stage as good as any other mutha from Harlem. Red spots shone on Liis from behind as she shimmied her stuff, winking at the camera, much to the delight of the audience. She was backed by two saxophonists and two guitarists as well as a backing singer, and all did the same dance moves as the song slowed down. If this doesn't manage to functify you tonight, then nothing else will. The camerawork was pure genius too where Liis grabbed hold of the cameraman's hand as they swung round in circles, adding to the playful vibe of the song. A deliriously catchy tune that flows well, the uhhuu hook end is one
that should stick like glue and you should be whistling it for days
afterwards if there's any justice!
Song 5:  Maybe – Marie Vaigla  (L & M: Raul Vaigla, Marie Vaigla)
Steam rises from the stage as Marie gives us this smouldering, sultry performance that had the audience clapping along. Black and white are the signature colours for their outfits tonight, reflected in the lighting on stage, with Marie wearing black and white striped leggings with matching shirt. Hers is something of an alternative number, similar in style to that of Wendy & Lisa in the early 90's. Competent vocals coupled with a credible text, make Maybe one of the more appealing contenders on offer tonight. But it's sound might just not be mainstream enought to attract the masses. Despite her young age her vice had a distinctly mature sound to it. She was backed by 2 backing singers, a drummer and two guitarists who hepled fill the stage. The backing voices complemented Marie's well all the way through and hers was another performance that had the audience screaming.
Song 6:  Dance – Rasmus Rändvee & Facelift Deer (L & M: Rasmus Rändvee / Paal Piller / Karl Kallas)
The next song couldn't prove a bigger contrast with the misleadingly titled Dance. The stage was bathed in green spots as they made their entrance, kitted out in what looked like their Sunday best. Sorry boys, but try as you might, there was nothing about this number that urged me to dance, on the contrary. A rock song which has a slightly awkward feel, with strained vocals, and lyrics that will leave you scratching your head and somewhat in awe of its lack of cohesion. There was nothing lacking in terms of their enthusiasm though as the singer strutted aroud stage, kicking in the air and making plenty of dramatic gestures. The use of a loudspeaker on which to sing through was an badly advised move.An altogether vibrant performance, brimming with energy but htis couldn't hide the fact that it sounded like something a teenage band practicing in a garage would come out with.
Song 7:  With U – Rolf Roosalu (L & M: Rolf Roosalu)
The big ballad of the evening, Rolf Roosalu pulls out the stops on this, his sixth attempt to represent Estonia. He seems to be following in the footsteps of Johnny Logan and Jonatan Cerrada wardrobe wise, opting for a completey white outfit on stage tonight which was set off nicely against the blackened stage pierced by laser lighting and bathed in dry ice. The slow piano opening worked well to build an atmosphere and the public will be voting for this in droves, sucked in by his emotive performance. But the vocal, although powerful sounds slightly strange, alternating from Bee Gees falsetto to belting out notes, some even hollered at times. With U seemed to promise to get going throughout but never quite delivered the goods.the ending was completely disjointe, giving the impression of being just tacked on the end, making for a slightly strange finish. His number met with rapturous applause though, understandably enough given his convincing vocals.
Song 8:  Missing Light – Flank (L & M: Tõnn Tobreluts / Tauno Tamm / Keio Münti)
The stage comes alive with Flank and their take on adult stadium rock, occupying a place somewhere between Keane and Simple Minds. They resemble the former outfit wise too, favouring casual shirts and jeans for their number. Missing Light has a slight retro eighties electro feel to it which is never a bad thing, and paired with a soaring, driving chorus makes for a powerful concoction. Flashing lights and pulsating blue pools of light on the stage complemented the feel of the song. The vocals were passable, if somewhat strained in places, with the lead singer/keyboardist practically shouting towards the end. Despite the underwhelming performance, we were treated to shots of many an audience member clapping along with their hands in the air. Uncertain as to how things will go with this one.
Song 9:  Lune Sournoise – Neogeen (L & M: Raido Lilleberg / Kalle Raudmets / Mare Sabolotny)
One of the evening's quirkier songs and the penultimate act to take to the stage tonight with a song entirely in French, with a sound and melody bearing a clealry sixties stamp on it. The lead singer is kitted out in a checkered shirt and bow tie under a dark blazer, the other members dressed in a variety of bright colours. This is the first time tubular bells are seen on stage played by what has to be the happiest woman of the evening. A drummer, backing singer, keyboardist and guitarist made up the rest of the combo. Not a bad effort, although the text seems a little stilted. The tune is pleasant enough but lacks any real punch and just meanders along during its three minutes. The vocals were affable enough, the three minutes seem to fly by. Yet another one that was met by screams from the by now seemingly over excited audience.
Song 10: Meil on aega veel – Põhja-Tallinn (L & M: Jaanus Sakaris / Mark Eric Kammiste / Alvar-Risto Vürst)
The final act on stage tonight are the vocal ensemble Põhja-Tallinn with a female vocalist and two rappers, rapping in Estonian along with a drummer and two guitarists. They were all turned out very smartly, the female vocalist wearing  a white satin dress with lacy detail around the neck and shoulders, the male members of the ensemble in suit jackets of various colours. This whole mix is just wrong on so many levels. The female vocals were ropey at best, and it's doubtful whether the Estonian rap parts would come across well on the international stage, but they had plenty of audience members waving their arms along to the song. The group made good use of the stage and the catwalk. Entertaining but for all the wrong reasons.
The show:
As in last week's semi, all acts entered the performing area by walking down a catwalk between the juries while being introduced before taking their places in the green room. Last weeks' female host was replaced by a more soberly dressed male host this week, Marko Reikop, kitted out in a dark blue tartan blazer with tuxedo shirt and bow tie. The host may have been changed, but ERR had still opted to keep the bizarre men in silver gimp suits wearing crash helmets and carrying drums.
Following each appearance, the acts made their way from the stage to the green room for a quick interview with the host.After song five, the ten strong jury were introduced, inclusinf last year's runner up in Eesti Laul, Lenna Kuurma. While votes were being registered we were treated to footage of Getter Jaani, taking us through her hits New York Taxi and her 2011 Eurovision entry Rockerfeller Street, onto scenes of a strikingly different Getter. Gone are the shock pinks and garish colours in favour of blacks and a vampire look, complete with heavy eye make up and scary contact lenses. She resembled more the love child of Marilyn Manson and NIna Hagen, making for an unnerving look which must have given viewers quite a shock. It was all done in jest, however.
The voting:
After act ten had performed, a countdown opened the lines, giving viewers fifteen minutes to register their votes. After Getter's portrait, we were give the jury's choice for the five they believe should advance to the final. The five acts chosen by the jury were:
Flank
Liis Lemsalu
Tenfold Rabbit
Liisi Koikson & Söörömöö
Marie Vaigla
Following the revelation, the jury members spoke of the acts that had made it among their top five tonight. Would the public vote reflect those of the jury, eschewing such obvious favourites as Rolf Roosalu and Birgit Õigemeel? Once their votes had been collated and added to those of the jury, the five last spots in the final were awarded to:
Liisi Koikson & Söörömöö
Birgit Õigemeel
Rolf Roosalu
Rasmus Rändvee & Facelift Deer
Põhja-Tallinn
Estonia at the Eurovision Song Contest :
Estonia may be a rather recent addition to the Eurovision family and one
of it's smallest members, but what it lacks in size, it more than makes
up for in quality. An impressive track record includes eighteen
participations, eight top ten placings and one win. They made their
debut in 1994 with the rather underwhelming Nagu Merelaine by Silvi Vrait,
failing to set the scoreboard alight. It was back to the drawing board
for Estonia and they seemed to have cracked it the following year with Kaelakee Hääl by Maarja-Liis Ilus and Ivo Linna managing the top five. A string of decent placings followed, including fan favourites such as Ines' Once In A Lifetime in 2000 and Sahlene's Runaway in 2002. The small Baltic nation went all the way in 2001, bringing home their only victory so far with the party song Everbody, sung by Dave Benton and Tanel Padar. A drought with successively low results followed until 2009, when Rändajad and Urban Symphony finally brought Estonia back into the top ten again, placing sixth. This feat was also replicated by last year's entrant Ott Lepland with the emotive entry, Kuula.