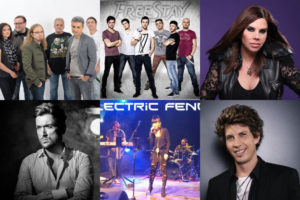 Sixteen acts were competing tonight in the first of two semi-finals of the Selecția Națională 2013. Among the candidates we had very popular artists in Romania and abroad, former Eurovision entrants and also some promising young singers who have proved their talent in different musical tv shows.
There are a total of thirty-two songs competing for the Romanian ticket to Malmö and only twelve of them will be finalists after the two semi-final shows which take place this weekend. Therefore, from the sixteen acts which were competing tonight, just six of them qualified for the big final to take place in Bucharest on the 9th of March.
The songs:
1. Tudor Turcu – Hello (Music and lyrics: Pop Călin)
We start with a pop-rock song performed by the winner of the latest season of the Romanian X Factor. His voice has the throaty rasp of classic rock singers and it fits great with that kind of song making it sound sometimes melodic and sometimes with a hard-rock style. He wore a black jacket, maroon shirt and khaki pants. He was accompanied by four musicians, all men (three guitars and a drummer), who were dressed in dark and casual clothes. He did not leave at any time the center of the stage and the musicians also maintained their position distributed in the back of the stage. Due to his popularity we can expect this song will get strong televoting support.
2. Robert Turcescu & Casa Presei – Un Refren (Music: Gabriel Basarebescu; Lyrics Robert Turcescu)
This is a soft rock-ballad sung in Romanian language. The band features Robert Turcescu at guitar and voice, Gabriel Basarabescu at keyboard, George Vila at guitar, Radu Cartianu at bass, Alina Crisan at sax and Dan Teodorescu playing drums. The lead singer does not have powerful vocals but his voice is surprisingly fresh and quite versatile. He wore a white jacket and black trousers and the other band members were also dressed in black and white. Robert was at center stage and to his right there was the saxophonist who was the star of the performance. The other band members remained in the background without drawing much attention. Nevertheless, it is not a song you can imagine on a Eurovision stage.
3. Electric Fence – Emilia (Music and lyrics: Lucian, Ciente David, Vasile, Elena Luminița, Antemir Antonio)
They were the runners-up in last year's national final and they are back with this super energetic song with lyrics in English which has the taste of folkloric sounds. It could even be a perfect party song. The lead singer, Elena, has a stunning voice. She wore a black dress but what was most striking was her hairstyle with a huge quiff. The remaining members of the band (two guitarists, a keyboardist, a drummer and a trumpeter) were also dressed in dark clothes. We should highlight particularly the performance of the trumpetist, the other woman in the group, which did not stop moving and dancing during the entire performance which was a mixture of virtuosity, freshness and energy.
4. Diana Hetea – I Believe In Love (Music: Jonas Gladnikoff, Johnny Sanchez, Sara Ljunggren, Michael James Down, Anders Kollerfors; Lyrics: Jonas Glanikoff, Sara Ljunggren, Johnny Sanchez)
This is an outstanding ballad with an amazing backing piano which showcases how amazing Diana's voice actually is. The control she has with her voice is amazing and she has such a great range. She wore a very elegant long white dress with a big slit. To her right there were three female backing singers dressed in black dresses who had a simple choreography waving her arms at the same time. Their positions did not change during the entire performance. The stage lighting was in orange and yellow. It was a moving performance.
5. Station 4 – Your Heart Is Telling Me So (Music and lyrics: Mihai Alexandru)
We continue with an adorable boy band performing a pop song which definitely fits the stereotype. The song is pretty good and catchy but it is like it was written for another singer and not for them as it does not let shine their individual vocal styles. They were dressed in jeans, plaid shirts and brown boots. They used very well all the space of the stage but their choreography seemed a bit forced at times.
6. Edict – Buddy Buddy (Music: Valeriu Cataraga; Lyrics: Neagu Anatol)
This song has a catchy mixture of sounds fairly well combined. It is an upbeat song with a somewhat fast-paced that really draws the listener in as well as highlights her vast vocal talent. The lead singer was wearing a red and white shirt and black leather pants. The other band members were dressed in the same colors as her with traditional clothes. Moreover, one of them was playing the harmonica which gave a touch of originality to the performance.
7. FreeStay – Criminal Mind (Music and lyrics: Matei Alexandru Mihai)
It is time for the band led by Florin Ristei who brings us a rock song. The lead vocals and vocal harmonies were flawless and they had a ton of energy on stage. He wore a gray jacket, white shirt and black trousers. The other band members were a keyboardist, two guitarists and a drummer who were dressed in casual clothes. In the LED screens we could see the faces of different people, including Florin, singing the song which was sometimes a bit disconcerting. He used really well all the space of the stage showing great chemistry between all the members of the group. It lived up to the hype.
8. Maximilian Muntean – Broken Heart (Music and lyrics: Petru Călinescu)
It is kind of a simple mid-tempo ballad but it is that simplicity that makes it sound more real than other songs that tried a little too hard to stir our emotions. Despite not having a powerful voice he has great vocal abilities and his range is pure and strong. He was dressed very elegantly in a black suit, white shirt and blue bow tie. To his right there were three backing singers, two men dressed in black suits and a woman in a blue dress. The stage lighting was dark blue and in the LED screen we could see images of a cloudy sky.
9. Brigitta & Mihai feat. T.I.P.S – One Heart (Music: Nițu Tudor; Lyrics Brigitta Szebenyi)
This is a nice pop song with a fresh and vibrant sound. They both have an excellent vocal control and their voices sound well together though the beat does not quite match the pace of the singing (the latter being too slow). Brigitta wore a green dress and Mihai was dressed all in black with a green bow tie untied to match her ​​dress. The band consisted of three male guitarists (one of whom was also the keyboardist) and a female drummer who were also dressed in black and green. The song is nothing special or different but it makes a pleasant listen.
10. Natalia Barbu – Confession (Music: Sârbu Radu, Sârbu Ana; Lyrics: Sârbu Ana)
The Moldovan representative at the 2007 Eurovision Song Contest is now trying to make a comeback this time for Romania with a stunning and powerful ballad. She has an instantly recognizable voice with its smooth and sweet colouring and she has perfected the art of meticulously building a song from start to finish, adding textures, tone and emotion. It is that versatility what makes her so good at what she does and no doubt she has great vocal abilities but she had some troubles for reaching the high notes. She wore a backless black dress with shiny ornaments on the side. To her left there were two female backing singers dressed in black. The right side of the stage was occupied by three contemporary dancers, two men and a woman. The stage was lit in purple and the end of the performance featured special effects of fire. The song is really good and strong enough to stand out.
11. Spin & Cezar Dometi – Silver Lining (Music: Cătălin Tuță Popescu; Lyrics: Răzvan Cârligeanu)
This is a nice pop song at first but it gets quite annoying at the end when the singer starts screaming instead of singing during the last verse. Cezar was dressed in a black vest, white shirt (whose sleeves were one long and one short), black tie and black trousers. Besides the lead singer on stage there were two female backing singers, a guitarist, a keyboardist and a drummer all of them dressed in black and white.
The song itself is not terrible, and he has a good voice especially live, but it has nothing special.
12. Liviu Mititelu – La Donna Di Nero (Music and lyrics: Liviu Cătălin Mititelu)
Next on stage is Liviu Mititelu singing in Italian language. His voice starts off eerie and soft but it really does have a beautiful quality. The melody is quite original and it keeps the mood nicely. Good impression in general but this is not a Eurovision act. He wore a plaid suit in dark blue and gray, light blue shirt and a turquoise tie. He was accompanied by a female backing singer who was located to his the left wearing a long black dress. He maintained his position in the center of the stage throughout the whole performance and it was a little weird to hear all these instruments and not see a single musician on stage that looked a bit empty.
13. Cezar – It's My Life (Music and lyrics: Cristian)
We could say that this is one of those songs that keep you alert during the three minutes it takes since it is a blending of musical genres. It is a good pop-opera song and he has been blessed with a very rare and unique male voice which fits perfectly with this song. Cezar was dressed all in black and he was accompanied by four female dancers dressed in a very provocative silver outfit. To his left was also a female backing singer dressed in black. The special effects of fire made the staging was more spectacular if possible.
14. Tammy – Firebird (Music and lyrics: Zoltan Pop)
This song has a really catchy tune that makes it a great dance track. Her voice is the essence of the song and she gave the impression that with her wide range and wide expressive abilities she could do anything she wanted with her voice but unfortunately it was not perfect all the time. She wore a black dress but the most striking were the red and black feathers she wore on her hair. To her left there were three female backing singers dressed in black and to her right a male dancer whose choreography had some flamenco touches which honestly did not seem very consistent with the style of the song. At times it seemed that the dancer was listening to a different song than the one she was singing.
15. Luminița Anghel – Unique (Music: Rafael A. Herrero; Lyrics: Rafael A. Herrero, José Juan Santana Rodríguez)
Another former Eurovision representative was among tonight's contenders. The hugely popular Luminița Anghel represented Romania in 2005 and she is seeking to come back with a very different entry. It is a dramatic, jazzy and classy ballad with cabaret and tango touches which she performs amazingly well. She wore an elegant purple gown and was accompanied by five male dancers, who were really the stars of the performance, dressed in a style reminiscent of the nineteenth century. Her name sounds like a clear finalist.
16. Anthony – Dream Girl (Music: Marcus Frenell, Frederik Randquist, Hanif Sabzavari, Jimi Thiesen, Michael James Down, Lyrics: Hanif Sabzavari)
We reached the end with a well-known face from previous national selections in Romania and also in neighbouring Moldova. This time he is trying his luck with a dance song that could be commercially successful. He does not have an incredible voice but it works very fine with the beat that even sounds a bit like rap. He wore a leather jacket, gray shirt and orange trousers. To his left tehre were three female backing singers dressed in black shirts and colorful skirts. Behind him were two dancers (one man and one woman) whose choreography was quite well synchronized with Anthony's movements. He really showed his whole potential.
The show:
The three-hour show started at 20:00 CET (21:00 local time) and it was hosted by the popular singer Andreea Bănică, the actor Marius Rizea and the former Eurovision representatives Paula Seling and Ovi who sang Playing With Fire for Romania in 2010. They were dressed very seventies style in white and gold.
Jurors were presented but they were not in the set but in a room that seemed to be isolated so it seemed they would judge the performances by viewing them on the screen.
The stage was circular and there were many screens in the back. The public was quite far from the stage.
In the green room, our hosts were Oana Vlădescu and Toader Păun. They were responsible for talking to the artists after their performances and learn first hand their impressions.
The phone numbers that the audience had to use for the televoting were announced during the performances of each artist but voting lines were opened just after the last song for thirty minutes.
The interval act was in charge of the hosts singing a version of the popular song Mamma Mia by the Swedish ABBA who won the Eurovision Song Contest in 1974.
The results:
The six qualifiers were decided through a 50/50 split of public and jury vote and they were Casa Presei, FreeStay, Luminița Anghel, Cezar, Electric Fence and Tudor Turcu.
Romania at the Eurovision Song Contest:
Romania has participated in the Eurovision Song Contest fourteen times after its debut in 1994 with Dan Bittman. Since the introduction of the semi-finals it is one of the countries that have never missed a final. In 2005 it got its first top 3 place with Luminița Anghel and Sistem and the following year, it was one of the hot favourites to take the gold with Mihai Trăistariu who ended on 4th place. After three years being out of the top 10 in the final, Romania made some few changes for its national selection by skipping the semi-finals and sent the duo composed by Paula Seling and Ovi who managed to get the third place in the final. In 2012 Mandinga represented the country with their smash hit Zaleilah finishing in the 12th position with a total of 71 points.
You might also want to read: