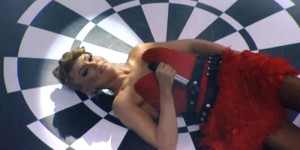 Alyona Lanskaya won the Belarus Eurofest national selection with the song Rhythm Of Love.  Now Alyona has decided to change the song that she will perform in Malmö.  She will now sing Solayoh written by Marc Paelinck and Martin King.
After the heartbreak of missing out on representing Belarus at the 2012 Eurovision Song Contest, where she was disqualified as winner of the Eurofest that year, Alyona Lanskaya was the clear winner at the national selection to represent her country at the 2013 Eurovision Song Contest.  At the Eurofest she won with the song Rhythm Of Love written by Leonid Shirin.
Now the broadcaster BTRC and Alyona have decided to change the song that she will perform in Malmö.  She will now sing the Latino pop song, Solayoh.  The song is composed by Marc Paelinck from Belgium and Martin King from the United Kingdom.  Marc has already a great Eurovision connection including writing 1 Life for Xandee (Belgium ESC 2004) and What If We by Chiara (Malta ESC 2009).  He also wrote Too Little Too Late by Domenique Azzopardi from the 2013 Malta Eurosong final.
Alyona has spent a lot of since winning the Eurofest in Belarus to find the right song to represent her country.  She sifted through many songs to find the right choice.  Even the original winning song, Rhythm Of Love, was still a contender. Alyona recorded several songs at the famous Abbey Road studios in London where she eventually decided that Solayoh would be the best choice.
Now Alyona is working on the promotional video for Solayoh and EuroVisionary will bring you that as soon as it is available.  She will also do a tour to promote her song starting with an appearance at the Romanian national selection on 9 March.
You may also like to read –