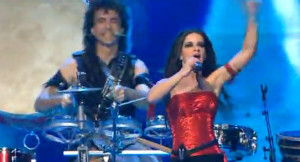 Tonight Bulgaria chose their song for the 2013 Eurovision Song Contest in Malmö. The Bulgarian broadcaster BNT nominated the duo Elitsa & Stoyan internally. They already represented Bulgaria in 2007 and reached the country's best ranking. They will try to repeat their success in Malmö, this time with their song Kismet.
The songs:
1) Dzupai, Libe Boso (ft. Skiller & Jahmmi)
The song is an interesting mixture of traditional music and reggae / hip hop elements. Skiller & Jahmmi are two rappers with dreadlocks, both dressed in black. They sing their parts in English while the rest of the lyrics appears to be Bulgarian. Stoyan stands behind a drum, also dressed in black clothes. Elitsa wears red pants and a traditional jacket coloured white and red. Overall this song comes across a little bit spheric.
2) Kismet
This is a midtempo ethno pop with lots of traditional elements. Elitsa and Stoyan are joined on stage by two female backing singers and a man with a bagpipe. Stoyan has moved from a single drum to a whole set of drums. This time Elitsa is playing a drum as well.
3) Samo shampioni
Tonight's last entry is an uptempo ethno pop song, again with lots of traditional elements. Elitsa and Stoyan are only joined by the man with the bagpipe on stage. The drums come across a bit stronger than during the previous two entries. In general we can say that all three entries have a very similar style.
The show:
The Bulgarian preselection kicked off at 19:50 CET with a presentation of traditional Bulgarian dances combined a fire show. Tonight's presenter Dragomir Draganov welcomed the audience and TV spectators and introduced us to the very young singer Ivan Ivanov who sang last year's winning song Euphoria. After that there was a review of the 2007 Eurovision Song Contest in Helsinki when Elitsa & Stoyan already represented Bulgaria.
As soon as the song presentation was finished we got to see another drum presentation – this time as the interval act. After the voting has closed there was another interval act – Bimbo feat. Anka Pubkinka, a DJ and a lady in a traditional Bulgarian costume performing a mixture of club sound with traditional and spheric sounds. Next on stage was the Swiss representative Heilsarmee who performed their entry You and me. The arrangement has been slightly changed since the Swiss final as the female lead singer sings the second verse alone now.
Before the votes are announced a snippet of the Greek entry Alcohol is free was shown, followed by another performance, this time of Poli Genova singing her 2011 entry Na inat. 
The voting:
The voting was determined 50:50 by a professional jury and SMS /televoting.
10p. for Kismet
10p. for Samo shampioni
2p. for Dzupai, Libe Boso
As Kismet won the SMS/televoting it is the song we will hear at the 2013 Eurovision Song Contest in Malmö.
Bulgaria at the Eurovision Song Contest:
Bulgaria appeared at the Eurovision Song Contest in 2005 for the first time and participated eight times until today. Only one time the Balkan country managed to reach the final – in 2007 with the duo Elitsa & Stoyan and their song Voda (Water) who finished 5th in the overall ranking. In 2008, 2011 and 2012 Bulgaria came quite close to reach the final: Deep Zone & Balthazar finished 12th in their semi-final with DJ, take me away. The same position reached Poli Genova with Na inat in Düsseldorf in 2011. Last year Sofi Marinova and her song Love unlimited received the same amounts of points like the 10th placed Tooji from Norway. At the end Tooji gained points from more countries, that is why Bulgaria failed one more time to reach the final.
In Malmö we will see Elitsa & Stoyan performing in the second semi-final on May 16th.