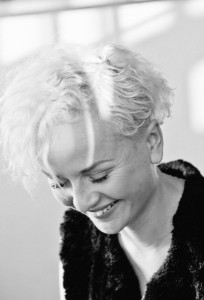 Anna Bergendahl managed to turn defeat to triumph following her failure to make the final at the 2010 contest in Oslo, with her album Yours Sincerely topping the charts. Her follow up album Something To Believe In didn't fare so well but, has not gone unnoticed stateside.
Fiasco in Oslo didn't stop Anna Bergendahl from scoring a major commercial success with her debut album, Yours Sincerely, which rocketed to the top of the Swedish album charts. The difficult second album Something To Believe In, released back in autumn of last year failed to set the charts alight, just missing the top ten. But, just as the dissappointment of Oslo proved, every cloud has a silver lining, and her latest twelve track studio offering seems to have started to attract serious media attention across the pond.
Since the release of Something To Believe In, Ms Bergendahl has been busy beavering away, building up quite a following for herself in the land of the free. The story began in mid January with the surprise release of her debut single in the US, Fun, which was warmly received. Her talent was swiftly recognized and she was booked to appear in San Francisco at the Sunset Sessions event mid February.
Word soon spread following her performance, and the popularity of Fun began to spread from radio station to radio station. Her appearance in San Francisco went down so well, and her album is scheduled for release there on the 30th of April on Decca Records, something that has had various media reaching for the superlatives when describing Anna's voice and sound. Bergendahl blew away so many, that it was none other than celebrated producer Larry Klein who took charge of the production if her American debut. He has previously worked with the likes of legends such as Joni Mitchell and Tracy Chapman, so the Swedish starlet is in the safest of hands. Things are definitely looking rosy for Anna Bergendahl, as her lead single Fun was already made pick of the day at US website Direct Current Music, and the glowing press release from Shore Fire Media will surely help add to the anticipation prior to the release of Something To Believe In. The music video to the first official single from the album, Live And Let Go can be seen below.
You might also like to read: