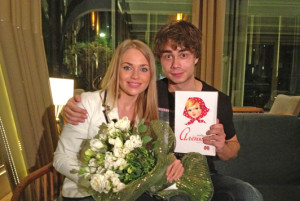 Controversy usually surrounds the Belarussian entry and this year is no exception. Alyona Lanskaya was selected as the Belarussian entrant with Rhythm of Love. Following a change of song to Solayoh, Alyona has enlisted the help of Belarussian born Eurovision winner Alexander Rybak to promote her entry.
Belarus last made it to the final in Oslo in 2010 with 3+2 and the anthemic Butterflies. Their only foray into the top ten at a Eurovision final was in 2007, when Koldun conjured up a respectable sixth place for Belarus with Work Your Magic. With the new choice for Malmö, Solayoh, being far better received and figuring much more favourably on betting odds lists around the continent, Belarus is eager to ensure that they have the best possible chances for their first victory at the contest and seem to be pulling out all the stops in terms of promotion.
Alyona Lanskaya is currently filming an oriental themed music video for her entry in the Turkish metropolis that is Istanbul, with well known director Sinol Kormaz behind the camera. Because Belarus so want a Eurovision fairytale of their own, former winner Alexander Rybak has been drafted in to star alongside the blonde beauty. He was personally invited by Alyona and paid his own plane ticket to Istanbul, in order to give his birth country a helping hand in the Eurovision stakes. His only asking price was that the team pay for the cost of transporting his beloved violin, which will also be making an appearance in the video.
The duo apparently hit it off immediately, and both have quite a lot to talk about, with Alexander's sister Julia and his grandmother still living in the capital Minsk. The charming singer heaped praise upon Alyona for the catchiness of Solayoh, stating that, had it been up to him, Belarus would have headed straight to the top of the scoreboard. Stay tuned for the imminent release of the video and who knows, perhaps Alexander is right – maybe 2013 will give Belarus their best result yet.
You might also like to read: