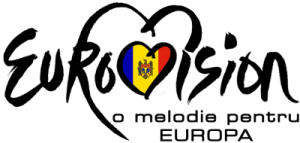 Tonight Moldova held the first of two semi-finals of O melodie pentru Europa featuring 12 songs to search for their 2013 Eurovision Song Contest representative.  Seven acts progressed to the final to be held on 16 March in Chisinau by a combination of televoting and expert jury.
The songs –
1. Diana Staver – Underestimated
We begin with a rock/pop song by Diana.  She is wearing a short black dress and is joined by two male guitarists and a male drummer as well as two female backing singers.  There is even a bit of rapping in this song from Diana. 
2. Vitalie Maciunschi – I Want You Back
Vitalie is wearing a black suit and hat with white shirt and red tie.  He is joined by three dancers (two girls and one boy). This is a pop dance track and well performed.
3. Margarita Ciorici – Coma
The song begins with a heartbeat.  It is a slow tempo song with the constant slow heartbeat throughout.  Margarita has deep vocals and she is alone on stage wearing a long red dress with a trail.
4. Cristina V & Glam Girls – Celebrate
Lots of energy here from Christina V & Glam Girls. The girls look really colourful in their short skirts or shorts and multi coloured tops.  The song is an upbeat electro pop dance song.  The audience like this one.
5. Doiniţa Gherman – Planeta e un rai
Doiniţa is dress in black top and short black and white frilled skirt.  She is joined by five ethnic style dancers.  The song is a pop ethnic song and is upbeat and fun. This could do well at Eurovision.  It is fun and lights up the stage
6. Stela Boţan – Inima mea
Stela is wearing a short black dress with long net see through net below.  The song is soft rock with guitars.  She is joined by a male band consisting of a guitarist, keyboard player and drummer.
7. Vitalie Negruţa – You'll Be Mine
Here we have another ethnic pop song.  There is a lot happening on the stage with two girls providing some local and ethnic dancing.  There is a male accordion player and a male guitarist and drummer.  Vitalie is wearing a black white and has long hair.
8. Aliona Moon – A Million
Aliona is wearing a long flowing creamy white dress.  She is joined by three ethnic style female dancers and a male pianist.  The song is a dramatic ballad.  Aliona has strong vocals and gives a good performance.
9. Ruslan Ţaranu – Amadeus
Ruslan is wearing a long black and white jacket and unusual green glasses.  He is joined by a male guitarist, male keyboard player and male drummer.  Let's say this is 'unusual'.  Strange jilted beat. Is it comedy? Maybe something from the circus.  Well maybe there is some humour! 
10. Boris Covali – Runaways
This starts slowly and builds in to a mid tempo pop song with a good production. Boris alone on stage.  He is wearing a black jacket and shirt and red trousers.  A strong performance.
11. Felicia Dunaf – Codename Felice
A mid tempo pop song. Felicia gives a strong performance on stage.  She is wearing a short orange dress with black and silver at the top with black high heeled short boots.  On stage there is a male and female dancer and three backing vocalists (one male and two female).
12. Svetlana Bogdanova – Conquer My Heart 
Svetlana is wearing black lace mask and black dress. The song is an ethnic ballad with a nice melody.  She is joined by two female and one male violinists. Strong ending to the competition.
The show –
Pasha Parfeny began the show with a performance of his entry from ESC 2012, Lăutar.  The show was hosted by Cătălin Josan (who has participated in the 2008, 2010, 2012 Romanian Eurovision national finals) and Evelina Vîrlan.  Zdob şi Zdub (ESC 2005 & 2011) provided the interval entertainment with a mini concert including a performance of their Eurovision entries from 2005 and 2011.

The voting –

An expert jury and televoting (50% each) decided the seven songs that would progress to the final.
The seven acts to qualify are –
Boris Covali
Aliona Moon
Doiniţa Gherman 
Vitalie Negruţă
Felicia Dunaf 
Christina V & Glam Girls
Svetlana Bogdanova 
The second semi-final of O melodie pentru Europa will take place on 14 March in Chisinau.
Moldova at the Eurovision Song Contest –
Moldova made their first appearance at Eurovision in 2005 Zdob şi Zdub with Bunica Bate Toba and finished in sixth place.  Arsenium feat. Natalia Gordienko finished in 20th place in 2006 with Loca.  TVM threatened to withdraw in 2007 but the public demanded they stay in Eurovision.  Natalia Barbu participated that year with Fight and finished in tenth place.
In 2008 Moldova failed to make it to the final with the jazz type song A Century Of Love by Geta Burlacu.  In 2009 Nelly Ciobanu performed Hora din Moldova and finished in 14th place.  Sunstroke Project & Olia Tira went to 22nd place with the dance song Run Away in 2010. Zdob şi Zdub returned to the Eurovision stage in 2011 with So Lucky and went to 12th position.  Pasha Parfeny sang Lăutar in 2012 and finished in 11th place in Baku.
You may also like to read –