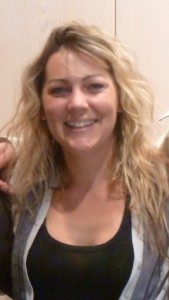 April 15th, the annual French OGAE meeting was held in Paris. More than 150 fans were present to view and decide who will be in the Top 10 in Baku. This event also gave the opportunity to have Viriginie Pouchain as a special guest. Virginie finished 22nd in Athens 2006 with the song, Il était Temps.
The event was held all Sunday long. The morning to watch the 36 preview videoclips. 20 songs were then picked from the two semi-finals by the French fans. In the afternoon those 20 songs plus the Big 5 and the host of this year, Azerbaijan, were viewed once again.
This meeting was especially the opportunity to welcome back the 2006 French representative, Virginie Pouchain who received a very warm welcome. She kindly accepted to stay with the French fans during the whole afternoon to watch and vote from the 26 songs. Then she spoke to the crowd about her experience in Athens and how amazing it was. She even confessed that if the French broadcaster was to ask her today to represent France once again, she would of course accept, but will take her time and choose the team to work with for the song wisely.
She explained how that story had an impact on her life, about what she did one year ago and when she decided to cover songs by French singer Francis Cabrel.
Virginie told us that it is so difficult as an artist to find a way to sell her songs, and that it will be easier to sing her songs on special events, to be on stage.  She has songs of her own she would love to sing.
She kindly accepted to give an interview for EuroVisionary and offer her fans her 2006 song Il était Temps.
We hope that this talented young woman will soon find her way to express herself with her music, she really deserves it.