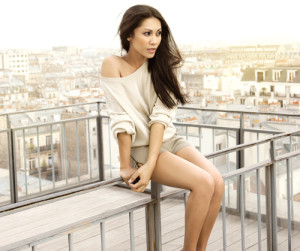 Yesterday EuroVisionary met up with Anggun, who will represent France in Baku with the song Echo (You & I), for an interview in the Warner Music Studios in Paris. Here she reveals a bit more about what we can expect to see in the final of the 2012 Eurovision Song Contest.
It's with a very warm welcome that Anggun meets EuroVisionary at her major record company, Warner Music. She tells us about her thoughts for the Eurovision Song Contest, what we can expect from her, but also a little bit about her personal life and her last album titled Echos.
Furthermore she a taste of her latest single Mon Meilleur Amour (My best love) when he sings bit from it in french.
All of that can be seen in the video below – and in a few days EuroVisionary will also open a competition where two lucky readers can win a signed edition of her latest album, which Aggun kindly provided us with.
Eurovisionary.com would like to thank her manager at Warner Music, Mister Jean-Claude Camus for making this interview possible, but also Ms Catherine Scarpi, who gently did everything to give us a great moment – and of course Anggun herself.