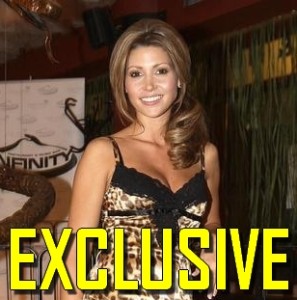 In an exclusive interview with EuroVisionary.com Tereza Kerndlova reveals her thoughts about competing in the forthcoming contest.  She also told us about her stage act for the contest, amongst other things.
Can I ask you to start by introducing yourself to the fans who may know little about you yet?
I professionally started singing when I was 8 years old.  I also dubbed two hundred films.  For four years I did tap dancing in a tap group and we were champions in the Czech republic six times, champions of Europe and we got the 4th place in the world championship. I was a part of the girl group Black Milk and we got the Czech Grammy.  But I left this group and I´m proud of my two solo CDs.   
Do you think that having a musical father gave you that extra push to pursue a career in music?
It is advantage but also disadvantage .  You must work much harder than the others.
 
How would you describe your song 'Have some fun'?
My song Have Some Fun is about love and about fun. It´ s a funny song for pleasure. This song was written for me by composers Gordon Pogoda and Stano Šimor.
There had been some accusation from a Czech TV company that the vote was rigged in your favour, how did this affect you?
It´s only gossips.
What was your experience of Eurosong 2008?
It was a very good experience for me and it gave me the chance to go to Eurovision.  I am very glad about it.
 
What promotion have you planned in the run up to the contest?
I think that pre-contest promotion is important.  I have already visited Ukraine and Latvia.
How does it feel knowing that you will take to the stage in May and represent your country in front of 600 million viewers?
I´m looking forward to it of course. I can´t imagine it but I think it will be very exciting.  It could open me door to Europe.
Have you planned a stage act for your entry yet? And what can we expect?
On the stage there will be two dancers, a DJ and two vocalist with me.  But the rest I will have as a surprise but I can promise a great show in the way of dancing and some stage effect. Certainly you have something to look forward to. 
Apart from actually singing at the ESC, what are you most looking forward to during the coming months?
I´m looking forward to my performance before Rihanna in March in Prague.
Do you have any messages for the readers of EuroVisionary.com?
I want to say hello to everybody and my message for you is to have a nice time with Eurovision and to choose the best winner.
What's the one question that I haven't asked you that you would most like to answer and what would the answer be?
I don´t know, you asked good questions.  Thank you very much.