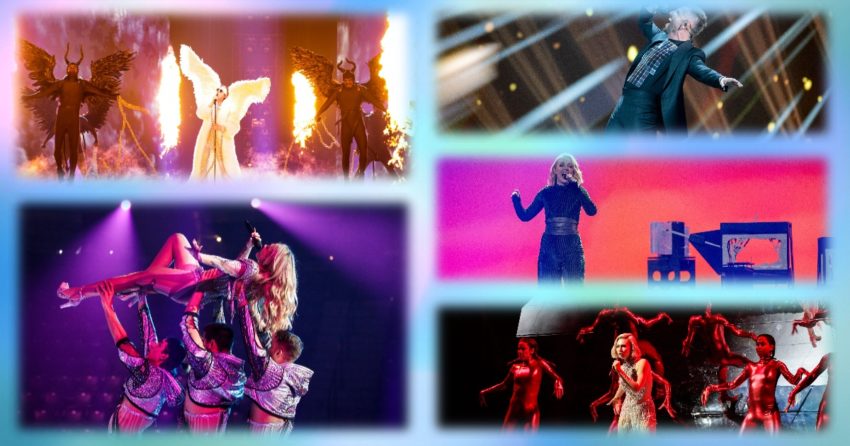 We continue this hectic day five with the second rehearsals from five more acts from semi-final one. First up this afternoon session was North Macedonia's Vasil. He was followed by his competitors from Ireland, Norway, Cyprus and Croatia.
With just 20 minutes rehearsal time today, things are going very quickly. It's only three hours since the first rehearsal started, and we're now with the acts that are fifth to tenth in the running order for the first semi-final.
We'll get through three sessions today, all with five songs in them, and as such we'll see the entire first semi-final except from Malta. The second round included North Macedonia, Ireland, Cyprus, Norway and Croatia.
Who has what it takes to reach the final? Let's look at reactions from Eurovision journalists. We asked them to judge from the rehearsal if they were ready, and what might still not work for them. The article will be updated after each rehearsal so remember to come back or refresh the article.
North Macedonia: Vasil – Here I Stand
🇩🇰 Charlotte J. – WOW! Wow, what a voice, and wow, what a beautiful backdrop. I feel like I am in a musical, which I just don't want to end. But, yes, there is a but – I think they need to adjust the camerawork in the part where they are wide just before they zoom in to his lightning chest. That part doesn't work for me. Other than that, it's good – and Vasil is amazing!
🇬🇧 Michael O. – Vasil's voice is perfect but the staging here starts very dark, and Iceland 2016 which was one of the favourites to make the final; viewers later said it was too dark and not visually appealing. As the song also starts slow, it takes a while to make an impact. The lighting is quite impressive as the song builds. This is how North Macedonia have chosen to stage the song, and as such it's where it should be. A backing choir on stage with him though, would have made the performance so much stronger.
🇹🇷 Gunec G. – Great vocal performance from Vasil as usual. I love the spreading light idea starting from Vasil's chest (heart), where the stage goes from minimal to stardusts, gold dusts and lights. Vasils tshirt with tiny mirrors on which he wore inside his black suit goes well with this idea. They have made an image resembling the North Macedonian flag towards the end of the performance.
Ireland: Lesley Roy – MAPS
Charlotte J. – I love the song, and I appreciate that the Irish delegation have spent a lot of time thinking about the performance, but maybe it was too much time? It looks interesting, but also too complicated for many viewers to relate to, I am afraid. Her energy and her smile however is contagious. She is lovely to watch.
Michael O. – It's good that Ireland have tried to add a little flavour to their performance. However, getting a singer to run on a treadmill maybe isn't the best idea. The visuals are very impressive from what we can see, but obviously the tricks will look better on the T.V screen on the big night. The lengthy breaks between rehearsals is probably indicating that the visuals still need working on, and if they take up too much time, there won't be enough time for vocal practise. Maybe this is a case of attempting too much in one performance. Poor soul looks exhausted by the end of the performance.
Gunec G. – Clouds, waves, raindrops, 4 seasons, travelling were the main stage concepts of Ireland, I like it. Lesley gave a good vocal performance, she looked more relaxed. Her costume was not very fancy but she went on stage barefoot which was the highlight of her outfit.
Cyprus: Elena Tsagrinou – El Diablo
Charlotte J. – The use of mirrors in the backdrop for this one is really good. Elena looks good, she shows that she can be sweet and sexy at the same time, an angel ready to play with the devil. Not much they can or should change. Cyprus is ready for the semi-final – and the final, and perhaps to win the whole thing. They should be a top contender after this.
Michael O. – To me, Cyprus has been the surprise package in these rehearsals. We hadn't really seen a lot of Elena singing the song live, before now, but boy does she sing it well. The backing dancers and stage lighting are also ready and good to go, and this must me the underdog to give Cyprus it's first win. Ready to go right out of the can, excellent rehearsal.
Gunec G. – Sexy, mini, glittery dress. I think we've seen 4 or 5 of them this year. Nonetheless, very good choreography and dance performance from Elena and her 4 dancers dressed in red. Elena nailed the vocals along with her dancing. The stage was all red and silver to go with the outfits.
Theo V. – Let me get this out of the way – I love the song and I love Elena. Today was the first time that I got to see her rehearsals and I found the first run in particular (due to the element of surprise perhaps) sensational. Often songs we like do not translate well onstage so this was a 'sigh of relief' moment for me – the presentation looked vibrant and fresh. One of the things I am taken with is Elena's own artistic intelligence – the way she uses her vocals, face and movement for well-placed expressive accents. Oh, and I would not be surprised if she was the one with the original sparkly fringe mini-dress (it had been in the making months in advance with Celia Kritharioti, an internationally established designer).
Norway: TIX – Fallen Angel
Charlotte J. – This song is growing on me more and more – and this rehearsal will not change that. It's actually a really good performance. Let me add what a friend just told me: "Seeing them in sequence, I cannot help but think it is not a coincidence that Cyprus might be seen to be giving her heart to Norway's fallen angel.
Michael O. – I don't know, today the rehearsal seemed to be a little flat. I'm pondering the need for the dancers, and perhaps a few more backing vocalists instead. With the dancers the staging seems a little messy, I can't decide. The song is rather good but I'm now not so sure what they can do, to make a big impact after Cprus.
Gunec G. – There we see the white angel with sunglasses Tix (written on his forehead cap) chained to 4 dark demons. The stage showed us some thunder and storm (I think). Good vocal performance..
Croatia: Albina – Tick-Tock
Charlotte J. – I really like the effect with the mulplication of Albina. I also like her collaboration with her four dancers. And I love the colours, but it brings me back to a time which I don't actually think match with the music. I can't help but thinking if Poland's RAFAŁ will join her. Camerawork was a bit off her and there, but only minor, so for sure it will be fixed for the semi-final.
Michael O. – Since this was my favourite before the rehearsals, it pains me to say it, but this has been the biggest downgrade of all acts who won a National heat. Having said that, the rehearsals today were miles better than the first set, with the dancers moving better, but they seemed a little bored, and the hologram works better.  If this had been my first time watching the song though, and it will be for some, I fear this may not qualify, particularly when some other countries have really stepped up to the plate. Albina's vocals have also improved a lot since the last rehearsals, but I'm sorry this is nowhere near as being as good as it was in Dora 2021.
Gunec G. – Albina and her 4 dancers used a small portion of the stage, but they did a good job. Multiplication of Albina, she's laying down spinning, the neon writings, the dance routine and Albina's vocals were all great.