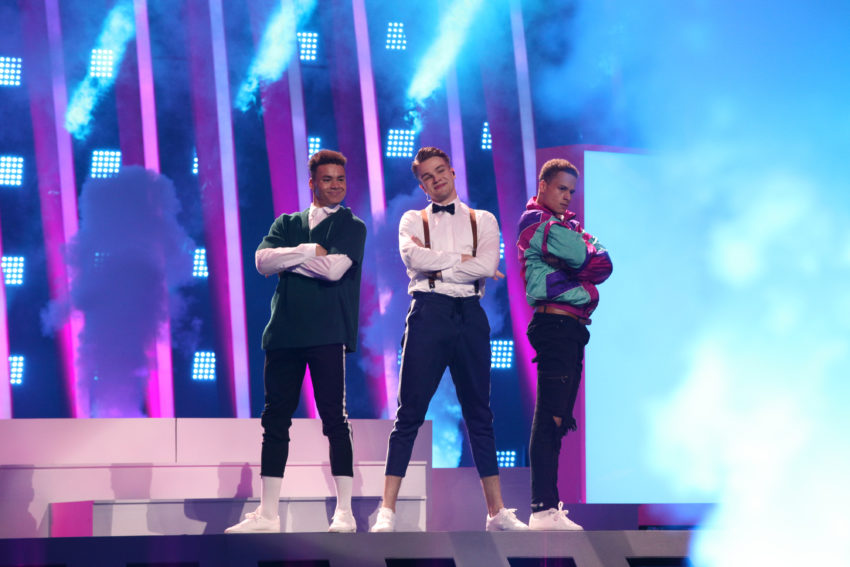 Mikolas Josef was a newbie when he entered the Czech national selection, but his star went up in the sky since then. He became one of the internationally well known Czech singers of recent years and released a few successful singles too. Now Eurovision fans look back on his 2018 entry.

Back in 2018, Czech Republic returned for the first public national final since 2009 and for the first time ever in Eurovision history, this national final was only held online. But it was a successful selection with a variety of songs to choose from. Mikolas Josef had only few songs released before the national final.
Mikolas and his song were the clear winner of ESCZ, the Czech national final, as he got both 12 points from the juries and also from the public online vote. After his victory, Mikolas went to the pre-parties where he quickly gathered masses of fans from all over Europe. That led to him being one of the favourites at Eurovision 2018 in Lisbon.
But there was one dark cloud on this successful sunny road. After the semifinal rehearsals, Mikolas hurt his back and could not attend some of the planned press conferences. Luckily, he recovered before the semifinal, where he managed to qualify and repeat his success also in the grand final. Ending up fourth in the public vote, but not being admired so much by the professional juries, Mikolas reached a 6th place on the scoreboard. That marks the best Eurovision result to date for the Czech Republic.
Lie To Me – opinions from fans
In order to find out what Eurovision fans today think of this Czech entry from 2018, we asked our Eurovision Fan Panel. It includes team members as well as fans from all over the world.
🇬🇧 Michael O. – With one entry Czech Republic came bang up to date and they have continued to send innovative entries since. Of course it was a copy of Jason Derulo but that doesn't take away from it's enjoyment. A modern treat.
🇺🇸 Grace W. – You know how in recent years, each edition seems to have a song you wouldn't want your parents to hear? Well, Lie To Me is 2018's version. Eurovision is supposed to be a family-centred contest and on the website it says no to swearing or unacceptable language; this song apparently slipped through the cracks with its use of a certain religious profanity. And the innuendos are over the top. No, Czechia. Just no. The tune of the song was okay, but only that. 2/10.
🇨🇿 Josef Š. – Mikolas is one of my favourite songs from our country. He's good looking, his songs are modern and fresh and he brought us some Eurovision success we needed so much. The song is a grower and since I heard it for the first time, it only grew and I like it more and more.
🇷🇸 Milosav T. – Czech republic never had a really good score on ESC, but they nailed it with Mikolas. A combination of his charm, upbeat and modern song and some sweet dance moves made for an interesting entry and a well deserved position in top 10. The only drawback was a relatively forgettable chorus, but the trumpet solos (and that flip towards the end) made up for it. Since I heard he had back pain that night, he did an awesome job.⭐⭐⭐⭐
🇩🇰 Charlotte J. – This song took me a while to get used to. I didn't like it when it was released. During the two Eurovision weeks, it grew on me, and now, two years later, I love it. The performance is so cool, well thought through and the song is catchy. It took me some time to realise that, but better late than never, right?
🇬🇧 Ashleigh K. – Mikolas Josef was the start of something fresh and new for Czech Republic in Eurovision. I thought the geek chic look he was given looked a bit overproduced but the song was very good and Mikolas showed his natural charisma during the performance.
🇨🇴 🇫🇮 Alvaro S. – I have to be honest, I've hated this song since the first listen. First it is this cocky attitude of Mikolas in his performance (which surprisingly contrast with his real persona. He was approachable with the fans actually). But most important, the misogynist lyrics along with the double entendres which I found distasteful make this one of the songs I dislike the most from the 2018 festival.
🇦🇺 Michael R. – This was a real turning point for the Czech Republic. A contemporary song which could compete on the charts in the US and UK, performed and staged well by a charismatic performer. The staging was a little weird but that was part of the charm. I also think respect is due to Mikolas for persevering despite his injuries.
🇮🇱 Adi S. – The best song to come out of the Czech Republic! This song is so much fun. His stage presence is epic and his rapping ability extraordinary. Got the 12 from the televote in my country and for good reason.
🇹🇷 Gunec N. – Let me get this straight. Lie to me is the best Czech entry ever. I loved the energy Mikolas reflected on stage. The song has a very modern and uptempo sound, I myself can't stand still listening to it and always dance to it. I was really worried about Mikolas when he hurt himself during the rehearsals but it was so good to see him flying on stage during his performances. Good job!
Enjoy Mikolas' performance from the 2018 Eurovision Song Contest in this embedded video. Below the video, you can read more about Mikolas Josef.
Mikolas Josef – A mini biography
Mikolas was born in 1995 and has loved music since his childhood. He played guitar since he was five and also studied music school. His musical inspiration was a folk group Fleret. Mikolas studied at The English College in Prague where he graduated in 2015. When he was 17 he also received gold medal in solo acting from London Academy of Music and Dramatic Arts. He decided to focus on music instead and did not act anymore.
An important part of Mikolas' career was being a male model for some time during his studies. He appeared in some fashion shows for Diesel, Replay or Prada. This career was really short as Mikolas didn't like the practices in the fashion business and stopped with this side of work.
After he fully turned his focus on music, he released three singles Hands Bloody, Free and Believe (Hey Hey). Then he came with his soon-to-be Eurovision hit Lie To Me, and after Eurovision he released 4 singles – Me Gusta, Abu Dhabi, Acapella and Colorado. Mikolas also partially returned to the world of fashion as he was the face of a Tezenis underwear campaign and he also worked with mobile company Huawei. In 2019, Mikolas set up his own record company Vivienne Records and, as he has always been able to count on his family's support, they now are part of his management team.