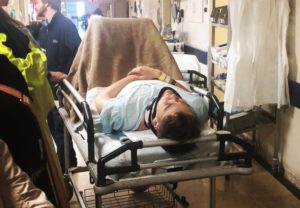 After Mikolas Josef's first rehearsal today, he faced some medical problems. The doctors in the arena have checked him immediately, but he was transported to the hospital, so everything is under their control.
This very early morning, Mikolas was picked up around 3 am and together with the Czech delegation, they made their way to Lisbon. After the landing, they went to Altice arena for the first rehearsals. Maybe it was a combination of this early flight and the backflip that Mikolas prepared for the end of his performance, but after he was done with rehearsing, he needed to be checked by the doctors in the arena.
In the beginning, it looked just like a pulled muscle or something wrong with his back, but just to be sure, Mikolas was taken to the hospital to do an X-ray. As Mikolas wasn't at the Meet & Greet after the rehearsal, it was up to the Head of Delegation Jan Bors and Head of Press Kryštof Šámal to calm down the press and fans. It looked good and everybody hoped that Mikolas will soon be able to continue in rehearsing, maybe with a few days rest only. Unfortunately, a few hours ago, Mikolas himself published an announcement that things are getting worse and he is already in a second hospital because at that moment he wasn't able to even move. He was going to have an MRI to find out where the  problem is. It looked like there may be a prolapsed disc in the area of the neck and the spine.
Hopefully, there will be some better news soon about the condition of Mikolas. Thousands of his fans around Europe are now sending him a lot of love, energy and "Get Well Soon" wishes on his Instagram account as well as on his Facebook page. We are joining them and we hope to see Mikolas Josef on the stage on Tuesday 8th May when the first seminal of Eurovision 2018 takes place. Mikolas is set to perform his entry Lie To Me, fifth. You can watch a snippet of his rehearsal in the video below.