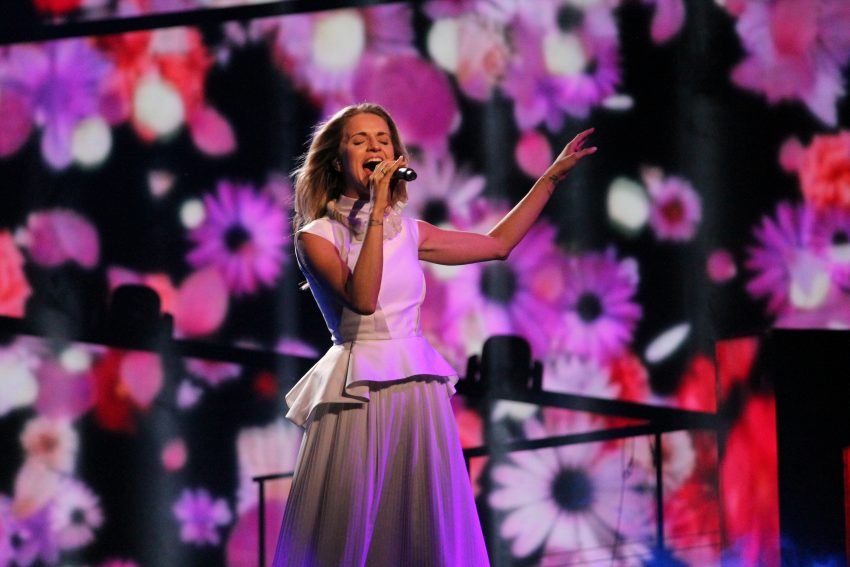 It was a historical moment when this central European country reached the Eurovision final for the very first time in 2016. Gabriela Gunčíková then finished, unfortunately, only second-to-last in the final but was one of the fan favourites that year.

After its comeback to Eurovision in 2015, Czech Republic decided to keep the internal selection process as previous year was not a bad result at all, even though they did not qualify yet. In 2016, Czech Television, the national broadcaster, internally chose Gabriela Gunčíková as its representative, but for the song, they opened submission even to foreign composers. And in the end, it really paid out.
The song I Stand was composed by Swedish-Irish team of Christian Schneider, Sara Biglert and Aidan O'Connor, and Gabriela made it her own. Being moreover a rock singer, she pulled out some heavy guns in the refrains and peaks of the song. As for the pre-parties prior to Eurovision, she couldn't attend any as she was signed to Rock concerts touring in Germany at the same time.
But luckily it didn't hurt the Czech chances in Stockholm and Gabriela qualified from 9th place in the first semifinal to end up with 41 points from the jury only in the grand final four days later. This did not mark only the first time as the Czech Republic in the final, but also the very first time when we heard "zero points" in public votes announcement in the final.
I Stand – opinions from fans
In order to find out what Eurovision fans today think of this Czech entry from 2016, we asked our Eurovision Fan Panel. It includes team members as well as fans from all over the world.
🇨🇿 Josef Š. – Gabriela is an amazing singer with no doubts. And she got a powerful ballad in 2016 with quite impressive lyrics. What was maybe the best in her performance was the LED graphics. Those blue, purple and pink triangles were maybe one of the best things at Eurovision in 2016. I Stand still belong as one of my favourite Czech Eurovision entries ever.
🇬🇧 🇮🇪 William S. – Aww it's always great to see a country at the contest finally break their non-qualification streak, one that the Czech Republic had since their debut in 2007. Gabriela has one of the best vocals at the 2016 contest and her soaring ballad accentuated it perfectly. The last high note still gives me chills and even the LED graphics are amazing for this performance. A really proud moment for Czech people (just forget about the zero points).
🇱🇹 Konstancija S. – I listen to this song every day from the 2016 contest. I am totally enjoying her voice and stunning arrangement of music. This kind of song, I call a true CLASSICS. It means that it is really enjoyable no matter how many days ago it was written. This song will always be a perfect example of what PROFESSIONAL work means. It shows how amazing the producer and singer's collaboration was.
🇨🇾 Elena T. – Beautiful song and amazing voice. Really enjoyed this song! Very strong performance by the Czech Republic, well done! Should have got more votes for sure!
🇬🇧 Richard C. – Gabriela's roots are in rock, yet this simple yet effective ballad shows her incredible vocal range. The song is well written and takes you on a journey, there are highs and lows. It carries you through and gives me a sense of empowerment after each listen. It is a song that embodies the supporting nature of a loving relationship. One of the Czech Republic's finest singers and should have been appreciated across Europe. I still can't believe the lack of love from the public vote in the 2016 grand final. Gabriela definitely deserved more.
🇳🇱 Wouter V. – Lovely pop song, but a bit boring. Good to see Czech Republic qualifying for the final, though they should also have done that the year after.
🇪🇸 Mária P. – Beautiful classic ballad sung by an elegant woman with a powerful voice. It was nice to see this song qualifying, the very first time for the country. And though it wasn't a winner, and even it didn't stand out enough to get a good placing, I found its last but one placing, unfair.
🇬🇧 Ashleigh K. – I watched the contest in 2016 and I don't remember this song at all. I enjoyed listening to it the second time around. The vocals are strong, the staging fits the mood of the song perfectly. I still don't think that I will remember this tomorrow though.
🇨🇴 🇫🇮 Alvaro S. – This song is the best Czech entry from this decade that it is heartbreaking the lack of support it received in the Grand Final and on the other hand to see other "cheesy pop, predictable songs" getting the good results (cough, cough Mikolas). To this date, I don´t know what went wrong. Was it maybe that the stage looked empty? Because Gabriela's voice is amazing and the lyrics are touching. It deserved more.
🇬🇧 Michael O. – Before Eurovision, this was a great ballad and a real step up. I really like this song, but when they placed her second in the running order, that killed its chances totally. In fact despite my like for the song, by the end, I'd forgotten it was even in the contest. Moving on to now I still really like this entry.
Enjoy Gabriela's performance from the 2016 Eurovision Song Contest in this embedded video. Below the video, you can read more about Gabriela Gunčíková.
Gabriela Gunčíková – A mini biography
Gabriela comes from Kroměříž in the Eastern part of the Czech Republic. She rose to fame in 2011 when she took part in the second season of Czech & Slovak Idol, where she was praised for her rough and strong voice which suits rock as one of her preferred music styles and ended as the runner-up. In the same year, she also participated in Slovak version of Let's Dance competition. There she finished on 7th place.
In 2013, Gabriela started her work woth Ken Tamplin at his vocal academy and was seen on some lecture videos on Ken's YouTube channel. After graduating from Ken Tamplin's vocal academy in 2014, Gabriela stayed in the United States where she toured with the famous Trans-Siberian Orchestra for one year. Then it was her time to shine at Eurovision 2016 in Stockholm.
Gabriela released two solo albums. One right after her participation on Czech & Slovak Idol in 2011 (Dvojí tvář) while the second CD was released two years later in 2013 (Celkem jiná). Gabriela Gunčíková also performed in her career as a guest with another famous Czech singer Karel Gott, who represented Austria at Eurovision 1968.