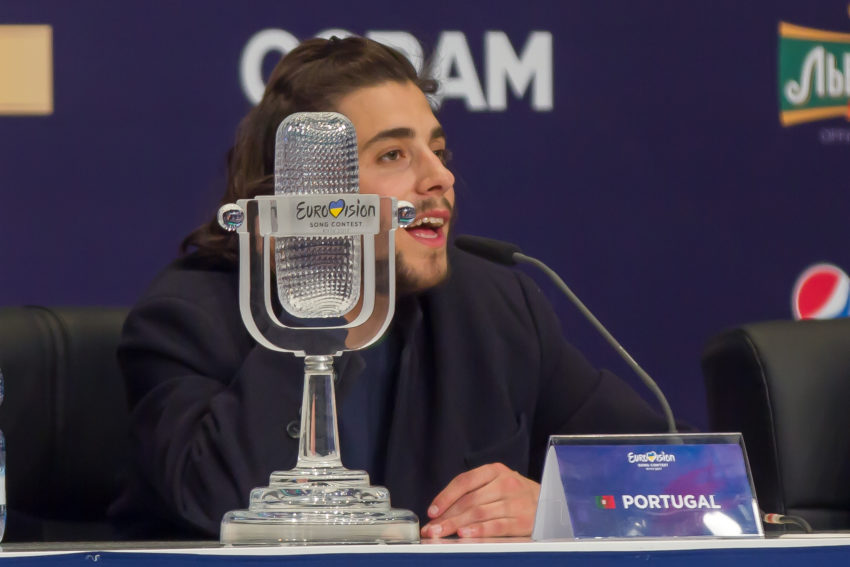 Salvador Sobral's victory in the Eurovision Song Contest gave Portugal its first trophy in the contest 53 years following their debut. 'Amar Pelos Dois' was also the first winner sung entirely in a language different than English since Serbia's victory in 2007. Not all Eurovision fans are equally impressed with this song though.
In 2017, Portugal came back to the Eurovision Song Contest after one year of absence. They held the Festival da Canção to select its representative. The final took place on the 5th of March 2017. Salvador Sobral won the vote of the jury and got a second place by the televote with the song Amar Pelos Dois (Love for the Both of Us). Amar Pelos Dois is Bossa Nova, Jazz song about a broken relationship. In his song, Salvador Sobral wishes that his beloved one comes back and loves him again.
Amar Pelos Dois was written by Luísa Sobral, Salvador's sister. In fact, Luísa had to replace Salvador during the first rehearsals in Kiev because of his heart condition. Salvador Sobral performed in the first semi-final of the Eurovision Song Contest 2017 in Kiev. He won the semi-final with 370 points. This was the first time that Portugal qualified to the final since 2010.
In the final, Salvador Sobral sung his song Amar Pelos Dois in a small stage close to the audience with the backdrop showing an enchanted forest. By the end of the night, the song had received 758 points. This makes Amar Pelos Dois not only the first victory by Portugal in Eurovision. Furthermore, it is also the song with the highest score (according to the current rules) in the history of the Eurovision Song Contest.
After he got his trophy, Salvador Sobral asked his sister and songwriter of his winning song to come and sing with him on stage for the reprise of his song.
Amar Pelos Dois- opinions from fans
In order to find out what Eurovision fans today think of this Portuguese entry from 2017, we asked our Eurovision Fan Panel. It includes team members as well as fans from all over the world.
🇩🇰 Charlotte J. – Let me start by saying that I am very happy for Portugal to finally win after that many years, but it didn't happen with points from me. I was not on Team Sobral three years ago, and I still am not. It's a nice enough song, but it doesn't stand out in any way for me. It's too boring to capture me. Sorry Portugal.
🇵🇹 Linete A. – At first when I heard him at the semi-final of Festival da Canção, I didn't like 🎭 song or the singer. When he won Festival da Canção, I was shocked and thought that once again, Portugal wasn't going to get even to the final. But then I saw the growing popularity online and listened to the song more often – and it really grew on me! The day of the final of Eurovision 2017 was such a happy day to finally see my country win Eurovision for the first time. I love the song now and admit that I was really wrong in judging him at the beginning! He brought such joy and pride to my country, Portugal.
🇳🇱 Wouter V. – The opening notes remind me of Angel Of Music from The Phantom of the Opera. And in a less literal sense, so does Salvador's smooth voice, and the rest of the music. This is a masterpiece. While I still don't get his odd hand movements and oversized jacket, if it makes him perform like this by all means don't stop.
🇬🇧 Michael O. – Who knows what was going on with this entry in Kiev. Italy came in as the favourite, but this one gained traction as Eurovision week went on. Not one that I'm that fond of, but there was nothing wonderful in the 2017 contest, so this got us a trip to Portugal which I loved. Song? Never listen to it nowadays.
🇲🇹 Christopher D. – I am really sorry I was chosen to review this song, but I totally hated this entry from the first time I listened to it. I try to forget Eurovision 2017 as it was a big disappointment for me. I personally think voters were taken in by the personal story of Salvador Sobral. It is such an empty song for me that I really cannot make an effort of hearing it again. Sorry Portugal, zero points from me.
🇫🇮 Martti I. – For some fans this was the worst what ever could have been in Eurovision. For me this IS still one of The best songs ever. Beautiful melody, touching lyrics and passionate talented performance. It was a clear winner since first hearing and I could not have been happier as music won and real instruments. Sometimes less can be much more.
🇳🇴 Stine F. – It's funny that a song that you forgot after listening to it the first time now really sticks to your mind. Amar Pelos Dois for sure didn't win our Eurovision party in 2017, but it won my heart some time later. It is a reminder that Eurovision is so much more than glam, wind machines and key changes. I love it!
🇹🇷 Günec N. – Music is really not fireworks. I know many won't agree but Salvador Sobral's Amar Pelos Dois brought quality to the contest. I must confess I found it sonding like a lullaby at first, but it surely won me over by time.
🇨🇴 🇫🇮 Álvaro S. – In 2017 something miraculous happened. Who would have thought that Portugal would give us such a magical moment and that it could conquer Europe's hearts. For me, Salvador Sobral's Amar Pelos Dois is one of the most beautiful winning entries in the history of the contest. It also gives hope to other countries that have not won yet. You don't have to sing in English, you don't need to have many neighbours voting for you if you send the right song. Music is feelings and this was pure, magical feelings!
🇪🇸 Alexander S. – Amar Pelos Dois is performed very beautiful, it's a sensitive song, pure poetry for our está. Salvador made a great performance with no gimmicks or similar. I still love the song and he made history in the contest and for Portugal, a landslide victory that will be remembered for a long time.
Enjoy Salvador Sobral's performance from the 2017 Eurovision Song Contest in the embedded video. Below the video, you can read more about him.
Salvador Sobral – a mini biography
Salvador Sobral was born in Lisbon, Portugal in 1989. In 2010 he participated in the Portuguese version of Idols where he finished in seventh place. He continued his music career in Spain, where he studied music and participated in Jazz festivals.
In 2017, Sobral won the Eurovision Song Contest for Portugal. This was Portugal's first victory in the Eurovision Song Contest which came 53 years since their debut. Moreover, Amar Pelos Dois' victory broke several records. It is one of the ten songs that got the highest percentage of available points. With 382 points awarded by the national juries, Amar Pelos Dois also received the highest number of jury points. Additionally, it is the second song with the biggest winning marging (143 more points than the runner-up).
During his Eurovision participation, Salvador Sobral was struggling with a heart condition. In September 2017, he interrupted his career because of his health state. He underwent a heart-transplant in December and fortunately could resume his music career. So far two albums has been released. Salvador Sobral made a cameo in the film Eurovision Song Contest: The Story of Fire Saga.