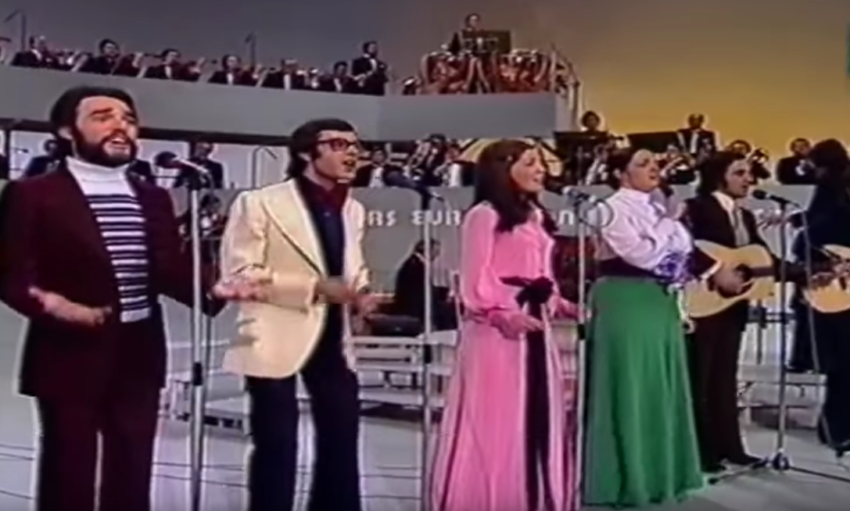 Mocedades got international recognition when they finished second at the 1973 Eurovision Song Contest. 47 years after the Eurovision participation many fans still remember their song 'Eres Tú'. Some go even further and consider this song the best Spanish entry in the contest.   
RTVE, the Spanish broadcaster internally selected Mocedades to represent the country in Luxembourg. Three siblings and two of their friends that played together made the band formation that went to Luxembourg.
The Eurovision Song Contest 1973 marked the second time that a country won the event two years in a row. Mocedades performed Eres Tú (It's You) in seventh place. The final score of the contest was very close. Mocedades ended in second place with 125 points, four points below the winner and only two points over the United Kingdom that came in third place.
Eres Tú is a love ballad written by Juan Carlos Calderón.
Eres tú- opinions from fans
In order to find out what Eurovision fans today think of this Spanish entry from 1973, we asked our Eurovision Fan Panel. It includes team members as well as fans from all over the world.
🇫🇮 🇨🇴 Álvaro S. – Eres tú is considered by many as the best Spanish song in the Eurovision Song Contest. Although that is up for debate, for me Eres tú deserved to win over the Luxembourger song. The song is emotional and passionate without having to overreact. It is simple but not simplistic and the lyrics are touching. This song has become a Eurovision classic for the good reasons.
🇪🇸 Mária P. – I am not at all an unconditional fan of my own country's songs, but this time I'll say that Eres tú is one of the best Eurovision entries ever. And probably the best Spanish one. It's a very beautiful song performed by the very good voices of the group Mocedades. A timeless song that here in Spain is still played here and there for almost 50 years. The winner of 1973, Tu te reconnaîtras, is beautiful too, but in my opinion Spain should have won.
🇫🇮 Martti I. – Real Eurovision pearl, Evergreen hit in original and cover versions. My personal top 10 entry ever. I remember singing this in school music lessons, language classes, thus then as an translation exercise. This Song is as fresh today as it was all those years ago.
Charlotte J. -I grew up hearing Lecia & Lucienne's Rør Ved Mig a lot! It was a massive hit in my childhood. As a child, I didn't wonder whose original it was. To me, it was just a Lecia & Lucienne hit. It probably took 20 years or so before I realised that it was a cover of a Spanish Eurovision entry. I love it – both the Danish version, and the original Spanish one. The feeling is the same in both. I still hear the song from time to time, but I have to admit that it's mostly the Danish one, simply because that was such a big part of my childhood.
🇬🇧 Mhairi O. – I first heard this song properly in 2014 at Eurovision just before the shows started as the DJ kept playing it. Every time I hear it now I think of going to my first Eurovision. Now of course I love it.
🇬🇷 Kostas C. – I do not like the song. I find it quite boring! I can understand the success at that time, but there is no comparison with the brilliant winning song of the year.
🇬🇧 Michael O. – A classic to this date, one of Eurovision's best ever entries. With a pleasing melody and sound, no disrespect to Anne Marie, but how this did not win remains a mystery.
🇪🇸 Quique B. – Mocedades, Eres tú and Juan Carlos Calderón: best group, song and composer that Spain has sent to Eurovision. The song is absolutely perfect. Many people thinks that excessively is good for Eurovision, I don't agree. If a song is good, it's also good for Eurovision. Eres tú was absolutely innovative in all aspects. It's success all over the world confirms that. Maybe the performance wasn't perfect that night, but whenever I hear the first notes of Eres tú, it's like hearing Charpentier's Te Deum. Thanks Juan Carlos, thanks Mocedades for giving us that jewel 47 years ago. We are still waiting for another…
Enjoy Mocedades' performance from the 1973 Eurovision Song Contest in the embedded video. Below the video, you can read more about them.
Mocedades – a mini biography
The story of Mocedades started in 1969. Amaya, Izaskun and Estibaliz Uranga were three siblings from Bilbao, Spain that performed together. They started a band with some friends named Voces y Guitarras (Voices and Guitars). The name of the band changed to Mocedades (youths) later. The initial formation of Mocedades was Amaya, Izaskun and Estibaliz Uranga, José Ipiña, Javier Garay and Carlos Zubiaga.
Mocedades represented Spain in Eurovision in 1973. They came in second place. After Eurovision, the song became a Top 10 in the United States. According to a 2020 poll organised by RTVE, Eres Tú is the fan's favourite Eurovision song from Spain. Actually, it was one of the few songs in Spanish language that made the Billboard Hot 100 back then. Eres Tú was released in German, French, Italian and Basque.
After Eurovision the band had a successful music career in Spain and Latin America with several singles getting to the top of the charts. Mocedades are still active with two lineups performing using the name of the band.