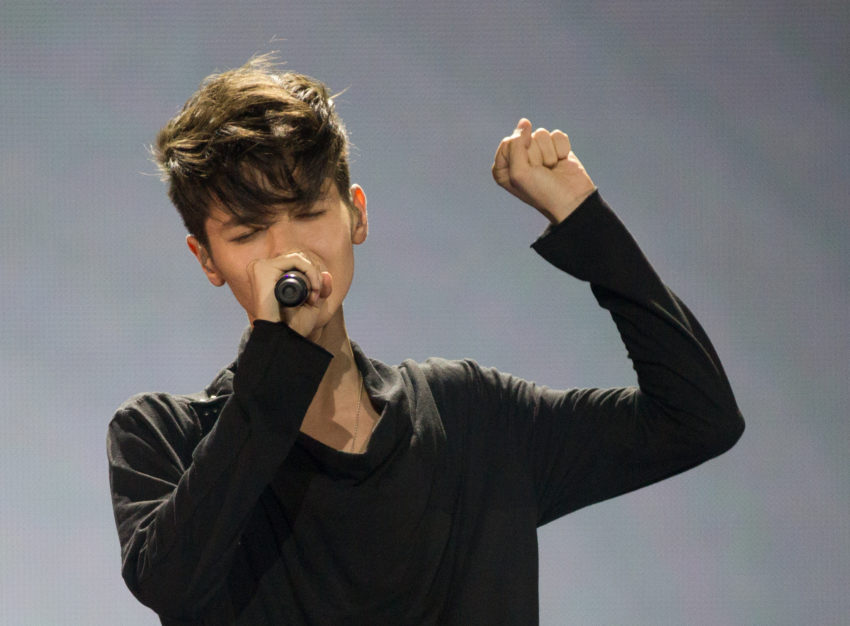 In 2017, Bulgaria finished in second place with a song entirely sung in English, 'Beautiful Mess', by Kristian Kostov. At the time, this song was performed by a young man (just 17 years old) of Bulgarian-Russian nationality, that won over the younger audience across Europe. Eurovision fans are quite mixed about it though.
With 615 points, the young Kristian Kostov impressed the younger layer (and some older audience too) with a delicate song and a performance full of emotion. Some were very touched by it, others considered it (as the title indicates), a "Beautiful Mess" – but, was it really? With some impressive falsetto, the truth is that for many fans, Kristian has a remarkable talent and a significant presence on stage. Those who do not appreciate the performance so much, pointed out the lack of maturity of the singer. They think it impaired the performance, in the sense, that they believe that there were some flaws in the vocal level. Two sides of the same coin, because others think the participation was very mature for his age.
The fact is that in the end, it was a song that the public accepted well in general and that was noted for the high score it received. One of the probable factors that contributed to this is that it's a current and contemporary pop song, which would be easily heard on the radio today. As usual, there are those who like it and there are those who do not appreciate it at all. Let's see what the fans think of this song, that was the best result Bulgaria ever had on Eurovision.
Beautiful Mess – opinions from fans
In order to find out what Eurovision fans today think of this Bulgaria entry from 2017, we asked our Eurovision Fan Panel. It includes team members as well as fans from all over the world.
🇹🇷 🇫🇷 Egemen O. – This kid was 17 when he participated. Nonetheless, I must confess that I am impressed by his mature performance. Despite his age back then, I find the performance perfectly adequate. No exaggeration no under-performance and no stress… He did what he was supposed to do and at the end, brought his country the well-deserved 2nd place. Maybe this is the reason why the fans get nostalgic and say that he should have won whereas he wasn't considered as a favourite at that time. Hence, good job! On the other hand, his hairstyle is absolutely horrible!
🇨🇴 🇫🇮 Alvaro S. – I never got impressed by this act. For me this is one of the weakest second places in recent times. And it is quite unfair that this is the best result of Bulgaria. I found Kristian's voice not so good and the camera close-ups were annoying.
🇨🇿 Josef S. – Kristian Kostov was very young back in 2017, maybe the youngest of that year, but the quality of his song and performance was simply amazing. It was well sung, full of emotions and also supported by creative but not overdone staging. To me, it's a perfect combination and I would be really looking forward to going to Eurovision in Bulgaria. I hope it's only a matter of time for this to happen.
🇩🇰 Charlotte J. – Kristian Kostov is a great performer, and this performance surely helped this song to second place. I do like the song, but it got a bit more than deserved in 2017. I would place it 8-10th place.
🇬🇧 Louis E. – This is the definition of a style over substance entry. And I don't mean it in a degrading way because it clearly paid off results wise. As a song itself I find it quite boring, but it was performed so well on the night that all the focus was on Kristian's outstanding voice and the seamless staging that went with it. Considering these factors, I understand how it came 2nd, but Portugal winning over this was more of a victory for music.
🇮🇪 John D. – This song and performance I believe inspired Duncan Lawrence, Victoria and the favourite to win from Gjon this year. It is hard to believe that this emotional and mature performance is from a 17-year-old. A great entry and a well deserved second place. Had it not been for Portugal's iconic and unique entry that year, Bulgaria would also have had its first runaway win.
🇬🇧 Michael O. – What a dreary piece both song wise and staging. How this came second I do not know, but then again, this was a strange, strange year for placings. Not impressed in the slightest.
🇵🇹 Inês N. – I think that Kristian Kostov has a very good voice and a strong stage presence. In my opinion, he did a well done performance, due to this age. At the end, I think the results were positive, but I think it was overrated back then.
🇩🇰 Liza P. – I know that a lot of people love Beautiful Mess, but for me, it has always been quite boring. I do understand if people find the song beautiful and I also think that Kristian does a good job on stage. He is very charming, but I'm actually more in love with the staging than the song itself. Especially the rain effect. Was the 2nd place deserved? I don't know. If you like the song, I guess so. But in general I wasn't very impressed with the top 5 that year.
Enjoy Kristian Kostov's performance from the 2017 Eurovision Song Contest in the embedded video. Below the video, you can read more about him.
Kristian Kostov – a mini biography
Kostov was born in Moscow. He has a Bulgarian-Russian nationality. As a child, he learned Bulgarian from his father, while his brother taught him English.
At the age of five, Kostov began singing and playing the piano, because he was very shy and needed to open up a little. By that time he joined Moscow-based vocal group Neposedi, which has also gathered Russian duet t.A.T.u for the first time. Around the same time, he was struggling with muscular dystrophy, which he revealed in a YouTube video in 2017.
In 2011, Kostov left Neposedi in order to concentrate on his solo career. In 2012, Kristian represented Bulgaria in the junior version of New Wave, an international contest for young performers of popular music.
From 2014 to 2016, he participated on The Voice Kids Russian and on the X Factor Bulgaria. In 2017, he participated in Eurovision where he came second with the song Beautiful Mess, afterwhich he joined the Virginia Records. In 2019, he participated in the Chinese contest Singer. Nowadays, he is working as a full-time singer.