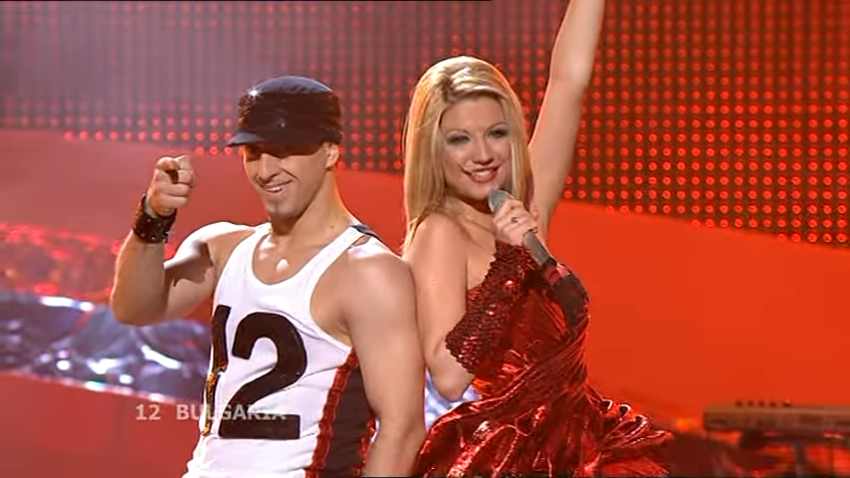 Bulgaria can be considered a successful country in Eurovision in general. However, the country has had its share of disappointment from time to time. Their 2008 entry 'DJ, Take Me Away' is one of the entries that Bulgaria wasn't able to carry to the final. Eurovision fans really shows different thoughts about this entry.
Bulgarian broadcaster BNT developed a national final format called EuroBGvision 2008 in order to showcase local and amateur talents to make their way to Belgrade for Eurovision Song Contest 2008. The competition started with three quarter finals that took place on the 26th of October 2007, 23rd of November 2007 and 21st of December 2007. The semi final was on the 26th of January 2008 followed by the grand national final that took place on the 23rd of February 2007.
Before each quarter final, the songs were presented over three weekly TV shows. Three entries from each quarter final succeeded to advance to the semi final with public televoting. BNT also selected wildcard acts out of non qualifying acts from each quarter final. This made a total 18 entries to take stage on the semi final night. One of the qualifying acts of semi-final, Stoyan Royanov's Sombero was disqualified due to the fact that the song was performed on the 1st of June 2007 and was replaced by Vlado & Svetilo. In the national final, 12 entries competed and Deep Zone & Balthazar won the night with their uptempo electro / house / dance entry DJ,Take Me Away.
In Belgrade, the Bulgarian team took the stage 12th in line in the second semi – final. They received 56 points and took the 12th place thus couldn't make it to the final.
DJ, Take Me Away – opinions from fans
In order to find out what Eurovision fans today think of this Bulgarian entry from 2008, we asked our Eurovision Fan Panel. It includes team members as well as fans from all over the world.
🇸🇪 Sara T. – I remember that I liked this one back in 2008, but it got a bit lost among all the amazing uptempo songs that year. Also, the stage show was too messy and didn't match the song. I remember that I liked the mix between the laid back verse and chorus and the energetic instrumental parts. But like I said, the stage show failed to live up to the song's potential. Not my favourite Bulgarian entry but somewhere in the middle, I think.
🇩🇰 Charlotte J. – This is a mess, and not of the beautiful kind Bulgaria has sent before. The first minute of this song, I have no idea what's going on, it's just a lot of noise, and I can't relate to it at all. When she finally starts to sing, it unfortunately doesn't get any better. Sorry, but this is not good, in my opinion. In fact, it's quite bad.
🇬🇧 Michael O. – This was a good party song in parts but was all over the place. Still it was a good attempt at nineties dance music, only several years too late.
🇹🇷 Gunec G. – DJ, Take Me Away was a nice colour to the contest with its sound and stage act matching with the song. Joanna's stage appearance with her costume was a nice highlight of the night. Should've been in the final.
🇵🇹 Linete A. – The song is very creative with excellent staging and some cool sounds. The singing part is however, quite repetitive and the melody quite boring. Her voice is nice and her dress too, but it's not enough to make this a good song. I like the electronic vibes near the end of the song and the staging, otherwise nothing else is worthy of Eurovision in this song!
🇭🇺 Vangelis M. – Bulgaria in 2008 had nothing to do with the Bulgaria we know the last years in the contest . I would say that in 2008 Bulgaria's entry was with a weird psychology that to me seems like noise that makes no sense at all. Not a good entry from Bulgaria.
🇪🇸 Alexander S. – In 2008 Bulgaria chose through a national final the dance group Deep zone together with Balthazar…..They won by a tight margin (15,37%). DJ, Take Me Away is a song with not much lyrics, not very typical sound from Bulgaria and they did not proceed to the final, the song is very average and they deserved the poor result even if they have a good career in their home country. Bulgaria has sent much better entries and that year was a difficult one.
🇨🇴 🇫🇮 Alvaro S. – 2008 was not a strong year for many fans including me. In a year full of cringeworthy performances Bulgaria is not one of the 'biggest offenders'. However with the singer in a cabaret dress, the dj and the musicians doing… I am not sure what they are doing actually, in particular in the intro. This looks like a crazy salad to me. It is nice that they tried to experiment with this eclectic sound, I guess, though.
🇨🇿 Josef S. – Even though the song sounds really modern, I am not a big fan of those club songs. The only good thing about this song is the part where she sings. Her look is not bad at all, that cabaret-style is actually quite good. But overall I rate this as a lower average and definitely not one of my favourites.
🇩🇪 Andrew G. – This is a mess. It's like 3 songs in 3 minutes. With 2 lines on repeat. And they are trying to hard to put on a perfect slot with a dancer, feathers, short skirt a middle aged guy playing the bass and not even getting the playback right. And the Djs over do it with the turntables on fire. This do not take me away.
Enjoy Deep Zone & Balthazar's performance from the 2008 Eurovision Song Contest in the embedded video. Below the video, you can read more about them.
Deep Zone – a mini biography
Deep Zone Project is a Bulgarian house / electro band founded in 2000 by DJ Dian Solo, JuraTone and Rossko. Eventually Rosko was replaced by Startrax. Deep Zone are most famous for their Eurovision participation in 2008 cooperating DJ Balthazar with the dance tune DJ, Take Me Away. The band has released five albums and has had a number of successful singles on the Bulgarian charts. They also have won many national and international awards. Their first vocalist until early 2011 was Joanna Dragneva. She used to be in the vocal Bulgarian group Bon-Bon presenting children shows on television and later co-hosting Hello and Melo TV Mania shows. She was also their vocalist in Eurovision.
The collaboration with DJ Balthazar took the group to another dimension with their national club tours Welcome To The Loop and Red Line (20 dates each), which gathered an audience of nearly 80,000 people. In 2010, they released On Fire, a big-budget production in Bulgaria terms with cooperation from actor Fahradin Fahradinov.
In February 2015 it was announced that Alex and Nadia had left the band to develop solo careers. In 2015, Nelina Georgieva became the vocalist but her contract with the band only lasted for three years. In January 2018, she left the band and she was replaced by Eva Maria Petrova.
DJ Balthazar – a mini biography
Balthazar, born on the 23rd of September 1977, has been working as a professional DJ since 1998. As the owner of the label and booking agency Renesanz, he also acts as an organizer and promoter of various electronic dance music events in Bulgaria. In addition to his DJ appearances, he also published numerous pieces, often together with his studio partner JackRock on his label.
In 2007, he started a project with the Deep Zone Project group. He took part with them in the Eurovision Song Contest 2008, but with their dance title DJ, Take Me Away, they only managed to get 11th place in the 2nd semifinal and were therefore eliminated from the final.