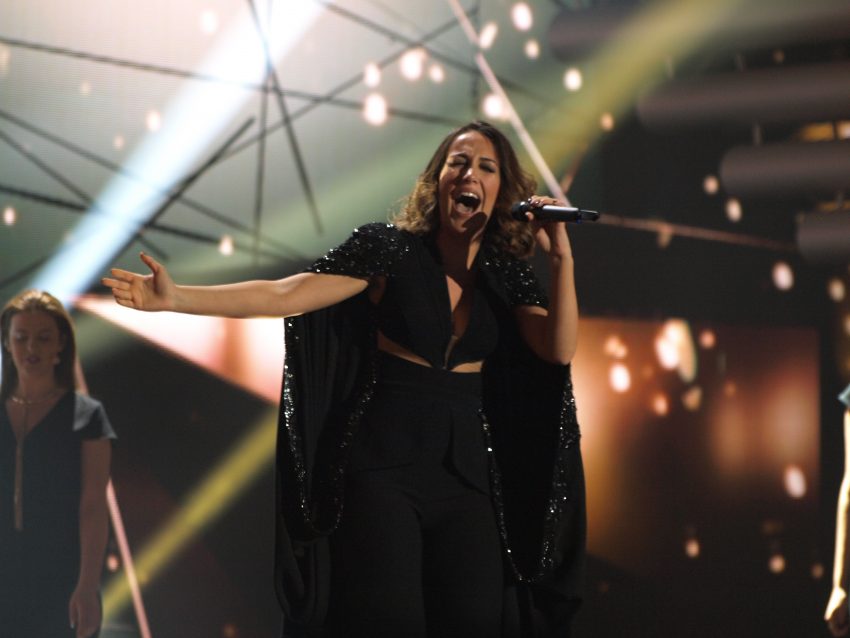 Albania as usual chose the winner of Festivali i Këngës as their Eurovision Song Contest entrant 2015, but unusually the song that won didn't go to Eurovision.
Elhaida Dani won Festivali i Këngës 53 in 2014 with the song Diell. At the behest of the songwriter, Diell was withdrawn as the Eurovision entry. Elhaida looked for another song and chose the Sokol Marsi written I'm Alive which showcased her powerful vocals.
Unfortunately showing off the powerful vocals at rehearsals, led Elhaida to become ill and under par in her Eurovision performance. Cited before the contest as one of the favourites, Elhaida scraped into the Eurovision final by placing 10th in her May 19, 2015 first semi final, held in Vienna, Austria.
Performing 26th out of 27 finalists on May 23, 2015, Elhaida earned 12 points from the North Macedonian voters, 10 from Montenegro and 6 each from Greece and Belgium. With 34 points, Elhaida finished in 17th place.
I'm Alive – opinions from fans
In order to find out what Eurovision fans today think of this Albanian entry from 2015, we asked our Eurovision Fan Panel. It includes team members as well as fans from all over the world.
Michael O. – I think the problem with this song was not Elhaida, but it's not very consistent melody. I expected this to do quite well and think 17th was lower than it deserved. Still one I listen to now and again, with a better song, Elhaida would make a good returnee for Albania.
Michael R. – One of the strongest songs Albania has ever sent, it's a shame Elhaida was sick, it could've done much better otherwise
Josef S. – Elhaida Dani is one of the best artists that Albania delivered to us in recent years. And the change of Diell that won Festivali i Këngës that year to I'm Alive was really good choice, even though for Albania quite unusual. Elhaida is a really good performer and singer, but her song was really voice demanding, so after all rehearsals and performances it may sound like a lot of shouting and sometimes I am worried about her, if she will be able to speak the other day. But I love the song even now after 6 years.
Amir B. – I'm Alive is one of my favourite entries from Albania. The instrumental brings the emotion that the vocals are made for. The backing vocals complement the song perfectly. Such a beautiful and emotional song. All of it's beautiful. Deserved more than a 17th place. Thanks, Albania for bringing this song to the Eurovision
Ines M. – The first thing that stands out is the beautiful voice of the talented singer. It is a song with a "wow" factor, which is very appropriate for Eurovision. It should have won a place, at least, in the top 5.
Frank S. – I needed to think about this one. I checked Youtube and then remembered nothing. I guess for me the song did not work back then and I have to admit, it still doesn't do anything. I seem to get quite annoyed actually or agitated because of the continuous panting of a text that is so…..nothing. Sorry. A complete burn down here….
Alvaro S. – Another powerful song from Albania. Generally I think that the Albanian entries do not benefit when they are translated but I'm Alive is one of the cases that Albania sends us a masterful piece in English. Also Elhaida has a stunning stage presence.
Doina A. – Amazing! A beautiful ballad… it's all in the title of the song: I'm alive! And, Elhaida Dani did her best. The message of the song, the lyrics, growing melody line made this enjoyable. Just, there is a lot to do if you think about it, and Albania's representative did her job completely. I really like this entry: passion, power, elegance… and a throat infection! She melted the audience's hearts. Nice.
Charlotte J. – Why do Albania keep sending all these boring ballads sung by women who, for most part can sing and deserve a better song? (Bring Eugent Bushpepa back, please!). Really, this formula doesn't work for me, and obviously it doesn't work for Albania either. Unless their goal is to qualify for the final every now and then, and finish 17th…
Mhairi O. – This is by far Albania's best entry in recent years. One of my all-time favourites. I would love to see Elhaida come back
Elhaida Dani – a brief biography
Elhaida Dani was born on February 17, 1993 in Shkodër, Albania's fifth largest city.
Guided by Riccardo Cocciante, Elhaida won the first season of the Voice of Italy, having previously also won Star Academy, Albania.
In 2014, she won Festivali i Këngës 53 with the song, Diell, and won the right to represent Albania at the Eurovision Song Contest 2015. She went on to sing the song I'm Alive at Eurovision.
During the Eurovision weeks, she recorded the song The Otherside with some of her female competition that year from Armenia, Greece and Estonia.
Elhaida's mentor, Riccardo suggested Elhaida to play the part of Esmeralda in the musical, Notre-Dame de Paris in Paris. She successfully did so and toured the musical all over the world. Her last recording to date was a cover of Let It Go from the movie, Frozen.