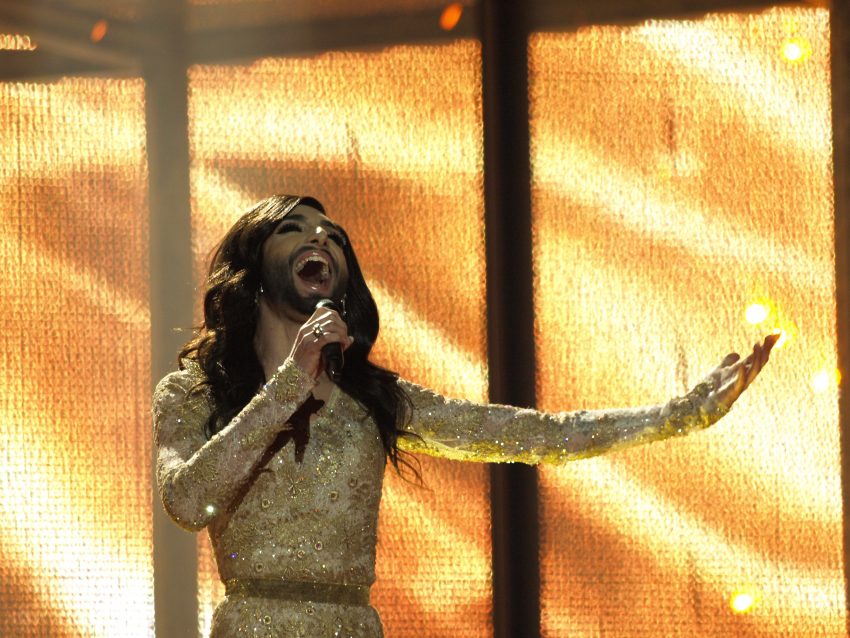 "We are unity and we are unstoppable".  With these words Conchita Wurst celebrated her 2014 Eurovision Song Contest victory. However, not all fans are united in celebrating 'Rise Like A Phoenix' as a deserved winner though.
Austria internally selected Conchita Wurst to compete in the 2014 Eurovision Song Contest. She previously participated in the 2012 Austrian national selection with That's What I Am. On March 18, 2014 Austrian broadcaster ORF announced Rise Like A Phoenix as the selected song.
The internal selection of Conchita met some controversy internally. A petition asking ORF to reconsider its decision was created and some fans protested. However, the initial negative reaction was harsher outside her home country. In Belarus and Russia there were calls asking their broadcasters to withdraw from Eurovision. Even fellow Eurovision competitor Aram MP3 from Armenia made a transphobic joke at the expense of Conchita. He later apologised.
Conchita competed in the second semi-final, which she won with 169 points. During the night of the final, she performed in the middle of the stage. LED screens showed a flaming rain that become two wings, a reference to the song title. With 290 points Rise Like A Phoenix won the Eurovision Song Contest. It received the maximum score from Belgium, Finland, Greece, Ireland, Israel, Italy, the Netherlands, Portugal, Slovenia, Spain, Sweden, Switzerland and the United Kingdom.
Rise Like A Phoenix- opinions from fans
In order to find out what Eurovision fans today think of this Austrian entry from 2014, we asked our Eurovision Fan Panel. It includes team members as well as fans from all over the world.
🇳🇱 Jacques H. – Oh dear, the bearded lady who beat the Common Linnets. For decades, Eurovision had to fight against prejudices about freak shows and circus acts. And just as things started to get better, Austria came with a bearded man dressed as a diva. Calm After The Storm, the Austrian Phoenix destroyed the sweet country birds from the Netherlands. Was it right? Absolutely not! The strange thing is that the Eastern European countries, known for being homophobic, massively rewarded points to a man in a dress, with the lesser song and a much lesser voice. Oh well, that's the Eurovision Song Contest. It's not always about the music. Sometimes, the freaky acts still matter most, unfortunately…
🇬🇧 Michael O. – The staging was certainly fantastic. It beat the Common Linnets. I'd be rather happy if I never heard it ever again.
🇫🇮 Martti I. – It was a year when the best song won and music won once again. I was thus quite surprised how well Conchita sounded as I do remember his earlier try, which was quite bad. This was a jackpot. Very happy for this.
🇩🇰 Charlotte J.- A great song, a great singer and a great performance – but let's be honest, the Netherlands should have won in 2014. Conchita (or should I say Tom now?) would be a well deserved second place. I really do love the song, I do, but I can't get over the fact that it won ahead of Common Linnets. Would it have won if Tom had sung it – as Tom? I don't think so. But now we are at 2014, lets at least all agree that the stage in Copenhagen, Denmark was the best one seen at any Eurovision in recent years, right?
🇩🇪 Andrew G. – This is the moment when time stood still. I was in Copenhagen for this historic performance. The atmosphere in the hall out of this world. The staging and camera shots fabulously though out. It's all about Conchita. Jaw dropping volume in the vocals. A star is born. This is one of my favourite Eurovision entries ever. And one of the best nights in my life.
🇵🇹 Ines M. – Epic and powerful song. Well, this for me is one of my favourite performances ever. I don't consider it like that, just because of Conchita's song and voice, but because it was striking at the time. It broke down prejudice barriers and had a very important underlying message. Eurovision is much more than beautiful songs, it has a greater purpose. The end of the song is very good and the scenography is also excellent. It was a perfect introduction to what is a drag performance with class and charm.
🇬🇧 Steve P. – I never saw this song as a potential winner, but looking back, it was an obviously going to win. There was a lot of pre-contest hype thanks to the freak show nature of the act, and the big, James Bondesque nature of the song was always going to appeal to a broader audience than most of the fan-hyped songs do. I love a song with a big arrangement, so will happily listen to Conchita do his thing with it. If only there had been a live orchestra to back it!
🇨🇴 🇫🇮 Alvaro S.- When I first knew that Austria was sending a drag act I was not sure what would be the result. There has been a long way from Dana International's victory that was a big scandal to Conchita's. Regressive voices still exist but they are less relevant. And Conchita not only brought her message, but she impressed the audience with her voice. The performance is impeccable.
🇳🇴 Robert I. – This is a beautiful and powerful ballad which really deserved to win that year. It gives me goosebumps. If it had been a James Bond theme song, it would have been among the best ever. Conchita did an amazing performance. A really great winner.
Enjoy Conchita Wurst's performance from the 2014 Eurovision Song Contest in the embedded video. Below the video, you can read more about her.
Conchita Wurst – a mini biography
Thomas Neuwirth is the man behind Conchita Wurst. He was born in Gmunden, Austria in 1988. However, his stage character Conchita was born "in the highlands of" Colombia. Neuwirth's singing career took his first big step when he competed in Austrian talent show Starmania in 2007. He created the character of Conchita Wurst, a female bearded singer in 2011.
Conchita Wurst participated in the Austrian national selection in 2012. She ended in second place with the song That's What I Am. Conchita got to represent Austria in 2014 in Copenhagen, Denmark after being internally selected. She did not only win the Eurovision Song Contest for Austria after 48 years, but she also got international recognition and became an LGBT icon. After her victory, Conchita performed in pride parades, the European Parliament and the United Nations Office in Vienna. In 2018, Thomas Neuwirth announced that he is HIV-positive.
Since 2019, Neuwirth announced his intention of splitting his Conchita character from his career as "WURST" to allow him to perform as a male. Nevertheless, Conchita Wurst has continued as a Eurovision character on her own right. Conchita took part as an interval act in the 2019 Eurovision Song Contest in Tel Aviv, Israel.