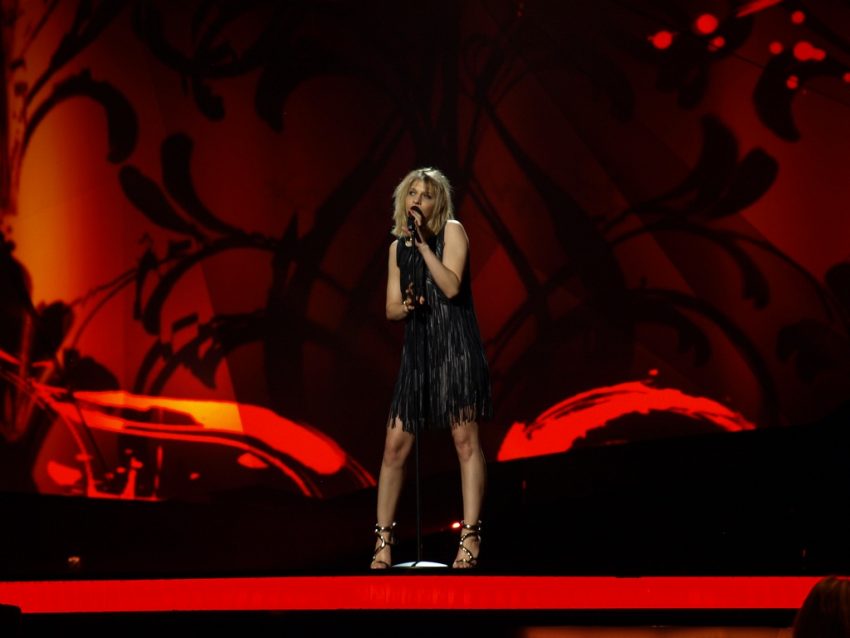 In 2013, France send girl power in form of Amandine Borgeous to Eurovision with a rock-blues song. The powerful performance of her did not impress the viewers though, and eight years later, the opinions from Eurovision fans are very mixed.
France Télevisions internally selected their representative for the 2013 Eurovision Song Contest. A selection committee consisting on music professionals select the song among eighteen shortlisted candidates. On January 22, France 3 announced that Amandine Bourgeois was the French representative. Later in March her song L'enfer Et Moi was released.
Amandine Bourgeois opened the final with her song L'enfer Et Moi.  She wore a black dress and sung next to her three backing singers. Unfortunately, she received 14 points with a maximum of eight points coming from San Marino. As such, L'enfer Et Moi finished in 23rd place in the Grand Final.
L'enfer Et Moi (hell and me) is a song about feeling angry after falling our of love. In the lyrics of the song, Amandine sings about making her ex-lover's life hell since she felt hurt from this toxic relationship.
Boris Bergman and David Salkin wrote the lyrics for L'enfer Et Moi.
L'enfer Et Moi – opinions from fans
In order to find out what Eurovision fans today think of this French entry from 2013, we asked our Eurovision Fan Panel. It includes team members as well as fans from all over the world.
🇹🇷 Günec N. – OMG I'm a huge fan of Amandine and this song. The song is so strong, so sexy, the performance is perfect. Amandine has a great powerful voice and is a perfect singer. Love it.
🇦🇺 Craig M. – I was quite new to Eurovision in 2013, and up until then, I was unaware of all the songs being released before the live show. So the 1st time I saw Amandine Bourgeois and her amazing vocals, I loved this song. It blew my mind then, and I still love it now. Probably my favourite French entry since I have been a Eurovision super-fan. I still play this song quite often.
🇨🇿 Josef S. – I usually like French Eurovision entries, but back in 2013 it wasn't like that. For me, the only good thing about it is that it is sung in French. But I don't like Amandine as a singer nor the song and its performance which is very bland and uninteresting to me. Sorry France, but this time, it's a no from me.
🇩🇰 Charlotte J. – I had totally forgotten this song, which isn't a good sign as it's 'only' eight years ago. It's probably a combination of that my focus those two Eurovision weeks was 99% on the possible Danish victory (which also happened) and that this song is actually quite boring. It's not bad, I don't mind hearing it, and she performs well too, but it's boring, and I loose interest in it.
🇬🇧 Michael O. – This was just a bit of old noise, was it not? A pretty good singer, but it was just bang bang bang till it ended.
🇩🇪 Pascal W. – Her voice is very unique and the song does sound unlike any of the other songs from that year as well. I like the fact that this song is different, but it is still missing something for me to REALLY like it.
🇨🇴 🇫🇮 Álvaro S. – I love Amandine's performance. Before the contest it was an okay song for me, but after Eurovision I felt thrilled by this powerful act. Amandine reminds me of Courtney Love. The way she sings with passion and anger is… magnifique!
🇳🇱 Eric O. – This is a typical example of why I believe The Big Five should not exist, because if countries like France & UK keep on sending terrible songs to Eurovision, they don't deserve a place in the final. And the scoreboard proofs that, because how many times have France and UK ended up at the bottom? Of course, there are exceptions, like Amir in 2016. But the 2013-entry isn't worth listening to, in my opinion.
🇬🇧 Mhairi O. – I'm not really a fan of this. Being on first probably didn't help, but I felt this song to be very bland.
Enjoy Amandine Bourgeous' performance from the 2013 Eurovision Song Contest in the embedded video. Below the video, you can read more about her.
Amandine Bourgeois – a mini biography
Amandine Bourgeois was born in Charente, France in 1979. She is a pop, rock, folk and blues and soul singer.  Amandine is the daughter of a guitar player. She started studying music at age 7 in the music conservatory in Nice, France. When Amandine was sixteen, she formed a rock band. She suspended her music career for a couple of years to pursue a career in the hospitality business.
In 2005, she returned to music participating in musicals and as part of the band Gold.  Two years later she participated in the talent show Nouvelle Star. In 2013, she represented France in Eurovision with the song L'enfer Et Moi. Unfortunately, she failed to score more than 14 points and finished in 23rd place, fourth to last.
Up until now, Amandine Bourgeois has released 4 studio albums.