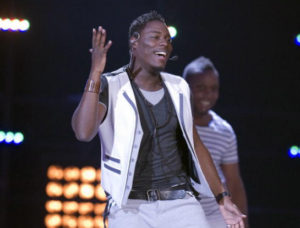 When France selected Jessy Matador to represent the country in Oslo, the idea was to create a summer hit that promoted France in the 2010 Football World Cup. We can agree that Jessy Matador succeed with his song 'Allez Ola Olé' to do so. To this date many fans remember the 2010 song of this Big 5 country for its summer, party vibes.   
In 2010, France internally selected Jessy Matador for the Eurovision Song Contest held in Oslo. Jessy Matador succeed Patricia Kaas, who gave France their first top 10 since 2003. The main plan of France Télévisions, the French broadcaster was to create a summer hit beyond the Eurovision Song Contest. The French song took inspiration from the 2010 Football World Cup. The title Allez Ola Olé, is a reference to the 1998 Official album for the 1998 Football World Cup that took place in France.
For the grand final of the Eurovision Song Contest, Jessy Matador performed his song Allez Ola Olé. He was accompanied by two backing singers and three dancers. During his performance Jessy Matador interacted with the audience as well as with his dancers and support singers joining their provocative choreography. The screen lights formed the words Allez!. Jessy Matador received 82 points in the final, which placed him in 12th place. This is the second best result from France after Amir (France 2016) in the last decade, tied with Alma's song from 2017.
Allez Ola Olé is a dance pop song with elements from Caribbean music and ndombolo, a music genre derived from Congolese rumba. The song is written by Hugues Ducamin and Jacques Ballue.
Allez Ola Olé – opinions from fans
In order to find out what Eurovision fans today think of this French entry from 2010, we asked our Eurovision Fan Panel. It includes team members as well as fans from all over the world.
🇳🇴 Steinar M. – Always nice when football and Eurovision combines isn't it? I love both! And this song was meant as a supporter song from the French team at World Cup in 2010. But France did much better in Eurovision, than in the World Cup…. It was popular among the fans too. It created a good atmosphere in the hall during the 2010 Eurovision Song Contest. It's a groovy, funky, feel good dance song. Fun, catchy and unpretentious. So why not? Better than any of their dull power ballads. My favourites in Eurovision 2010 were otherwise Germany, Turkey and Bosnia.
🇬🇧 Ashleigh K. This is still one of my favourites from France which makes a regular return on my summer playlist. The performance had lots of energy… I liked this song immediately but looking back I have realised that the recorded studio track does have more oomph than the live performance.
🇩🇰 Charlotte J. – It's rare that France comes with a song that I still sing along to 10 years later. This is an exception. It's damn catchy and I am unable to get it out of my head, but why should I also want that? This song, and the energetic performance brings me in a good mood. Musically it's nowhere near the best from France, but this has so much else going for it which makes it one of the few French entries, I still sing along to a decade later.
🇫🇷 Bernard D. – What a title !!! This is a refreshing, powerful and catchy song! A tenth place was way below my expectations. But maybe as a French I lack a bit of objectivity? I remain convinced that she would do better today. Everything there is so positive.
Move Jessy, Mooooove!
🇬🇧 Aaron S. – Jessy Matador for me produced one of the most memorable songs from Eurovision 2010, it's a real dance tune and it deserved so much more than 12th place, while nothing was taking the trophy away from Lena that year, this was a close second-place for me, it is a song that has aged well and still seems current today, a real groovy song.
🇨🇴 🇫🇮 Álvaro S.- This cheerful song does not make people indifferent. The sound of this song makes me think about summer in southern Europe or the World Cup. The performance is silly but it makes me smile immediately. Catchy and funny without pretensions.
🇫🇮 Martti I. – From time to time France sends sounds from Caribbean. I have had holidays on Caribbean and easily got into the beat. A catchy song and performed well in standard Eurovision way. Still this needed more: Colourful clothing, few surprises, I could have added plus the background with white sands, palm trees, flowers. And yes maybe then received the placing France deserved.
🇸🇪 Jill R. – It is probably no coincidence that this song was selected the same year as the FIFA World Cup. It sounds as if it is taken directly from a football game. It is a catchy and happy song that makes me want to dance and I quite like it. The performance and choreography is energetic and fun and would probably be excellent for an aerobics workout. It wasn't one of my top songs of 2010, but it certainly deserved a better placing than 12th.
🇹🇷 Güneç G. – It sounds like a song made for football games. Given the fact that Jessy is a big football fan 🙂 Nonetheless the song makes you dance anyway and it's a good thing 🙂 .
Enjoy Jessy Matador's performance from the 2010 Eurovision Song Contest in the embedded video. Below the video, you can read more about him.
Jessy Matador – a mini biography
Jessy Kimbangi is a French-Congolese singer. He was born in Paris, France in 1983. Jessy started his music career as a dancer in 2001 where he was a member of the band Les cœurs brisés. Later in his career he created his own music group La Sélésao.
In his music career Matador combines African and Caribbean sounds with pop, dance, reggae and hip hop. In 2011, he formed les Mata Girlz, a group of female professional dancers.
Jessy Matador has continued his career after his Eurovision 2010 participation releasing two albums and several singles. He has collaborated as a jury for the talent show Dance Street. Moreover he has participated in two reality shows and has debuted as a theatre actor. In 2020, he made a cameo in the film Eurovision Song Contest: the Story of Fire Saga.