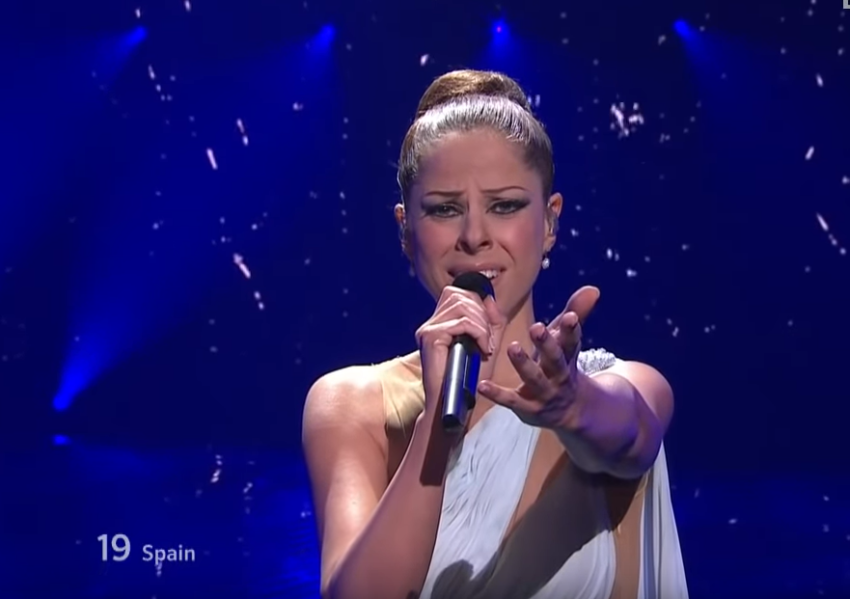 In 2012, Spain participated with Pastora Soler. Her song 'Quédate Conmigo' gave them one of their best results of the last decade. Fans are divided, some think she deserved a higher place and others were not that impressed with the song.
In 2012, RTVE, the Spanish broadcaster decided to internally select Pastora Soler as their representative for Eurovision.  Pastora had already a long career before being selected for Eurovision. A national final to chose the song for Pastora took place in March 2012. Quédate Conmigo (Stay with me) won both the vote of the jury and the televote.
Pastora Soler wore a white robe for the Eurovision performance. She performed her song behind a rainy backdrop accompanied by her backing singers. Quédate Conmigo is a pop ballad about a person that laments losing the person she loved. The song is written by Swedish Thomas G:son, Tony Sánchez-Ohlsson and Erik Bernholm.
Quédate Conmigo received 97 points in the grand final and came in 10th place. This was Spain's first top 10 in Eurovision since 2004 and the second top 10 Spain had in the decade.
Quédate Conmigo – opinions from fans
In order to find out what Eurovision fans today think of this Spanish entry from 2012, we asked our Eurovision Fan Panel. It includes team members as well as fans from all over the world.
🇬🇧 Michael O. – Euphoria be damned, if this song couldn't win for Spain then what will. Eurovision at its best, but tenth place really, an outstanding song from a wonderful singer. Top notch.
🇱🇹 Konstancija S. – This song is flawless. Her voice is stunning. I love her emotion! Even if she is singing in Spanish, I understand what she feels. And every time I hear this song, it reduces me to tears. Amazing performance. High level!
🇺🇸 Grace W. – Quédate Conmigo starts off like a promising song, but as it progresses, it proves itself slightly boring and a little repetitive. Pastora's vocals were good, and I'm surprised the song placed as high as it did. A solid 7/10 for me.
🇵🇭 Vance T. – It's one of my favourites back then. I love how the song progresses from a calming to to an intense tone. It's absolutely perfect!
🇩🇰 Charlotte J. – Pastora is vocally strong. The song is strong too, and the performance is good. Everything is almost perfect – until the backing vocals comes on stage and the light is turned on. At that time, the song kind of ends for me, and I loose connection to it. I stop feeling it. What a shame.
🇨🇿 Josef Š. – Pastora Soler is my love! Quedate Conmigo is probably my favourite Eurovision song ever! Pastora's voice, her long note, backing vocalists, all the harmonies, her white dress. I just love everything about this. ❤
🇨🇴 🇫🇮 Álvaro S. – There is one good reason why this is one of the favourite Spanish entries from last decade. Pastora's voice is delicate and emotional from the softest to the highest notes she make us feel the pain about losing a love one that the lyrics talk about.
🇬🇧 Ashleigh K. – This is a song that I didn't remember and when I watched it again I still didn't remember that I have seen it before. The vocals are lovely and she really nails the high notes.
🇪🇸 Quique B. – In my opinion eurovision fans use to confuse between song, performer and performance. All this concepts are important and complementary when you are in the Eurovision stage. It's not easy to find the perfect balance. Pastora Soler has a great voice, probably the best that night. Her performance was absolutely perfect too, wonderful. But the song, for me is not a perfect song. Probably the other two factors compensate and Spain deserved a better place but we can't forget that Spain is still paying for his apathy during many years in the ESC. Anyway this punishment is very long for us…
Enjoy Pastora Soler's performance from the 2012 Eurovision Song Contest in the embedded video. Below the video, you can read more about her.
Pastora Soler – a mini biography
Pastora Soler was born in Seville, Spain in 1978. She started her music career when she was a young girl. Back then she participated in song competitions singing copla and flamencos songs. Her first studio album in 1994 covered classic copla songs. She combines pop and electronic with traditional copla and flamenco in her music work. Pastora has released 12 studio albums.
In 2014, Pastora announced that she went on hiatus after fainting at a concert and postponing or cancelling other events.  She said she was suffering performance anxiety. She resumed her music career in 2017. Pastora Soler married Francisco Viñolo in 2009. Together, they have two daughters.