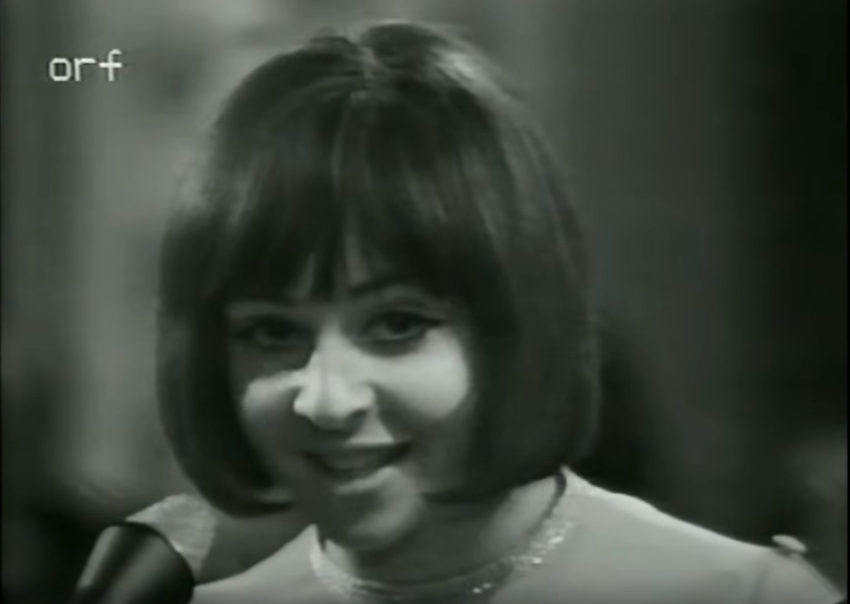 In 1967, Vicky Leandros represented Luxembourg with a song that remains very popular, even outside of the Eurovision sphere. Today fans still remember this French song for its charming melody and sweetness though not one that could really beat Sandie Shaw.
In 1967 RTL, the Luxembourg broadcaster selected Vicky Leandros to represent the country in Vienna. Vicky Leandros was only 17 years old back then. The singer of Greek origin was announced simply as Vicky during the Eurovision night.
Vicky Leandros represented Luxembourg in Vienna. She performed L'amour Est Bleu (Love is blue) as second, after the Netherlands. Vicky obtained 17 points at the end of the evening. This result secured her a 4th place, only 5 points below Ireland that came in second.
In L'amour Est Bleu the singer compares love to different colours depending on her feelings. French songwriter Pierre Cour composed L'amour Est Bleu.
L'amour Est Bleu – opinions from fans
In order to find out what Eurovision fans today think of this Luxembourg entry from 1967, we asked our Eurovision Fan Panel. It includes team members as well as fans from all over the world.
🇬🇧 Michael O. – There really was only one song worth anything in 1967 and fortunately it won by a mile. There was nothing remarkable about this song and nothing to indicate it would become a future classic. Vicky had better songs to come.
🇺🇸 Grace W. – This is my winner of 1967, it stands out compared to the rest of the songs that year. Definitely underrated, but not better than Vicky's song from 1972. A 10/10 from me.
🇨🇴 🇫🇮 Álvaro S. – Simple and sweet, this is one of the greatest pieces of the chanson Française even if it is a Luxembourg entry. When I listen to this song I immediately imagine myself walking on the streets of Paris in an idyllic summer. And I love that mental picture.
🇩🇰 Tina M. – A classic song that I just can not get tired of. I love that the song is not sung in English and that given the song exactly what Eurovision is about – a singing competition where each country presents a song with national tones rather than today, where Eurovision has developed into a competition in pop where several countries even use the same songwriter. I like the song a lot, timeless and beautiful 8/10.
🇳🇱 🇩🇰 Wouter V. – There's something charming about many of the older entries. While for some that charm is all they have going for them, this one has a lot more. I can't really put my finger on what it is though, I just like it.
🇷🇸 Miljan T. – I heard the instrumental version by Paul Mariat in the 90s in a TV show and went crazy over the melody. No internet back then, so it took me years to find what it is and download it. Then it took me years to find out it's actually a Eurovision song. So you can imagine that I think this is one of the finest melodies ever created and it being an ESC song just shoots it up a a few scales. I never get tired of it and I like it much more than Apres Toi.
🇩🇰 Charlotte J. – I always find it difficult to write about these 1960's songs. Often I find myself unable to connect to them. This one is different. It's charming and catchy – and enjoyable. I am entertained all through the song – and that's not often, I can say that about songs from this time. While it's not love, it's definitely a like from me.
🇬🇧 Kat H. – As a self confessed baby Eurovision fan, I am not well versed in the entries from pre 1990; so when I was initially asked to comment on this song from 1967, the only one I knew was the iconic Puppet An A String. After listening to Vicky's entry, I was impressed with the vocals and I always enjoy being transported back with the live orchestra. All I can say is that I enjoyed the song and I will definitely listen again, but it's clear to see why it didn't win.
🇹🇷 Günec N. -This is a true Eurovision classic. Vicky's innocent, pure and fluent performance captures you. The song has a simple basic melody yet very remarkable.
🇪🇸 Mária P. – In my opinion it's a beautiful, delightful song which deserved more. I don't intend to say it should have won because I like very much Sandie Shaw's entry, but it would have been fair to get the 2nd place. As a song, I find L'amour Est Bleu more beautiful than Après Toi by the same singer, but the performance wasn't by far so great and professional as Après Toi. Maybe that's why having such a beautiful song as L'amour Est Bleu, Luxembourg couldn't get a placing higher than 4th.
Enjoy Vicky Leandro's performance from the 1967 Eurovision Song Contest in the embedded video. Below the video, you can read more about her.
Vicky Leandros – a mini biography
Vicky Leandros (born Vasiliki Papathanasiou) is a Greek singer. She was born in Corfu, Greece. She represented Luxembourg in 1967 with the song L'amour Est Bleu. Her first Eurovision entry reached to 4th place. Moreover, her song got international recognition with many covers. This includes an English version of her Eurovision entry by French singer Paul Mauriat. Love Is Blue top the Billboard Hot 100 chart in the United States in 1968 for five weeks. Leandros herself recorded a version of her song in English, German, Italian and Dutch.
Leandros represented Luxembourg again in 1972 with the song Après Toi. She won this time with 128 points. Throughout her career she released several albums in English, German, French, Spanish and Greek. For a brief period, Vicky had a political career in Greece where she became town councillor and deputy mayor.
Vicky  is still active. She is planning to perform in different music events in Germany in 2021.