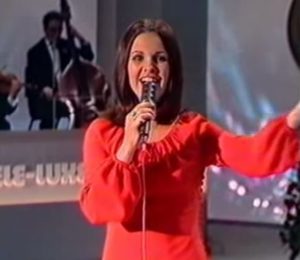 With five victories and many timeless classics, Luxembourg have a rich Eurovision history. Their 1973 entry 'Tu Te Reconnaîtras' is one of those entries that is still loved by many Eurovision fans from all over the world, almost half a century later.
Following Vicky Leandros' victory in 1972 with Après Toi, in 1973, the Luxembourgian broadcaster RTL internally chose Tu Te Reconnaîtras performed by 21-year-old French singer Anne-Marie David to represent Luxembourg in the Eurovision Song Contest held at their home country.
In the Eurovision final, Anne-Marie took the stage 11th in line with her red dress and simple but elegant make up. She sang her power Euro-ballad Tu Te Reconnaîtras. After a strong and successful performance, she received 129 points and won the contest.
Tu Te Reconnaîtras – opinions from fans
In order to find out what Eurovision fans today think of this Luxembourgian entry from 1973, we asked our Eurovision Fan Panel. It includes team members as well as fans from all over the world.
🇩🇰 Charlotte J. – We all know that this is a Eurovision classic for a reason. It's absolutely a love from me. My French is basically non-existing, but that doesn't matter. Anne-Marie David makes sure that it's not needed to understand the lyrics in order to feel the song; I feel it through her. Great song, and great performance.
🇹🇷 Gunec G. – This song is one of the most precious memories of my childhood. It is a timeless classic. It shows us that Eurovision was all about music once upon a time. Beauty and elegance in simplicity.
🇵🇹 Linete A. – What a beautiful song from Luxembourg. She's beautiful, has a spectacular voice and sings with so much intensity and very expressive. She pronounces the words of the beautiful French language so well, and I really enjoyed listening to this old but still very modern song. Very enjoyable and extra special with the accompanying orchestra.
🇬🇧 Michael O. – Spain should have won, but having said that, this too was a worthy winner, in fact part of the 1970-1974 years when all were great winners, such a lengthy run of excellent winners hasn't happened since. Classy, pleasant on the ear and well performed. Top-notch.
🇨🇿 Josef S. – OK, let's be completely honest about this one. Anne Marie David and her Tu Te Reconnaîtras is one of my all-time favourites from Eurovision, I love her strong voice and how well is the song written, not too wild, but very powerful at the same time. This is what I usually imagine when someone uses the phrase "Eurovision classic". ❤
🇵🇱 🇯🇪 Pawel J. – I absolutely adore Tu Te Reconnaîtras. It's one of those "listen to it, close your eyes and fly away" songs- it makes me feel very relaxed. Is it my favourite from the 1973 contest? Probably not – I'd choose the Spanish entry Eres Tú. But Anne-Marie's song won, and it became an absolute Eurovision classic that many people love- even after almost fifty years.
🇸🇪 Jill R. – I really like this song. Anne-Marie was a worthy winner, even though I like the runner-up even better. Anne-Marie articulates every word and sings with great ardour. Her facial expression and eyes are quite intensive. She absolutely squeezes the best out of an already good song. You don't have to understand a single word she's singing to get a feel for it. This song has aged well, and I don't think I ever will get tired of it.
🇬🇧 Paul G. – There is so much I could say because I adore this song. It is one of my top 3 all-time favourite Eurovision songs. Such a deserved win for Luxembourg. I wish they would return!
🇩🇰 Tina M. – Tu Te Reconnaîtras from Anna-Marie David is from the time when the Eurovision was about singing and voice acting – without fun, shows and bread-baking grandmothers. Clean and simple, where the song is at the centre. I like it. The song is incredibly beautiful, and I think it is timeless. The song can be heard today just like it could back then, and still touch something in me. Imagine what would happen if it was performed in the Eurovision with only an emphasis on the song and the singer? Would that work? A song I like, thanks for reminding me of it. 7/10.
🇫🇮 🇨🇴 Alvaro S. – Although the Spanish song would have made a better winner for my taste one cannot deny that this classic sound is so lovely and elegant. Even after the years and decades have passed this song gives us goosebumps. And I love Anne-Marie David rendition of her winning song in the 2015 Eurovision Greatest Hits special.
Enjoy Anne-Marie David's performance from the 1973 Eurovision Song Contest in the embedded video. Below the video, you can read more about her.
Anne-Marie David – a mini biography
Anne-Marie David was born on the 23rd of May 1952 in Arles, Provence-Alpes-Côte d'Azur, France. She started her musical career at the age of 18. In 1972, she played Maria Magdalena in the French production of Jesus Christ Superstar. She also attended the French selection for Eurovision Song Contest in 1972 with the song Un Peu Romantique. In 1973, she represented Luxembourg with Tu Te Reconnaîtras. She not only won the contest but also redounded a timeless classic to the music world. After the contest she made a world tour and lived in Turkey for some years.
She released two singles and one album in Turkish. In 1979, she returned to the Eurovision stage this time for France with Je Suis L'enfant Soleil. She received 106 points and became 3rd after Israel and Spain. She took the stage for the 50th anniversary of Eurovision Song Contest in Copenhagen and performed Après Toi. In 2009, she appeared in Turkish broadcaster TRT's live show before the Eurovision final with Johnny Logan (winner 1980). In 2015, she released a single named International with German pop artist Mave O'Rick and the song was recommended for Austria, Germany and San Marino for Eurovision 2016 by the Song Contest Consulting.