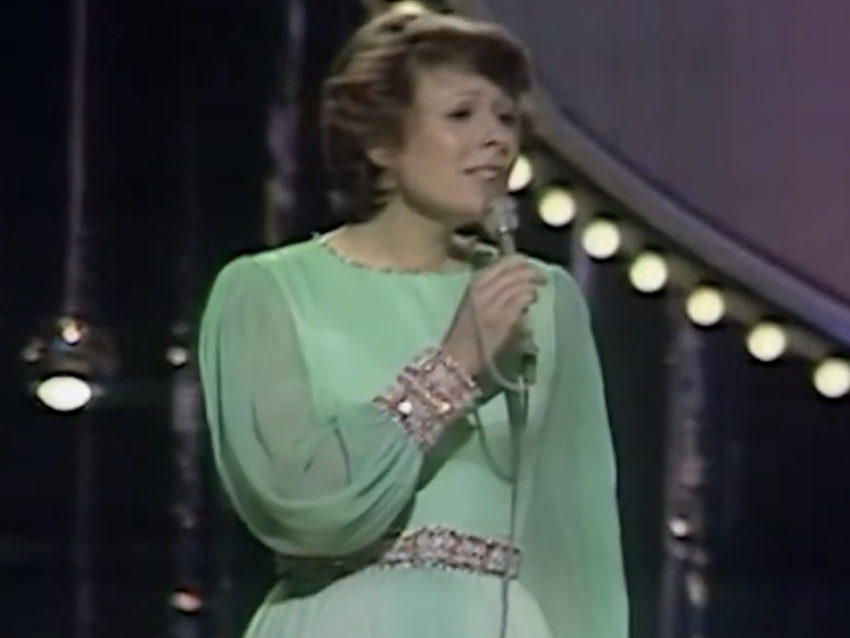 Having won Eurovision twice in a row with Greek born, Vicky Leandros in 1972, and French, Anne-Marie David, in 1973, Luxembourg hoped for a hat trick in 1974 when they chose British born, Ireen Sheer with 'Bye, Bye, I Love You'.
Beginning her career singing in clubs in Southern England, Ireen's record company hit on the idea to try a career in Germany, where her mother had been born. This proved successful, and Luxembourg Television (RTL) asked Ireen to represent them at the Eurovision Song Contest 1974, which despite Luxembourg winning in 1973, was to be held in Brighton, U.K.
Ireen sang the first Ralph Siegel song ever to be performed at Eurovision, Bye, Bye, I Love You, and despite the English title, she sang it in French.
Performing 9th on the night, of April 6, 1974, following winner's Abba, Ireen scored 14 points, placing her 4th equal with the U.K's Olivia Newton-John and French Romuald Figuier, representing Monaco.
Bye, Bye, I Love You – opinions from fans
In order to find out what Eurovision fans today think of this entry from Luxembourg 1974, we asked our Eurovision Fan Panel. It includes team members as well as fans from all over the world.
Michael O.- I quite liked this song at the time, though nowhere near as much as Waterloo. On stage after Abba, the song instantly sounded old fashioned. Ireen's English version is an exercise in whining, but the song still appeals enough to me today. I still like to listen to Ireen's two solo entries, now and again. Fourth or Fifth place was fair that year.
Alvaro S. – It is a good song, a classic one but in a competitive year with Italy and Sweden directed by Napoleon himself this would be less memorable. A fourth place was a good result.
Enis H. – A song you can expect from Luxembourg. Nothing special.
Pascal W. – Can somebody please bring Luxembourg back to Eurovision? They've almost always had good entries and this one is no exception. Great stage presence, charisma, vocals and of course, great song.
Paul K. – I have to say, this is a very nice song. It has a nice sweet melody and she has a great voice, and also the French language as well, I always love songs in a language other than English, French is one that I always love to hear. Unfortunately they had ABBA that year so there was no way it would win but a nice decent song
Quique B. – Bye bye I love you is not a wonderful song, nor the worst in that year. The only merit it has is that it reminds me of how old wonderful song contests like 1974 was. I miss those years….
Eric O. – To be honest: I don't recall having heard this song before. Though 1974 was a very successful year with Abba winning with Waterloo, this song ended on a shared 4th place with Monaco and the UK, of which the latter is still pretty well-known. Having heard this song for the first time, I don't think it's bad at all, though I must say that the English pronounciation of Bye bye I love you is not that great. Anyway, nothing special, so I'm glad Waterloo won that year.
Ines M. – This is a song with a calm and harmonic melody. I do not consider it to be a very striking performance on the part of the performer, but it is a song that does not pass indifferently to Eurovision fans, without a doubt. It is charming and timeless song.
Charlotte J. – When you hear songs like this from 1974, you also know exactly why ABBA won. They were light years ahead of this one from Luxembourg. This is fine background music, and Ireen does sing it well, but there's nothing remarkable about it. Nothing which makes me remember it… maybe aside from the horrible dresses of the backing singers :-(. Luxembourg have had many great entries, this just isn't one of them. Not bad, but nothing more than fine background music.
Ireen Sheer – a brief biography
Ireen was born, Ireen Wooldridge on February 25, 1949 in Romford, Essex. Ireen was the vocalist on the second The Family Dogg album, The View from Rowland's Head. Having a German mother, it was suggested she try and form a career in Germany.
A single, Goodbye Mama performed well enough to catch the attention of RTL who asked her to perform Bye Bye I Love You for Luxembourg at Eurovision 1974.
After that there seemed to constantly be an Ireen Sheer recording on the market, leading to her representing, and placing 6th for Germany in 1978 with Feuer.
There are, count them, nearly 40 Ireen Sheer albums available to buy, with her last Eurovision participation to date, being part of the sextet who represented Luxembourg in 1985 with Children, Kinder, Enfants.
Ireen is still a popular cabaret act in Germany, to this day, having just released her new single, Story Meines Lebens.