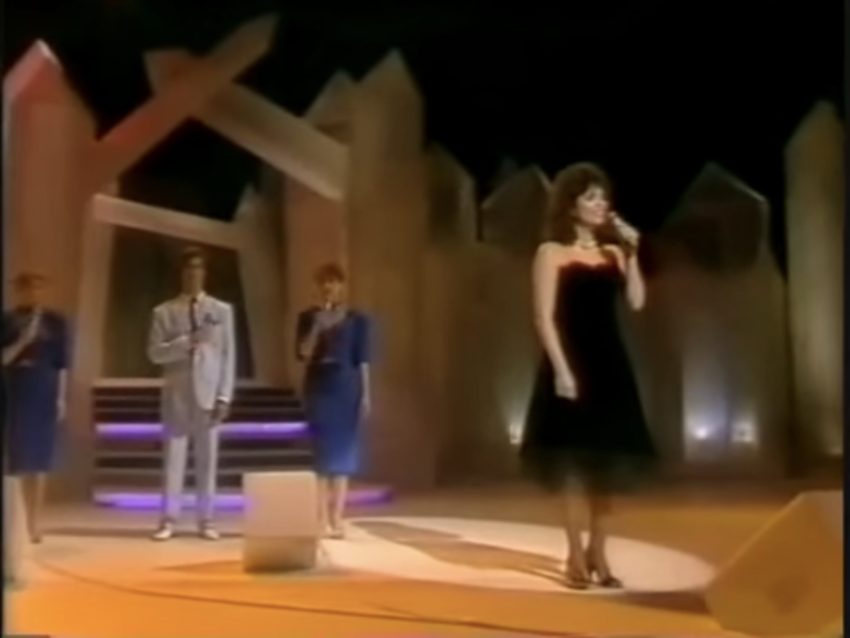 With five winners, Luxembourg were the country to beat in the eighties. In 1986 it looked as if they had another winner on their hands, with Sherisse Laurence and 'L'Amour De Ma Vie'.
Sherisse is a Canadian singer and was offered the opportunity to represent Luxembourg, via connections her management had with RTL, the public broadcaster.
L'Amour De MaVie was a slow paced ballad which ran for over four minutes and was heavily backed by electronic music. The song was revamped,  and speeded up for Sherisse's appearance at Eurovision, with a live orchestra.
Sherisse opened the Eurovision Song Contest 1986 on 3 May, in Bergen, Norway. She ended up in third place with a total of 117 points. This meant all the Top 3 songs were sung in French, with Belgium and Switzerland taking the Top 2 positions.
L'Amour De Ma Vie – opinions from fans
In order to find out what Eurovision fans today think of Luxembourg's entry  from 1986, we asked our Eurovision Fan Panel. It includes team members as well as fans from all over the world.
Michael O. – This was my absolute favourite in 1986. I already liked the recorded version, and was pleasantly surprised by the new version, presented at Eurovision. This and Lara Fabian's entry in 1988 is the reason I miss Luxembourg at Eurovision. Come back soon.
Josef S. – This is a new song for me. As for the language, I love French and I understand it a little, so I appreciate songs in French. The melody in the refrain is really my cup of tea as I am always looking for that in every song, so my heart is really happy now. The staging is simple but good enough, vocals of Sherisse are almost perfect, so actually nothing to complain about this time. 3rd place is well deserved!
Stine F. – 1986 was the first year that my country hosted Eurovision, and even in my home town. Too bad I was only 4 at the time. I think this song is ok, but not more than that. It fits the time in which it was performed, but is nowhere near Sandra Kim's fantastic winning song. I think this song sounds off key at times. Maybe it was the backing singers…?
Ray M. – As I listen to Sherisse Laurence sing L'Amour De Ma Vie for Eurovision 1986 I can't help but think about ABBA's The Winner Takes It All. There are definitely some parallels between the two songs. She's a fine singer, but the song doesn't do anything for me.
Wouter V. – I like the anthemic sound of this song. Unfortunately Sherisse never really seem to rise to full strength. L'Amour De Ma Vie is still ok, but it had potential to be great.
Alvaro S. – This is a lovely song. At some points it almost sounds like a lullaby. Sherisse voice is engaging. I think it got the right result. Although it is a very good song, Sandra Kim's song is more memorable.
Amir B. – A ballad dramatic. I like it, I think that song is good. Only good. Bring back the love of the past for my heart!
Charlotte J. – This is quite pleasant to listen to. I enjoy it, but it's not one I would put on myself. I have a tendency to overlook it because it doesn't stand out enough for me.
Enis H. – I had never listened to song before so i was quite happy to listen to it for the first time. I was pleasantly surprised by this song, i love the instrumental. Her voice is amazing, and the song is sweet.
Enjoy Sherisse's performance from the 1986 Eurovision Song Contest in the embedded video. Below the video, you can read more about her.
Sherisse Laurence – a brief biography
Sherisse was born in Selkirk, a town of around 10000 people in Manitoba, Canada. She made her television debut in 1978 hosting the Canadian show, Circus. She stayed in that role for five years, using the name Lawrence.
After the opportunity to represent Luxembourg came up, she changed her surname to Laurence, and placed third at Eurovision.
Juggling her singing career, with being a real estate agent in Mississauga, Sherisse turned to country music, releasing the single Half A Heart, while headlining impromptu concerts in Canadian malls.
In 2006 Sherisse, now with the surname Stevens, relocated to Huntsville, a community town 215 km from Toronto, where she took on the role of musical director of Huntsville Community Choir. She also played the role of Mary Magdelene in the musical, Jesus Christ, Superstar.