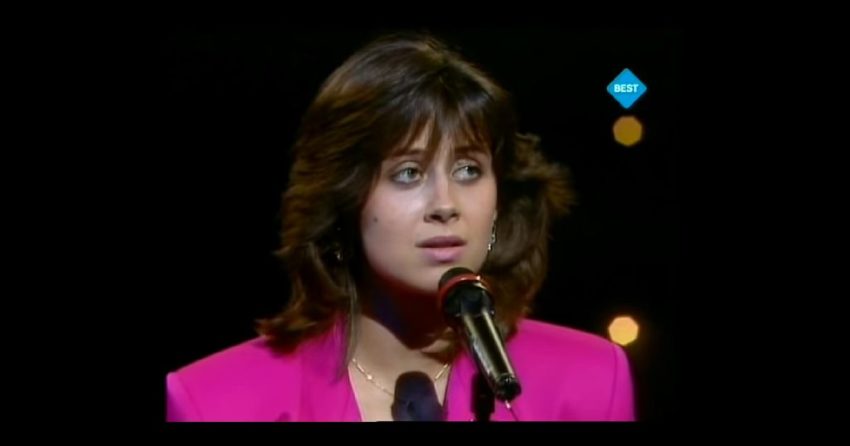 There aren't many years in which a Eurovision Diva goes on to have a very successful career, yet 1988 was able to produce two. One was Celine Dion, who won for Switzerland, and the other was Lara Fabian, a Belgian representing Luxembourg.
RTL Television, the television company, who chose Luxembourg's entries always used an internal selection. In 1988 they looked to Belgium when they picked eighteen year old chanteuse Lara Fabian to perform the song Croire.
Performing, after her home country, in seventeenth position out of twenty one countries, Lara started out well on the scoreboard, but slipped a little, ending up in 4th place with 90 points, receiving 8 of them from her native Belgium.
Croire – opinions from fans
In order ro find out what Eurovision fans today think of this 1988 from Luxembourg , we asked our Eurovision Fan Panel. It includes team members as well as fans from all over the world.
Michael O. – In 1988 there were three songs that stood out to me. Fortunately one of them won and Norway came fifth. The spoilers were the U.K. and Denmark  finishing 2nd and 3rd place. Best of all was this return to form from Luxembourg, who knew how to send a strong French ballad, at that time, better that the French themselves. This is the kind of quality that makes me miss Luxembourg at Eurovision. Lara's Pure album is also excellent, such a shame she didn't become a bigger star in the U.K.
Charlotte J. – Vocally, Lara Fabian is strong, but damn the song is boring… 1988 was quite a strong year, and I am unable to understand why it finished 4th. Yes, she has a fantastic voice, but compared to other ballads that year, the Croire unfortunately comes across as boring to me.
John E. – Luxembourg has sent many memorable entries over the years but, for me, this is not one of them. I can appreciate the power and beauty of Lara's voice but I find it instantly forgettable unlike many other power ballads sent by Luxembourg in other years.
Linete A. – I love this song and Lara Fabian sang it beautifully even though she wasn't at her best then. Such a powerful voice that she sang with emotion and it should've come at least 2nd that year after Celine Dion. Wonderful to hear Lara sing so long ago!
Alvaro S. – Lara Fabian's voice in her 1988 performance is very strong and emotional in different parts of the song. This variations makes that otherwise solemn entry sounds more personal. It is incredible to think that her and Celine Dion participated in the same year.
Vangelis M. – Lara Fabian had not a bad song but it was a bit flat. The dynamic inside the song is missing. Performance was a little boring. No question why Celine Dion won back in 1988 when she had this amazing energy on stage.
Robert I. – She is a good singer. But the song? Meh. I want Luxembourg back in Eurovision, but they can do much better than this
You can watch Lara's Eurovision performance from the 1988 Eurovision Song Contest, in the video, below.
Lara Fabian – a brief biography
Lara was born in Etterberk, Belgium in 1970, and at age 18 represented Luxembourg at Eurovision.
Lara wasted no time after Eurovision, packed her bags and headed of to live and record in Canada, the land of Celine Dion, who won in 1988. Her second French album Carpe Diem was a huge success, particularly in France, but the follow up Pure, went through the roof selling over 3 million copies.
By 1999, Lara wanted to break the English market, releasing a self titled album, which gained moderate success in America, yet ironically was another chart topper in France. The single I Will Love Again made number 63 in the U.K, and number 32 in America.
Lara subsequently released 6 albums  in a row which all made the Top 5 in France and Belgium. Lara's latest album, her fourteenth named Papillon was released in 2019. In total she is a 20 million selling album artist and is still a sell out concert artist.