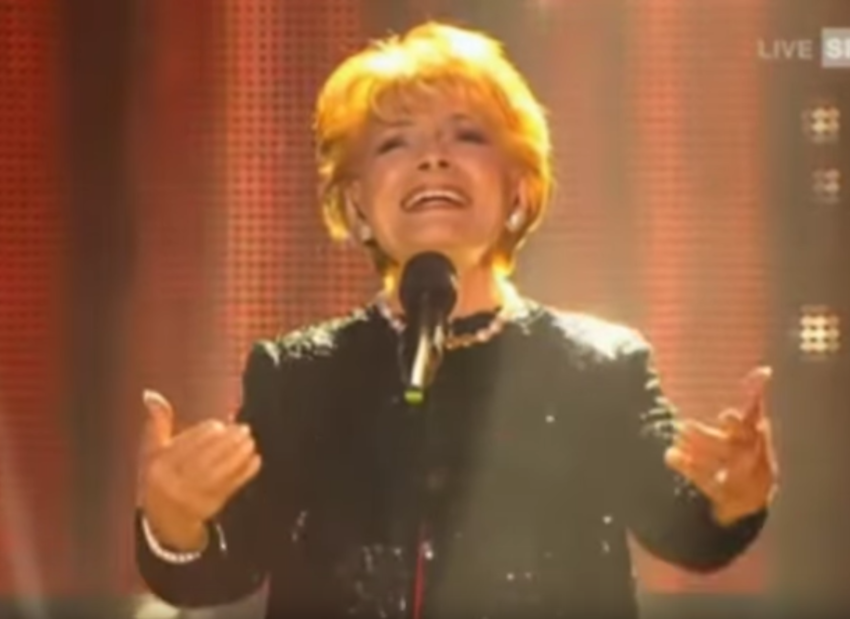 The Swiss National Final for the Eurovision Song Contest 2012 saw an extraordinary participant. It was no other than Lys Assia, the very first winner of the Eurovision Song Contest. Notwithstanding that her song did not perform well in the national final, fans still remember this entry with some nostalgic.
For the Eurovision Song Contest 2012, the Swiss broadcaster organised Die Grosse Entscheidungs Show as their national selection for the second time. Fourteen acts reached the grand final, including Eurovision's 1956 winner Lys Assia. She participated with the song C'etait Ma Vie (It was my life). C'etait Ma Vie is a ballad that resembles the style of Lys Assia's 1956 winning song Refrain. Ralph Siegel wrote C'etait Ma Vie.
Lys Assia performed 13 in the final of her national selection, right after the winning song. Her song placed 8th in that evening with only 5,46% of the televote. The band Sinplus was the winner and thus represented Switzerland in Baku, Azerbaijan at the Eurovision Song Contest 2012 with the song Unbreakable. Sinplus ended up in 11th place in the semi-final and therefore, did just not qualify for the grand final.
C'etait Ma Vie- opinions from fans
In order to find out what Eurovision fans today think of this song from the 2012 Swiss national final, we asked our Eurovision Fan Panel. It includes team members as well as fans from all over the world.
🇨🇴 🇫🇮 Álvaro S. – Lys Assia, the legend, the first Eurovision winner! We miss her so much. Regardless of not being her best song for Eurovision, it is heartwarming to listen to this entry and see how she was still shining in 2012. This was not the best entry from the Swiss selection, but I would have loved to giver her a chance just so that we could see her perform onstage for a last time. Long live to the one and only Eurovision queen.
🇳🇱 Jacques H. – All of her life, Lys Assia was a legend for being the first ever Eurovision winner in 1956. Her Refrain resonated throughout her career. And every time she showed up at a Eurovision contest, she was welcomed as a true heroine. In the autumn of her life, her health was fragile. In 2012 she tried to enter the contest in Baku with this old-fashioned Ralph Siegel song C'était Ma Vie. A total miss for today's song contest, and so was SinPlus, who represented Switzerland with with their unintelligible Unbreakable. I prefer to have Refrain on repeat!
🇬🇧 Michael O. – While the sentimental vote probably could have gone Lys's way, there was no way this could have beaten Euphoria. A fifties like number dressed up for the noughties, even although Sinplus did not qualify, it was a better Swiss entry.
🇦🇺 Vivienne F. – Oh what a lovely song, however it seems a bit dated and sounds like it's from a musical. I think my late Father would have liked this one. It sounds like this song was written especially for Lys, a Eurovision icon. It would have been nice for her to have been in the final once again, however Unbreakable made it, which I love.
🇩🇰 Charlotte J.- This wasn't the best song in the Swiss selection that year, but damn, I have a lot of respect for what Lys Assia did there. She had class, and that shows all the way through the song. I like watching this, and it would have been lovely had she made it to Eurovision again after all those years. It would have been because of her though, but it's not a crime to choose a song that isn't the strongest in the national selection. Lys Assia, R.I.P ♥️
🇬🇧 Richard C. – The legend that is Lys Assia. This is an old school style of song. Nice production. Even though her voice it's not what it once was, you can't deny her pedigree. It's a Great effort.I thoroughly enjoyed watching this special performance. Lys Assia's last hurrah!
🇳🇴 Stine F. – I am not sure this contribution would have been able to hit those high numbers if sent to the final, but I must say that I actually like it. It has an old Hollywood vibe, and could quite possibly serve as a closing act in a musical. Comparing it to the act Switzerland sent this year, I wish they would have sent Lys Assia instead.
🇬🇧 Ashleigh K. – This is a tough one to call. Apart from his diction I quite liked Sinplus, it reminded me very much of The Killers. Lys Assia's song on the other hand is quite old fashioned but it's very charming. We've seen a lot of older men at Eurovision but not so many older women so this would have been nice for a bit of variety. Switzerland didn't qualify in 2012 which was a shame but maybe with the love fans have for Lys Assia they might have qualified has she been selected.
🇨🇿 Josef S. –C'était ma vie is a tribute to the 60's era of Eurovision. This song is exactly like some of those old entries, which are now Eurovision classics. Lys was until her end a woman full of glamour and grace and that's what I loved about her. Even though I like this retro song, it's not suitable for Eurovision in 2012, maybe it would be better as some interval act instead. Swiss choice of Sinplus was reasonable and better.
🇩🇪 Andrew G. I will keep this short. I don't like the song. It's outdated it's too 1950-1960. It may have done well back then. It's a shame that Switzerland and Lys thought sending the first winner would help them in 2012. Wrong in ever way.
Enjoy Lys Assia's performance from the 2012 Die grosse Entscheidungs Show in the embedded video. Below the video, you can read more about her.
Lys Assia- a mini biography
Lys Assia was born in Rupperswil, Switzerland in 1924. She started her career as a singer in 1940. In 1956 she represented Switzerland for the first edition of the Eurovision Song Contest with two songs: Refrain and Das Alte Karussell. She became the first winner of the contest with her song Refrain. After her victory she represented Switzerland in 1957 with the song L'enfant que j'étais ending in 8th place and in 1958 with Giorgio that ended in second place.
She tried to represent Switzerland again for the 2012 with the song C'était Ma Vie. She tried to participate in the Eurovision Song Contest the following year. However, her song did not make it to the national selection this time. During her life, Lys Assia often attended the Eurovision Song Contest and participated in events related to the festival.
In 2015, she attended the special Eurovision Greatest Hits celebrating the 60th anniversary of the show. She sadly passed away in 2018.