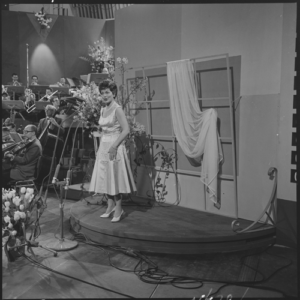 She was a Eurovision icon as the winner of the very first contest held back in 1956. Today, the sad news broke that she passed away at the age of 94. She is a legend who will always be remembered for her love to the Eurovision Song Contest.
It's hard to imagine that Lys Assia is no longer among us. Despite her age, we are many who somehow thought she would live forever. Today, we were ripped out of that imagination.
Lys Assia, born in Switzerland in 1924, got her big breakthrough in 1954 with the song Oh, Mein Papa. As the Eurovision Song Contest started in 1956, Lys Assia represented Switzerland and won with the song Refrain. As the very first winner, she has often been referred to as Eurovision's First Lady.
She would represent her country twice more. In 1957 finishing 8th with L'enfant Que J'etais, and again in '58 where she came second with Giorgio. Like a true European, she has lived in many countries among others her native Switzerland, but also for many years in Denmark, and later also France.
Life is too short to spend on unimportant things. Unfortunately, one notices this but usually only in retrospect. My life was very happy. We should never be jealous of the other's happiness.

Lys Assia to BLICK
As late as in 2012 and 2013, Lys Assia gave it another attempt to make it to the Eurovision stage as a participant, but failed to win the Swiss national finals with the songs C'était Ma Vie and All In Your Head. She has however very often visited the contest, and in recent years she also encouraged fans to send selfies with her and them – today, all those are being shared once more. At the 2016 contest, a special Meet & Greet was set up for her to meet her fans once again.
At the age of 94, Lys Assia passed away at Zurich's Zollikerberg Hospital. Our deepest respect goes out to family and friends.
In the video below, remind yourself of Eurovision's first ever winner Refrain sung by Lys Assia: