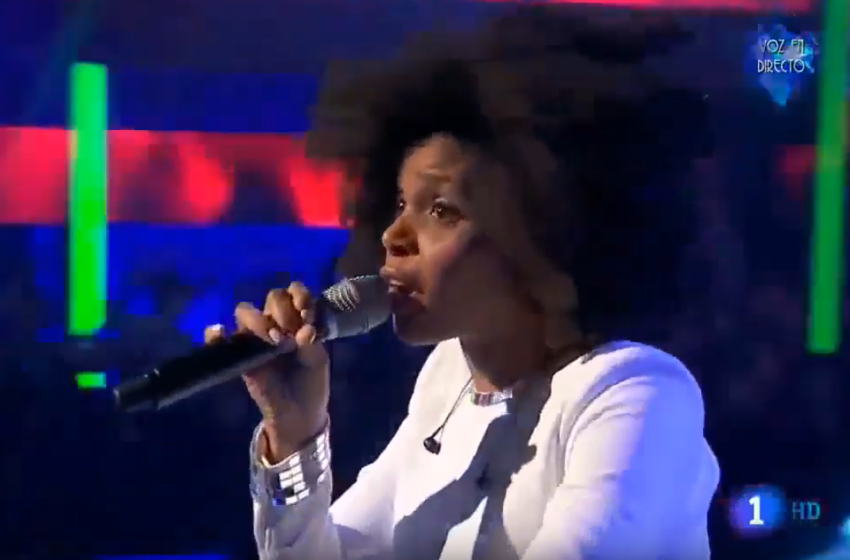 In 2014, Spain sent Ruth Lorenzo to represent the country in Copenhagen. Ruth's victory in her national selection was due to a tie-breaking rule. Brequette came in second place with the same amount of points as Ruth Lorenzo. Her fans still wonder if she would have got a better result if the national selection's rules would had given her the victory.
The Spanish broadcaster organised Mira quién va a Eurovisión in 2014 as their national selection. Five contestants competed in the final. Brequette opened the night with her song Más (Run). At the end of the show both, Brequette and Ruth Lorenzo obtained the same number of points. According to the national selection rules, in case of a tie, the song with the most number of points from the televote would have the victory. Brequette received 30 points from the televote, six points below the actual winner and thus ended in second place.
In the aftermath of the national selection, some of Brequette supporters were disappointed with the final result. As the result was so close, they argued that the "best song" was left in the national final. Nevertheless, Ruth Lorenzo finished in 10th place with her song Dancing In The Rain. We can only speculate what would have been the outcome if Brequette had waved the Spanish flag in Copenhagen that year.
Más (Run)- opinions from fans
In order to find out what Eurovision fans today think of this song from the 2014 Spanish national final, we asked our Eurovision Fan Panel. It includes team members as well as fans from all over the world.
🇪🇸 Mária P. – Brequette has a great voice, but the truth is that in the national final, she sang nervous and looked down too often. It's not the kind of performance that you feel enthusiastic and eager to see in Eurovision. And I didn't like the song itself very much. Not bad, but nothing special. I agreed with the result of that final, as I think that Ruth Lorenzo's entry was the best of the 5 candidates, and also the only one which had chances to make the top 10, in my opinion.
🇬🇧 Michael O. – You wait forever for a great Spanish entry, then two potentials come along in the same year. This was a fabulous modern song which well deserved to be Spain's entry but much as I hate to say it, I still thought Ruth's song was even better. Another song wasted that never got the chance.
🇩🇰 Charlotte J. – I am sorry, but I really don't like this one. Half way into the song, I really just want it to end. I don't like the song, I don't like her voice and not the performance either. I am glad Spain didn't pick this one for Eurovision. I much prefer Ruth Lorenzo's Dancing In The Rain to this.
🇬🇧 Steve P. – I had not heard this song until I was asked to write a review for this article. I never thought I'd be grateful for Ruth Lorenzo, but now I am! Did this really tie for first? It tries and fails to be a big ballad and Brequette doesn't quite have the voice to pull it off, turning it into a shriek-fest! One of the curses of the free language rule has been the multi-lingual song. Please songwriters, don't keep switching, decide on a language for the lyrics and stick to it!
🇨🇴 🇫🇮 Álvaro S. – To this date Brequette has a huge fan base that supports her and would have loved to see her representing Spain in Copenhagen. Being fair, Brequette and Ruth Lorenzo have a lot in common: they both have strong voices and Más (Run) is as great a ballad as Dancing In The Rain is. We can add that both are sung in part in English. It would be hard to say if Brequette would have done better than Ruth but if she had been selected I believe she deserved a similar result at least.
🇨🇿 Josef S. – Spain already left so many amazing songs in their national final. But at least in 2014, both songs tied on the first place were really really good. Brequette is a perfect singer and Más (Run) is even today one of my favourite songs, even though it's composed by Thomas G:son and is quite cliché in terms of Eurovision, but this is exactly the kind of a power ballad I want at Eurovision, no, I NEED at Eurovision. It's difficult to say, if Brequette would end up higher than Ruth Lorenzo's 10th place, maybe yes. But it's interesting that in 2014, in the case of a tie, it was public who decided, while in the same situation three years later, it was the jury. Well, in Spain, they use the rules just the way they want to.
🇬🇧 Ashleigh K. – Ruth Lorenzo was on our version of the X Factor a few years before so I remember the buzz when the UK found out she was representing Spain, followed by complaints of why she wasn't representing the UK (for those that forgot she was Spanish). She was one of my favourites that year on the X Factor, she had such a beautiful voice. I liked Dancing In The Rain a lot. Ruth voice really complimented the song and it finished in a deserved 10th place. Brequette's song is also good but I don't like her voice as much, it's a bit harsh in places. But I could have imagined it scoring similarly to Ruth at Eurovision.
🇪🇸 Quique B. – Good voice, good image. That was what I remembered of that song until today I have had to listen again. I suppose after six years more I'll remember the same. Another song of the XXI century that I don't like (there are hundreds). Aseptic, without soul, that makes you wonder if the composer was a person or a machine. Thankfully Ruth won that night. Dancing In The Rain is not perfect but much better than this one.
Enjoy Brequette's performance from the 2014 Mira quién va a Eurovisión in the embedded video (song starts at 0:45). Below the video, you can read more about her.
Brequette – a mini biography
Brequette Cassie was born in Cape Town, South Africa in 1984. She is a pop, soul and R&B singer. She travelled to the Canary Islands to pursue a music career. Brequette met her future husband in Spain and thus, decided to settle in her new country. In 2012, she participated in the Spanish version of The Voice.
In 2014 she participated in the Spanish national selection where she finished in second place, with the same number of points of the winner, Ruth Lorenzo. Brequette was one of the backing singers for Barei's Eurovision song, Say Yay in 2016. She tried once again to represent Spain in Eurovision in 2017 with the song No Enemy. However, she was not selected to the final. Nevertheless, Brequette has not given up her dream. In a recent interview, Brequette said that she wishes to be the first woman of colour to represent Spain in the Eurovision Song Contest.