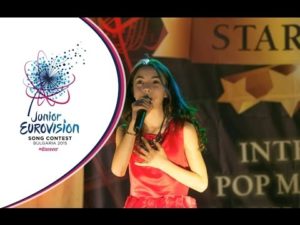 The Bulgarian host broadcaster BNT revealed today during a TV-show their entry for the 2015 Junior Eurovision Song Contest. The song is titled Cvetat Na Nadejdata (The Colour of Hope), and is performed by Gabriela Yordanova who previously won their national final.
Cvetat na nadejdata is composed by part of the team behind Krisia's second placed song  Planet of the Children and this year's theme song Discover Slavi Trifonov, Evgeni Dimitrov; and Georgi Milchev-Godji, with the lyrics by Gabi herself together with Ivaylov Vulchev. Broadcaster BNT's press release says:
The message of the song is about hope, dreams and happiness – illustrating the ability of children to find the colours of life.
The song was presented during the Georgi Lubenov's show on BNT1. The Junior Eurovision organising team, including Executive Producer Joana Levieva Sawyer, was also part of the show. They talked not only about the Bulgarian entry but about the event in general, as well as stage, and social activities for the children in Sofia.
BNT also announced that Gabriela won't perform alone on stage as the second placed singer at the national final, Ivan Stoyanov, will be supporting her adding his voice at the end of the song.
Gabriela Yordanova (Gaby) was born in Rousse (Bulgaria) and she has taken part in various national and international competitions earning more than 50 prizes in different categories. Her singing passion started when she was only three and a half years old. Gabriela won the right to represent her country at the upcoming Junior Eurovision Song Contest on homefield, when she previously won the Bulgarian National Final by a combination of televoting and a special jury.
Bulgaria in the Junior Eurovision Song Contest
Bulgaria has appeared in the contest four times, since its debut in 2007.
The Bulgarian broadcaster BNT submitted entries in 2007 and 2008. They withdrew from the 2009 contest, and did not compete in the contest in Kiev or at the 2010 edition in Minsk. Bulgaria returned for the 2011 contest in Yerevan, then they took a break from the 2012 and the 2013 contests.
Bulgaria returned for the 2014 contest in Malta, earning their best ever result, when Krisia, Hasan & Ibrahim ended on a second place with the song Planet Of Children, being first in the televoting.
Junior Eurovision was the eighth fastest trending event in Bulgaria for 2014, ahead of the Australia Open 2014 and New Year's 2014. Due to that success, on the 30th of March 2015 it was announced that Bulgaria will host the 2015 Junior Eurovision Song Contest at the Arena Armeec in Sofia on the 21st of November 2015.
Below you can watch the Bulgarian entry in this year's Junior Eurovision Song Contest: