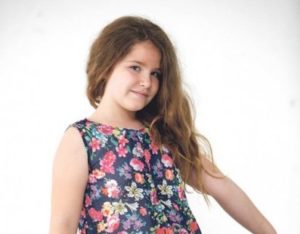 11 year old Lena Stamenković will represent Serbia at next month's Junior Eurovision Song Contest. Her song is called Lenina Pesma (Lena's song) and was premiered today. Behind the song we find two former Eurovision participants.
Lena Stamenković is 11 years old  and she was internally selected to represent Serbia after her recent big success in the talent show for children 'Pinkove zvezdice', where she finished 4th. The Serbian song is composed by Leontina Vukomanović and written by Lena Stamenković herself and Leontina Vukomanović. Leontina Vukomanović is known for her participations in the senior edition, Eurovision Song Contest. She has been in the team of composers for Serbia and Montenegro at Eurovision in 2004 and for Serbia in 2015. Dušan Alagić was in charge of the arrangements. Dušan has also been involved in Eurovision before. He participated in the 2012 Eurovision Song Contest as the instrumental and backing vocalist for Željko Joksimović. Dusan also arranged last year's Serbian Junior Eurovision entry Svet u mojim očima (World in My Eyes) performed by Emilija Đonin.
Serbia at the Junior Eurovision Song Contest
The first participation of Serbia in the Junior Eurovision Song Contest was at the 2006 contest in Romania, having previously participated in 2005 as part of Serbia and Montenegro. Serbia's best result was when they finished in third place at both the 2007 and the 2010 contest. This will be the 7th participation of the country in the contest.
Below you can watch the official video of the Serbian entry in this year's Junior Eurovision Song Contest that will be held on 21 November in Sofia.