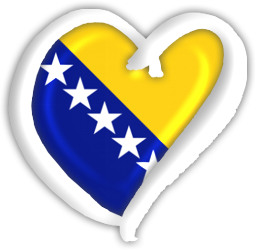 The Bosnian broadcaster BHRT shortly ago announced that they will be taking part at next year's Eurovision Song Contest in Stockholm, Sweden. These great news ends their three years absence from the contest.
It was back in 2012 when Bosnia & Herzegovina competed for the last time in the Eurovision Song Contest. Lack of money forced the broadcaster to withdraw from the contest for the next three years, and for a long time it looked like 2016 would be their fourth year out. however things now changed.
The broadcaster, BHRT, have managed to get the necessary funds and sponsors this year in order to take part at the Eurovision Song Contest 2016 in Stockholm. BHRT has not yet revealed which procedure they will be using to select their song.
Bosnia & Hertzegovina in the Eurovision Song Contest
Bosnia and Herzegovina debuted at the Eurovision Song Contest in 1993 after coming second in the qualification round for the new countries of Former USSR and Yugoslavia that took part for the first time that year, and most recently took part in 2012. Prior to 1993, Bosnia and Herzegovina participated in the Eurovision Song Contest as part of Yugoslavia.
Low average scores meant Bosnia and Herzegovina did not qualify for the contests in 1998 and 2000, and the country did not participate at the Eurovision Song Contest in 2013, 2014 and 2015 for financial reasons.
The best place the country gained was a 3rd place in 2006, when Hari Mata Hari with his song Lejla reached the top3 for the first and only time. Bosnia & Hertzegovina has never failed to quallify from the semi final since this system was introduced to the contest in 2004. The country's worst place was in 1996 when with 13 points ranked 22nd out of 25 countries.
Below you can watch Lejla from the 2006 Eurovision Song Contest in Athens, which is the song that reached the best placement ever in the Eurovision Song Contest for Bosnia & Hertzegovina: