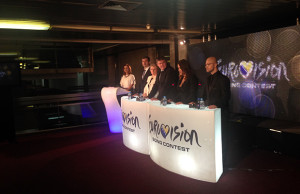 Bosnia and Herzegovina will premiere its entry for the 2016 Eurovision Song Contest at 20:10 CET on 19th February during a special ceremony that will take place at Sarajevo's City Hall.
Despite the news at the beginning of the week that the Bosnian song would be presented for the first time at a special event in Stockholm, the Bosnian broadcaster has announced that the first presentation of its song will be during a special ceremony which will take place at Sarajevo's City Hall and will be broadcast live on BHT1 at 20:10 CET on February 19th.
Bosnia and Herzegovina returns to the contest after three years of absence. The Bosnian broadcaster has chosen internally Dalal Midhat Talakić, Fuad Backović-Deen and Ana Rucner to represent the country in Stockholm. Deen has already represented his country in the 2004 Eurovision Song Contest in Istanbul, achieving ninth place with the song In The Disco, while Ana Rucner is a well-known cellist.
Τhe economic problems that BHT faces appear not to have affected its Eurovision participation this year. You can read more about the issue in our previous article.
Bosnia and Herzegovina in the Eurovision Song Contest
Bosnia and Herzegovina joined the Eurovision Song Contest as an independent state in 1993 while war was still raging in the country. As part of Yugoslavia, artists from Bosnia and Herzegovina competed in Eurovision in 1964 (the only time ever that Yugoslavia finished last), 1965, 1973, 1976 and 1981. Bosnia and Herzegovina has managed to qualify for the final of every contest they have participated in. The country's best result to date was a third place in 2006 in Athens with Hari Mata Hari and Lejla.
Below you can watch their entry in 2006 which remains their best result to date: