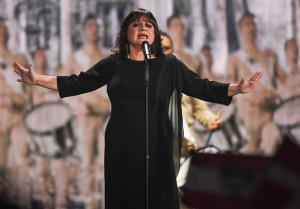 On March 12th, we will know which artist will represent France at the Eurovision Song Contest 2016. French broadcaster TV France 2 has just announced the date on Twitter.
The French broadcaster will reveal the artist who will wave its flag in Stockholm on March 12th. This was announced a few minutes ago through the official Twitter account of TV France 2.
Indice #1: Journée shooting!Rdv ici le 12.03.16 pour connaitre l'artiste qui représentera la 🇫🇷!! #road2eurovision pic.twitter.com/OCozi75hOp

— Eurovision France 2 (@EurovisionF2) February 4, 2016
The tweet also said that all will be revealed in just over five weeks, that is when the act will be announced on 12th March. France has decided again for an internal selection. They have received 280 songs as they announced back in December and a special jury from France 2 has shortlisted the most appropriate to represent them.
France will be one of the last countries to announce its artist – only Azerbaijan will do so later on March 14th.
France in the Eurovision Song Contest
France has participated in the Eurovision Song Contest 58 times since its debut at the very first contest in 1956. France is one of only seven countries to have been present at the first contest and has only been absent from two contests in its history, missing the 1974 and 1982 contests. Only Germany has one more participation than France. France has won the contest five times (1958, 1960, 1962, 1969, 1977), and, along with Germany, Italy, Spain and the United Kingdom, is one of the Big 5 who are automatically allowed to participate in the final because they are the five biggest financial contributors to the European Broadcasting Union (EBU).
Last year, the French entry was selected through an internal selection, organised by the French broadcaster France Télévisions. The nation was represented by the song N'oubliez paz, performed by Lisa Angell. Lisa premiered the song in November 2014 when she performed it during a 1st World War centenary concert held at La Madeleine, Paris. With only four points, France finished 25th in the Grand Final.
Below you can watch Lisa Angell performing N' oubliez Paz at the 2015 Eurovision Song Contest.