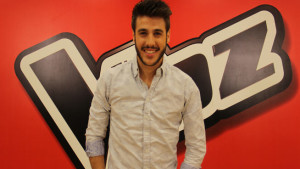 Antonio José, who represented Spain at the Junior Eurovision Song Contest in 2005 has won the third edition of the talent show La Voz (The Voice) in Spain. Now, his efforts and sacrifices have been rewarded and he will be able to record an album with the Universal Music label.
After three months of hard competition, Antonio José won the victory in the third edition of the talent show La Voz last evening having obtained 30% of votes from viewers. The show, broadcast on Telecinco, was the most watched program of the evening in Spain with 3.797 million viewers with 28,3% market share.
In the final gala Antonio José showed off his voice performing the song Tanto in a duet with Pablo Alborán and he also performed a flamenco version of Enrique Iglesias' hit El Perdón alongside his coach Antonio Orozco. One of the highlights of the evening was his solo performance of the song Aprendiz, a well-known hit from Malú which was composed by Alejandro Sanz, both of them rival coaches, who felt thrilled with Antonio José's version of the song.
He also sang alongside the boyband Auryn who are very popular after having participated at the Eurovision national selection in 2011. One of the members of the band, Dani, stated that they are good friends since childhood because Dani followed in the footsteps of Antonio José as he was the representative of Spain in Junior Eurovision a year after him.
Antonio José had a happy childhood and used to enjoy playing football with his friends. In fact, he managed to be runner-up of Spain futsal in his category. While his father tried to convince him to be a professional football player, his mother introduced him to music going to several auditions at an early age (in fact, it was his mother who called to sign him up to La Voz auditions). When he was ten years old, he represented Spain at the 2005 Junior Eurovision Song Contest with Te Traigo Flores and he finished in a worthy second place.
"This is the greatest thing that ever happened to me in life. People who know me know what I went through to succeed in music. My parents and my friends know it" stated Antonio José right after his victory and, with his face bathed in tears, he sang for his friends, his parents and his coach, Antonio Orozco, who fulfilled his promise to shave his hair if the winner of the show was one from his team.
Now, Antonio José faces a very intense summer. He said that he is not going to have holidays this summer but he is happy because it is time to work hard and release a good project.
Below you can watch Antonio José's performance at the 2005 Junior Eurovision Song Contest.