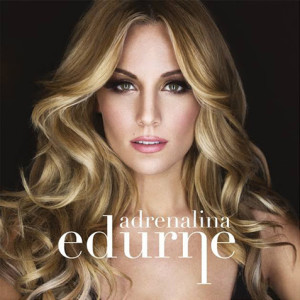 After a disappointing 21st place obtained by Edurne in this year's Eurovision Song Contest she is not upset at all and her music career continues to grow. Adrenalina is the title of her sixth studio album which has been released today.
Since she came back from Vienna she has had a tight schedule having appeared on several tv and radio shows talking about her Eurovision experience with all eyes focused on her. Nevertheless, she insists that she is happy and proud of her performance. She did everything she could and really felt like a winner after receiving the support of her fans.
Now it is time to move on and Edurne is focused on the promotion of her new album, Adrenalina. This is the sixth album of her ten year musical career. It has been produced by Chris Gordon and its songs reflect a variety of pop, rock and melodic genres.
The album began to come together in recent months, with Edurne still putting the finishing touches a few days before leaving to Vienna. She has explained that the title of the album, Adrenaline, is the word that better describes her feelings while she was recording this album since, at the same time, she was also preparing her performance for the Eurovision Song Contest. That is why she wanted to name it exactly like that, Adrenalina.
She keeps the pop rock essence from her previous albums but, since she is a versatile artist, she is willing to surprise her fans with new sounds.
As a whole, the twelve-track album is balanced with great ballads such as Va A Ser Mejor or Dudar, dance songs like Freakday or the dreamy soundtrack from Disney's latest adaptation of the movie Cinderella, Soñar. The album also includes two versions of Amanecer, the official Eurovision one and a symphonic version with live orchestral accompaniment.
The track list of Adrenalina is as follows:
1. Amanecer
2. Va a ser mejor
3. Basta
4. One shot
5. Dudar
6. La última superviviente
7. Un día más
8. Freakday
9. Sígueme
10. I believe
11. Amanecer (symphonic version)
12. Soñar (A dream is a wish your heart makes)
The first single from the album is Basta, a rock pop song which reminds to the style she has shown in her previous albums. You can listen to it in the video below.
You can test your knowledge about Edurne in the quiz below.
Edurne (Spain 2015)
Edurne will represent Spain at the 2015 Eurovision Song Contest. How well do you know her? Take this short quiz to find out!