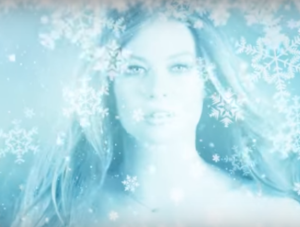 Zoë is back with a new Christmas single. La Nuit Des Merveilles is the first single that the Austrian singer-songwriter has released since her Eurovision participation in May where she reached the final.
 
Zoë  Straub (known professionally as Zoë) has returned with a new single. It is called La Nuit Des Merveilles (The night of wonders) and is set to be released on the 18th November. The video to the single was released yesterday and additionally has already received positive reviews from fans.
Zoë represented Austria, her native country, in the Eurovision Song Contest earlier this year. She came in 8th place in the public televote and, together with the jury voting, came a respectable 13th position in Stockholm with Loin D'Ici (Far from here), which she co-wrote with her father Christof Straub.  Loin D'Ici peaked at #13 in the Austrian singles charts and then also entered the Belgian top 40 chart.
I have always wanted to record a classic Christmas record

Zoë to EuroVisionary
The Austrian singer-songwriter was selected in the national selection show Wer singt für Österreich? Despite placing in 7th position by the jury, she received enough votes from the public to send her through to the super final. She was declared the winner by the public televote and therefore given a ticket to Stockholm. She reached the Grand Final and finished 13th with 151 points.
Do you want to see Zoë perform live?
Zoë is set to appear as a special guest on the 7th December at the Kulturhaus Sargfabrik in Vienna, Austria. The concert will see her sing alongside fellow Austrian band Living Transit. Tickets can be purchased through the venue's official website. She will also be performing live on December the 9th at Weihnachten im Park (Christmas in the park) in St Pölten, Austria.
The lyrics video to La Nuit Des Merveille was broadcast on Youtube by Global Rockstar yesterday and can be viewed below.