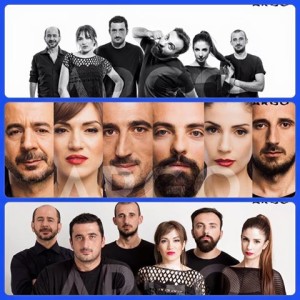 Tomorrow the Greek entry for this year's Eurovision Song Contest will be presented to the public for the first time. For the band Argo it will be a busy day with radio and TV appearances. More details regarding the video and the performance in Stockholm in May have been revealed as well.
As we have previously reported, ERT will present for the first time to the public the Greek entry tomorrow at 12.00 CET in a special press conference with very few attendants from Studio E of the Greek Radio. After that the entry Utopian Land will be played on the radios First & Second Program of ERT and Kosmos 93.6.
One hour after the first presentation, at 13.00 CET Argo will make their first appearance in TV. They will be live in ERT1, at the TV show Studio 3, in a show that tomorrow will be dedicated to the Eurovision Song Contest. Giorgos Katsaros who has been the composer of the first Greek entry at the 1974 Eurovision Song Contest Ligo Krasi Ligo Thalassa Kai To Agori Mou, will be also in the studio, along with the president of OGAE Greece to comment on the Greek entry.
The stage presentation of the group in Stockholm will be taken care of by Maria Liraraki who is a choreographer who also created the stage presentation of the Greek entries in 2007, 2013 and 2015. She was one of the two female dancers in 2004 with Sakis Rouvas and Shake it. ERT' s commentator will be  the famous actor Giorgos Kapoutzidis with Maria Kozakou for a 4th time in a row.
The videoclip of Utopian Land was filmed a few days ago in Thessaloniki and on our screens will come something completely different from what we had seen in previous years as it will be an animation film. We will not see Argo's six band members in their physical shape, but we will see the two musical instruments in Utopian Land, the tabor and Pontic lyra.
ARGO that was internally chosen to represent Greece in the upcoming Eurovision Song Contest consists of Christina Lahana (singer), Maria Venetikidis (vocals), Vladimir Sofianidis (vocals), Kostas Topouzi (Pontian lyre), Elijah Kessidis (vocals – percussion) and Alekos Papadopoulos (tabor), and is described as a folk/traditional band.
While waiting for the Greek entry you can watch a compilation of the last 7 years of Greece in the Eurovision Song Contest. We did our best to find our greatest footage, and maybe you'll see something you haven't seen before.