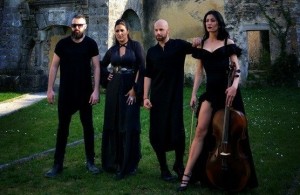 After much controversy that has followed the Bosnian-Herzegovinian Eurovision team the last couple days, the video spot of Ljubav Je has been premiered tonight on the Bosnian national broadcaster, BHRT. More details regarding their Eurovision performance has been revealed as well.
The video has been filmed in the old city of Ostrožac (Cazin) in the western part of Bosnia and Herzegovina. The location is Ostrožac castle, that dates back to the 16th century.
Vedad Jašarević produced the video, that has been recorded in Bosnian, English as well as an instrumental version.
Meanwhile the Bosnian-Herzegovinian team continues their preperations for Stockholm in one of the BHRT's studios. The choreography and the stage performance for Ljubav Je will be directed by a famous Bosnian theatre and film director Haris Pašović.
Deen, Dalal, Ana and Jala will perform in the first semifinal of the Eurovision Song Contest on the 10th of May. To test your knowledge about them, please do take the quiz below, and don't forget to brag about the result afterwards.
What does the song title Ljubav Je mean in English? Check your knowledge in this quiz about the act from Bosnia & Herzegovina.
You can watch the video for the Bosnian-Herzegovian entry in the video below: